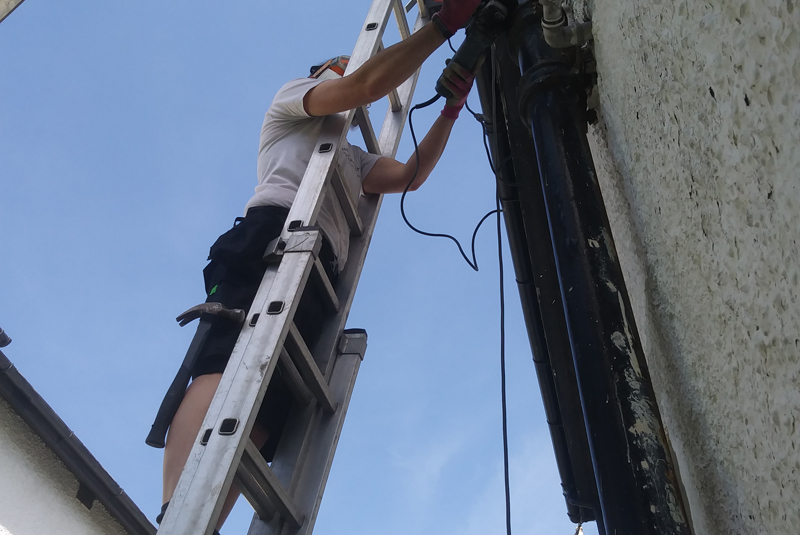 We turn up the heat on installers Ben Smailes and Becky Bates as they take a shine to the latest in flexibility and comfort from the Snickers Workwear summer collection.
Ben's verdict
I was attracted to the products because Snickers is a well-known brand, which is well recognised for quality and durability. What I didn't realise until I started testing these out on site, was the flexibility in the clothes that has been added, which makes them really comfortable on the job.
6341 Stretch Trousers
Not my normal choice of style. Usually I'd opt for a boot cut (a bit baggie), yet I found the slim fit very comfy when wearing them for a variety of tasks, from fixing a cold water main to building my new garden shed.
8004 Technology Fleece
I really liked the colour and look of the top. I found it fitted well. The best thing about it is that you can wear it in all weathers. It kept me warm on the spring mornings, yet equally kept me cooler in the evenings without overheating.
2708 Polo & 2502 T-shirt
Pretty straightforward review this one – great colour, nice fit and comfy. They both also looked smart when meeting customers, so no complaints!
Haze Moon SG80119 Shoes
These really are a great look, and I felt like I was wearing slippers, which was a bit unnerving to start with. I have quite narrow feet and found my feet moved around a bit whilst wearing them, but generally they were great and really comfortable.
Summary
I would perhaps opt for holster pockets on the trousers, as these are really handy and I am used to having these pockets on the trousers.
All in all, however, I am very impressed with the clothes range and the footwear. I would definitely recommend these products to others in the trade. The new line has really added to the brand and I'm looking forward to seeing more in the future.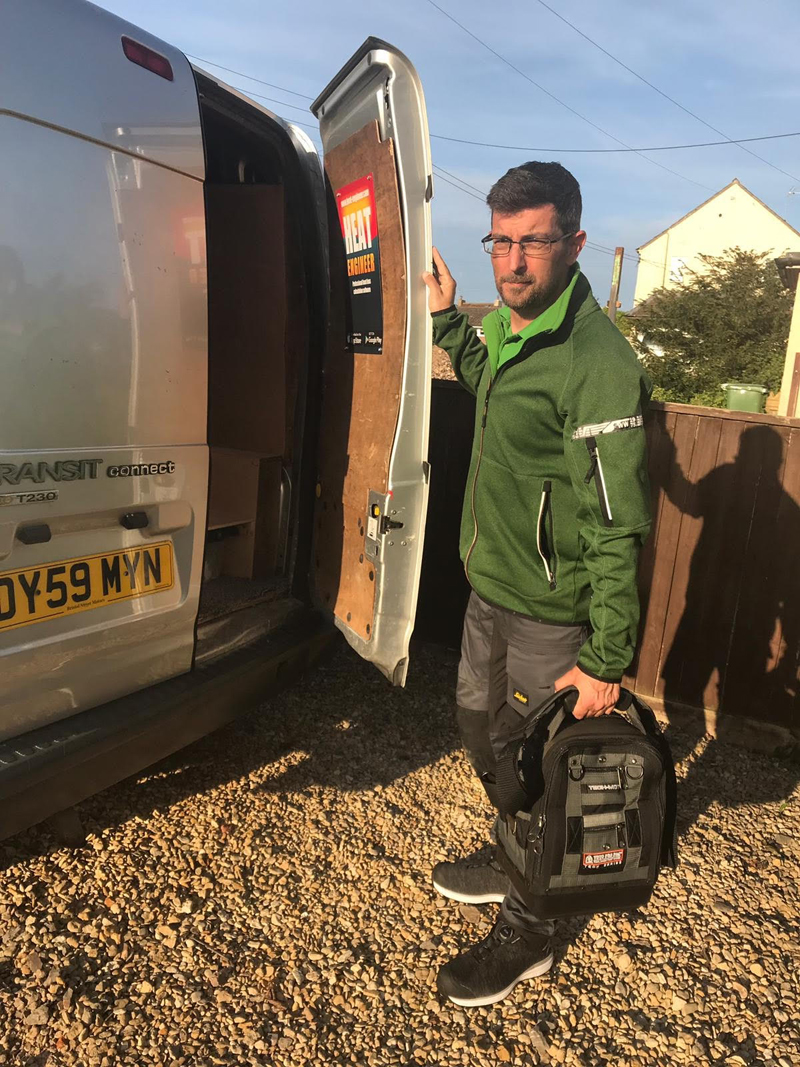 Becky's Verdict
Haze Mars SG80118 Shoes
The idea of a steel toe cap shoe as a trainer has always appealed to me, but ones I've tried in the past I've found to look bulky and feel heavy. With these however, I was super impressed from the moment I put them on. They look cool, stylish and feel comfortable, even after a long day.
My absolute favourite feature is the twist and go laces. An absolute time saver when going in and out of customers houses. I've also had a lot of comments from customers on how great they look and work.
I've worn the shoes for about a month now and they've been put through their paces. Dusty bathroom rip outs, outside on rainy days and they still look great. One thing I have noticed in the past, other shoes have worn away around the toe cap from kneeling down a lot. I see no signs of this happening anytime soon with these shoes. I would absolutely recommend these shoes.
6143 Shorts
I'll be honest, I've never been one for wearing work shorts. I just think I look daft! That said, I gave the shorts a go on a lovely sunny day when I was working outside fitting a new soil stack.
The material, although very light weight and breathable, has a tough feel. And the stitching is strong. I really like the stretchability of the shorts and didn't feel restricted with movement. The built in belt is a great feature and makes the wasteband really comfortable – no digging in.
The shorts have ample pockets with a good ratio of open and zip pockets. No silly pockets where you think what on earth would I put in there! The pockets were also not tight, for instance when I had screws in my back pocket I didn't struggle to get my hand into the pocket.
Although I'm not a work shorts person, I must say I was very impressed with these and will continue to wear them – I've been converted!
2580 T-Shirt
It's hard to say a lot about a T-Shirt but first thought was it looked smart and professional! So much so that along with the fleece I've kept these as my outfit for when I go and look at jobs.
It's a nice fit and the material feels durable and not too thick (breathable). The stitching is strong and I am confident it would withstand a lot of wear. Another thing I like is there's no label at the back of your neck! There's nothing more irritating than an itchy label.
8017 37.5 Fleece
I love this fleece, and out of all the products this is my favourite. It's a perfect fit, looks smart, professional and along with the T-Shirt I have kept as my outfit for when I go look at jobs.
It's comfortable, warm and durable. The stitching & zip are strong, and the stretchability is great and makes the fleece non-restrictive when moving around.
It has a zip pocket on the arm which is perfect for my phone and two good sized side pockets. I would highly recommend this fleece to ladies in the industry as it is a perfect fit.
2880 Hoodie
This is by far the coolest looking of the clothing. I especially like the Snickers logo to the front.
I love how comfortable & cosy this hoodie feels, yet still tough. It's a well-made jumper with strong stitching and zip.
I didn't wear the hoodie whilst working, but found it perfect to throw on in the morning driving to work and then at the end of the day. It made me look smart & professional when turning up to a job.