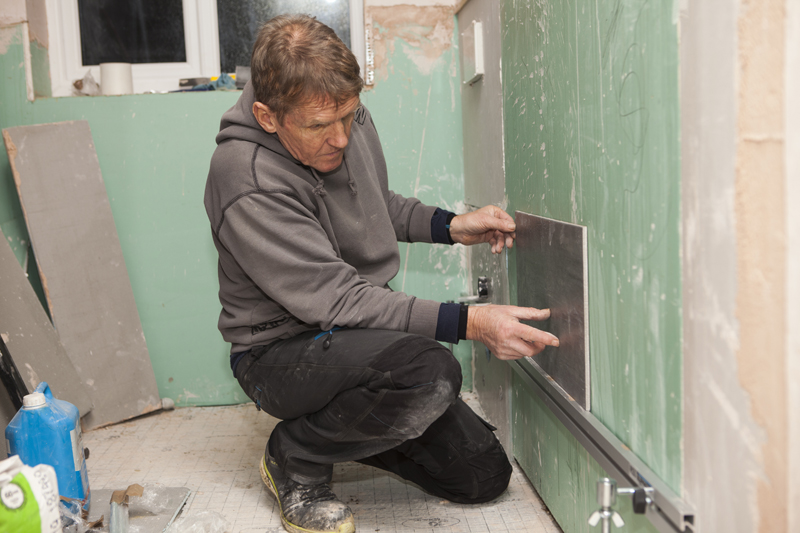 Roger Bisby puts the RSS Tilemaster to the test.
When it comes to supporting your first course of wall tiles, I have learned the hard way that timber battens are rarely straight enough to trust. Even a 1mm discrepancy can play havoc on a 2mm grout line, so I have always used off-cut rips of plywood from my local timber merchant. They are usually straight as a die, but fixing them to the wall can be tricky.
For a start you have to be sure that there are no pipes or cables, and then you have to get those plugs and screws in with absolute precision, which can be time consuming. A number of manufacturers have made tiling guides to overcome these problems but, unless I am wrong, the RSS Tilemaster is the only adjustable guide that also allows you to fix across window heads and other openings.
The kit, as supplied to us, came with three sets of feet and various lengths to get you around an average bathroom in two repositions. I was a bit concerned about how it would hold against the wall, but with the feet slightly further away it seems to just fall against the wall. I found it has enough clearance to get over pipes and minor obstructions, and can be adjusted for use along a bath, as well as over kitchen worktops. When it comes to the heads above windows, there is a nifty pair of sliding supports with rubber heads, which can be wound in hard against the reveals.
One thing I became aware of was the need to keep the whole thing clean. I am not going to lie, I am a messy tiler and all that fine adjustability counts for nought if the screw threads are clogged with tile adhesive.
Transportation is always an issue with long items, but most tilers are carrying tile trim, and may even have a six foot level. It is supplied in a cardboard tube, but I would store it inside a length of soil pipe. There will always be situations where this device doesn't work, and I would then resort to my standby of plywood off-cuts. If tiling is your full-time job, however, this is a good investment that will save you time and effort.