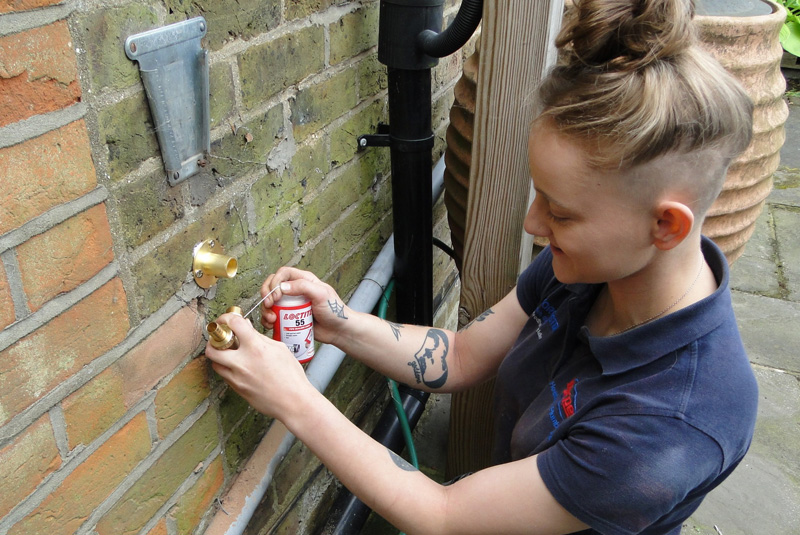 Jade Deakins puts the Loctite 55 Thread Sealing Cord through its paces.
Harpers Heating & Plumbing Ltd, Bishops Stortford, took on Jade Deakins as an apprentice two years ago. The first female plumber (trainee or qualified) to be employed by the company, Jade is now near completion of her Level 2 Diploma in Plumbing and Heating.
As part of her on the job training, Jade recently undertook installing an outside tap and was asked to put Loctite 55 Thread Sealing Cord through its paces. Putting aside the usual PTFE tape, Jade started by drilling through the wall where the tap was required. She then connected the new 15mm copper pipework to an existing inside cistern feed and up to the backplate pipe where the two were coupled together.
Taking the work to the outside, Jade was ready to join the tap itself. Using the Loctite 55, she wound the sealing cord up the tap thread several times and back down again, going in each direction once only before using the built-in cutter to break off the cord and then screwed the tap into position. "This formed an immediate leak-proof seal," she explains. "I used much less of the Loctite 55 than I do PTFE tape and it was much easier to apply. The roll of PTFE tape can often be cumbersome to manoeuvre, hold and apply."
Designed for sealing metal and plastic pipes and fittings, Loctite 55 is said to need no cure time and results in an immediate, full pressure seal. It is cost-effective, saves time and simply needs to be wrapped around the male threads the recommended number of turns, and assembled.