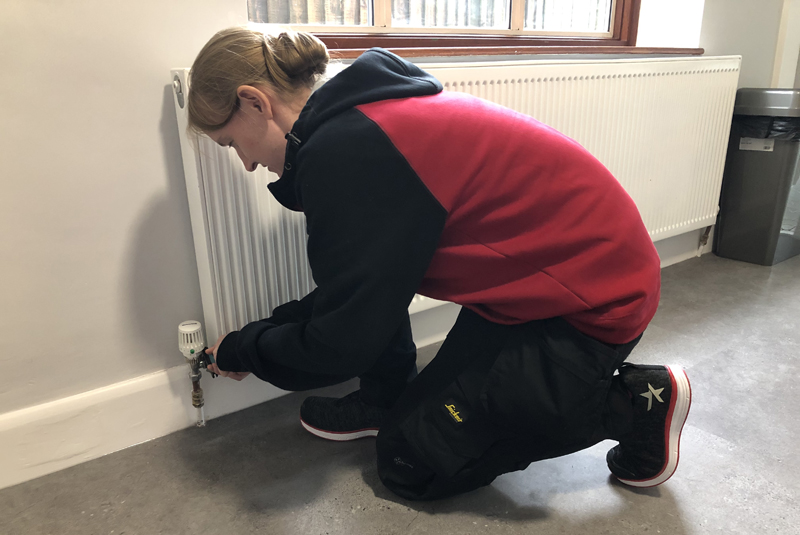 Installers Christina Birch and Chris Pringle have been testing out some of the latest Snickers workwear and Solid Gear shoes. Here's their verdict.
AllroundWork Women's Stretch Trousers and Craftsmen kneepads
These Women's Stretch Trousers with holster pockets are made from full-stretch material for flexibility and comfort, and feature pre-bent legs. To allow for multi-directional movement, the 2-way stretch fabric is supplemented by 4-way stretch panels in the rear. In the pocket areas Cordura reinforcement has been used to provide additional comfort and protection. Plus, the holster, ruler, and cargo pockets provide users with easy access to tools.
The XTR D3O Craftsmen Kneepads have a curved construction to ensure they remain securely in place for continuous comfort whilst also providing flexibility when walking. The EN 14404 Type 2 Level 1 rating means they guard against pebbles, nails, and various debris for use while engaged in work that requires mobility.
Christina says…
"I've based my review on the trousers I already had. They are comfortable as soon as you put them on and fit in all the right places. The kneepads are hard wearing and the trousers still look good after a few washes. I love the blue colour trousers as it makes a nice change from black. These look really professional and I wouldn't wear anything else for work now."
Logo full zip hoodie
The Snickers Logo FZ Hoodie is manufactured from a 400g/m² cotton and polyester blend to ensure users can be comfortable whilst working. The colour blocked pattern is designed to give a stylish and professional look while the regular fit is easy to wear and raglan sleeves offer freedom of movement. There is also a kangaroo pocket.
Christina says…
"I really like this hoodie, and not just because it is Watford colours! It's warm, good quality and has nice little features like the thumb holes in the cuffs to keep your hands toasty on cold days."
Haze safety shoes
Haze is an athletic safety footwear range from Solid Gear. The show features a dual density EVA midsole designed to 'take comfort to the next level'. The StarKnit upper without seams ensures the shoe is highly breathable. Haze is ESD dissipative according to DIN EN 61340.
Christina says…
"Love these safety trainers. They are light, comfortable and stylish. The disc system works really well, especially when you go into a customer's property and have to take them off, much quicker than laces. I already have two other pairs from this range and these fit right in with the family!"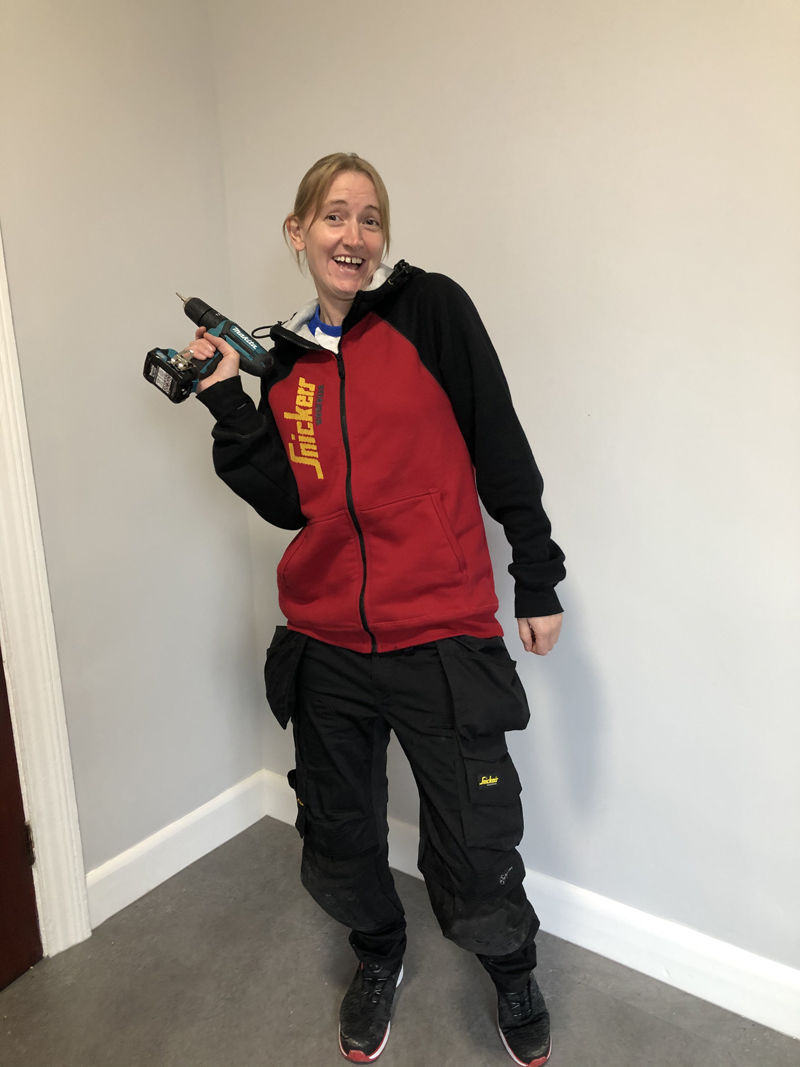 AllroundWork Loose Fit Stretch Trousers
The AllroundWork Loose Fit Stretch Trousers have holster pockets and have been designed for flexibility and comfort. The trousers offer EN 14404 knee protection with reinforced Kneeguard pockets for additional comfort and ease of use with Cordura material around the knees, gusset and crotch for extra durability.
The Floorlayer Kneepads have been designed with protection for extended periods of occasional kneeling and include Polyethylene comfort beads to achieve a breathable design and lightweight construction.
Chris says…
"There are 2-way stretch fabrics with 4-way stretch panels in the rear and Stretch Cordura reinforced Kneeguard pockets that when kneeling down actually covered my knee instead of the usual shin position you find in many work trousers. Also incorporated are Cordura reinforced holster, ruler, and cargo pockets. The pre-bent legs for me surprisingly added to the comfort when kneeling at work."
Revolution Dawn trainers
Revolution Dawn is the latest addition from Solid Gear. Made using ETPU-technology the trainer is designed to provide energy back to the user as you walk. To provide protection, without sacrificing comfort, Revolution Dawn uses a NANO toe cap – said to be 'stronger than fiberglass, lighter than other materials used in safety shoes and thinner than other non-metallic toe caps'.
Chris says…
"Working on property renovations recently the shoes have become filthy, but a quick wet wipe over and they've come up as good as new."
Logo Full Zip Sweatshirt
This Logo Full Zip Sweatshirt Jacket has been designed for everyday use with a cotton-polyester blend that is soft to the touch and easy to wear. The full zip design makes it easy to remove while raglan sleeves allow for ease of movement. Plus, the clean design in a solid colour leaves space for profiling and other images.
Chris says…
"The eye-catching Snickers Workwear logo is displayed running down the front and has the thumb holes in the cuffs leaving freedom of movement for your fingers when working outside in the cold. I've normally gone for cost over quality when it came to my work clothing but trialling these few items have completely converted me."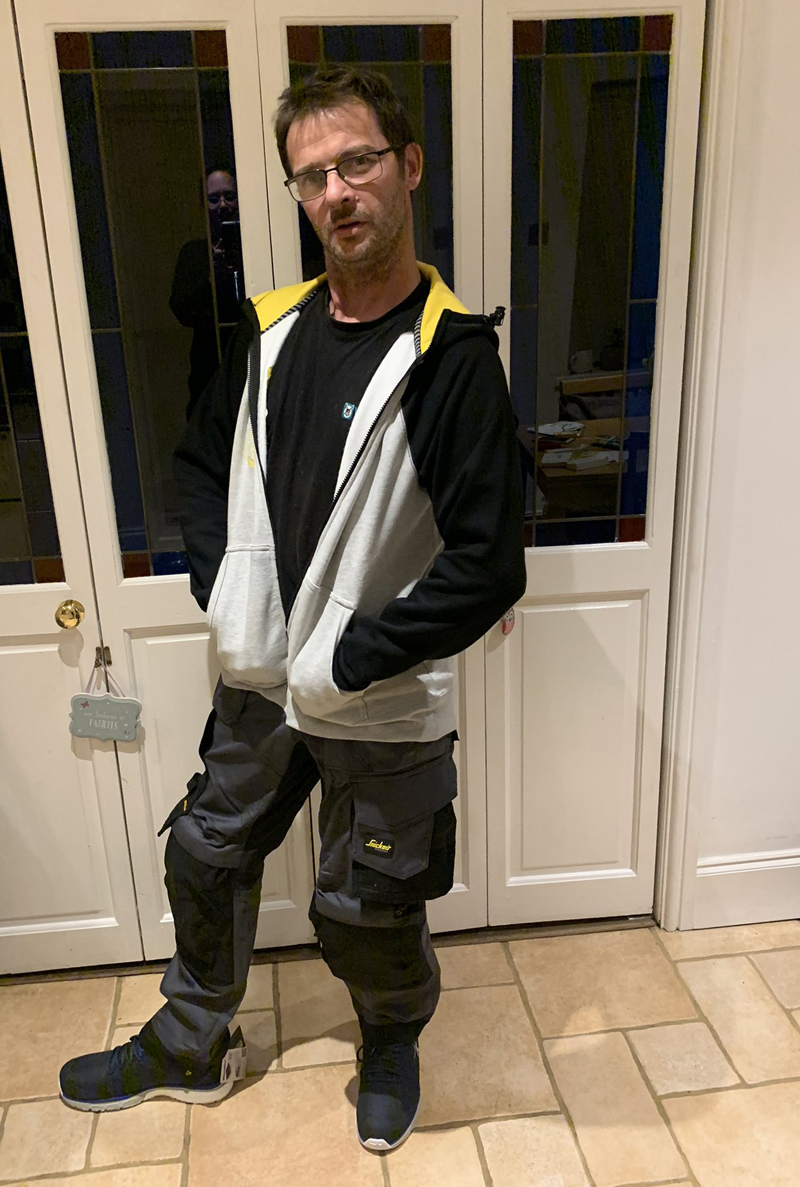 What Christina tested
Snickers 6247 AllroundWork Women's Stretch Trousers with holster pockets
Snickers 9191 D30 Craftsmen Kneepads
Snickers 2888 AllroundWork Full zip hoodie
Solid Gear Haze Mars ladies safety shoes
What Chris tested
Snickers 6251 AllroundWork Stretch Trousers
Snickers 9118 Floorlayer kneepads
Snickers 2887 Full zip logo sweatshirt
Solid Gear Revolution Dawn safety trainer