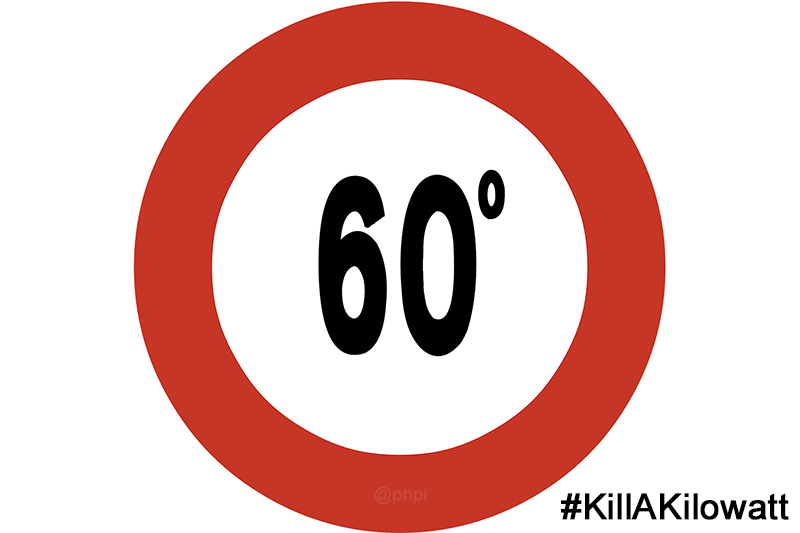 Stuart Duff speaks to Michael Walsh, the driving force behind the #KillAKilowatt campaign.
Could you give us a bit of background into your life in the industry?
I started Walsh & Son Ltd in 2002. I'm a gas heating engineer and plumber, domestic and commercial gas qualified. I do a variety of work, from combi swaps to full house refurbishments – all within the private sector. I have worked on social housing too. Like every small business, we've adapted to cover UFH, wetrooms, plumbing and heating repairs etc. I have a wife and three kids… none of whom have shown any interest in following me into the industry!
I love the creative side and favour copper as the material of choice. I spend a lot of time by myself so the merchant can be a very important place for a chat and a cuppa. Life is good.
Why has the #KillAKilowatt campaign come about?
80% of boilers don't condense as the flow temperature of the boiler is too high. By lowering the temperature to 60° on the boiler, you will force it to condense.
5,200,000,000kW can be saved each year if we get the boilers to condense. This is the simple message. It costs nothing and there should be no change in comfort levels.
I have many influences but Kimbo at Heating Academy Northampton lit the fire. He filled in the grey areas that I was unsure of or wasn't confident enough in myself about. Once I understood, I really thought about the difficulties of getting the message out to both the trade and the public.
I shared my views with a group of top end engineers on Twitter – I've named them the Bletchley Park of heating! I stated I was going to run with this and make a difference. Someone has to raise their head above the parapet. One of the chaps came up with the hashtag #KillAKilowatt and it received a generous response – a simple concept that encapsulated so much desire to be better in everything they do.
What is the aim of the campaign?
5,200,000,000kW of energy not being used as latent heat escapes from boilers because they're not condensing. Drop the boiler flow to 60° and you force the boiler to condense. This will save the consumer some money and have a big impact on the environment. It will raise awareness of the energy wastage crisis we find ourselves in, and the simple fixes people can carry out to make a difference. There is so much more that can be done to take off 10 times that figure, but this simple concept of dropping to 60° will force the boiler to condense – and it's free.
Are you hoping to persuade manufacturers to adjust the pre-set flow temperature on their boilers?
This isn't something I'd really considered at this stage, but there are two things I would like to see from manufacturers: setting the kW load at the minimum level out of the box, not the maximum; and setting the pre-set flow to 60°. I don't know if there's a reason why this isn't the norm, and it would be great to hear from manufacturers.
What other steps would you like to see taken to reduce energy consumption?
Controls! Weather compensation, load compensation, and priority DHW. Also, I'd like to see every single property in the UK have a proper heat loss calculation done. Get rid of the guessing game and base it on maths. Recently, I completed a four-bed Victorian house that would typically have had 35kW specified. After calculations and design of the new system, the house requires 9kW @-1.
For now though, the message is to drop to 60° and get the boiler condensing. Once that happens, I feel the industry will respond positively, bring controls to the masses and cut energy wastage.
I know this will have a waterfall effect and it's a simple message. It's also a great opportunity to take back 5,200,000,000kW of energy. We can do more fairly easily but this has to be the starting point.
Check out #KillAKilowatt on Twitter to see how installers are getting involved