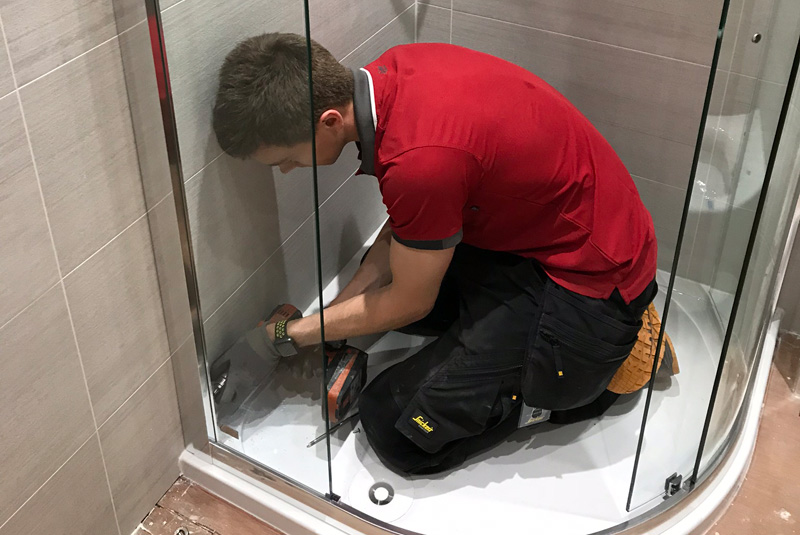 Steve and Matt from Astral Plumbing check out the new Floorlayers Trousers from Snickers Workwear… and some other great gear too!
Astral Plumbing is a father (Steve) and son (Matt) business located in Hemel Hempstead, Hertfordshire, and we do all aspects of plumbing and gas work, including boiler and heating installs, servicing and breakdowns, general plumbing, and full bathroom installations.
Work can be pretty 'full on' and intense at times, so it is imperative that our workwear is comfortable, practical, and also offers a level of protection. When I was Matt's age, back in the eighties, I can remember wearing Snickers workwear… their trousers with the knee pads were state of the art even 30 years ago. However, things have really moved on now!
Floorlayers Trousers
Both Matt and I were really impressed with the Floorlayers Trousers. Considering how high the spec is, they have to be the lightest and most flexible work trousers we have ever tried. Don't think that this means they are lacking in durability though. These trousers are tough, and look as though they will comfortably endure a hostile work environment. They are made from a Ripstop fabric with mechanical stretch. The lightness and flexibility make them the most comfortable work trousers I have ever used. They are also very cool to wear when the temperature is on the rise.
There is no shortage of pockets and compartments. You can comfortably carry enough tools up a ladder to carry out work tasks, and the pockets are very well designed to ensure that tools and equipment are always easily accessible.
There are two holster pockets with an array of compartments and loops, and also two pouches on the legs. One of these is a zip up pouch, where you can keep the handy ID holder safe if you don't want it dangling around. The ID holder is also detachable.
There are also several tool loops for holding larger tools. The trousers obviously accept Snickers' knee pads, and the knees are made of a different stretchy material which is Armortex full-stretch fabric with DuPont Kevlar aramid fibres. This makes working on your knees far more comfortable than other trousers.
Just one minor gripe with the trousers really. Neither Matt nor I are a fan of button flies! Please can we have a zip? That's only a small issue though… these are top quality work trousers.
Solid Gear Revolution Infinity
Also on test are the Solid Gear Revolution Infinity Safety Trainers. These are a really smart looking shoe. Matt and I currently use Solid Gear work trainers which have the BOA closing system. The Revolution Infinity shoe uses regular laces, but they are no less practical.
As a work shoe with toe protection, they are very comfortable, and a much more practical shoe than work boots when working in a customer's property. They are a very flexible shoe, and somehow manage to keep your feet cool and dry in even the hottest conditions. There is also some protection over the toe cap which is important for trades that spend a lot of time on their knees. I have had in the past work boots that wear out on the toe, exposing the toe protection. It doesn't look good, and I'm sure it won't happen with these shoes.
The toecap is made from a Carbon Nano composite, which Snickers calls 'Nanotoe'. This is lighter and thinner than metal, adding to the comfort of the shoe. What it does appear to do is eliminate the ridge you sometimes get over the top of your toes in safety shoes which can be quite uncomfortable.
Snickers claims that these shoes are some of the most comfortable on the market due to their 'PU-Foam shock technology' and both Matt and I can see where they are coming from with that claim. They really are very comfortable. I don't know if Snickers claims they are waterproof, but they certainly deal with general spillages, splashes, and wet conditions while keeping your feet bone dry.
Bonus review: Solid Gear Hydra GTX
Although not given to us to test, Matt's regular shoe is the Solid Gear Hydra GTX work trainer. Having seen the shoes that Steve was given to test for a previous issue of PHPI, Matt was keen to get some trainers with the BOA closure system. He brought these at Toolfair at Alexandra Palace earlier this year and has been in love with the shoe ever since. They are Goretex lined, and so are fully waterproof. Matt loves the comfort that they afford, and they are proving to be very durable in the work environment. They of course also have a safety toe cap.
Polo shirts
Finally, to complete the 'head to toe' look, we also have some Snickers AllroundWork, 37.5® Tech SS Polo Shirts. Very comfortable, and very cool and dry to work in. They also clean up pretty well in the washing machine after getting covered in general work debris. More importantly, they look great. Very smart!