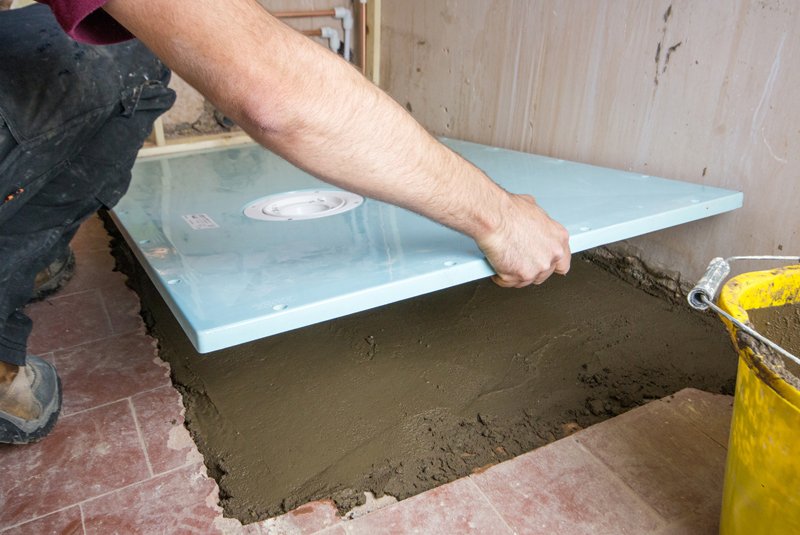 Wet rooms have taken off in recent years as a popular alternative to traditional bathrooms or shower cubicles. James Dadd, UK Marketing Director at AKW, explains how and why and offers tips on wet room installation.
Wet rooms are the fastest-rising area of the UK bathroom market, with the sector estimated to have grown by around 4% in 2014 to a value of £79 million (at manufacturers' selling prices). This equates to approximately 265,000 installations.
With market research company AMA Research predicting that the wet room/walk-in shower market will be 34% larger than it is currently by 2020 (growing year on year between 6 and 7%), it's little wonder that installers are starting to take a closer look at this potentially lucrative market.
It isn't hard to understand why wet rooms (sometimes referred to as level access showers) have grown in popularity over the last five years. For example, they can save space in a small bathroom because there is no need for a shower cubicle or bath. Secondly, they look good, offering bathroom spaces a luxurious, hotel-like feel that users appreciate. Indeed, they can add a real 'wow' factor to a property, increasing its value and making it more saleable. Thirdly, they are practical. Wet room spaces are easy to keep clean and make access to washing facilities straightforward, especially for those with limited mobility. Finally, wet rooms are future-proof, which makes them a natural choice for landlords, housing associations and local authorities who want to invest long-term.
These are all powerful selling points for you, as an installer. If your customer does decide to fit a wet room for these and/or other reasons, there are many design and installation issues you need to consider. These relate to two technologies in particular.
Wet floor former
A substitute for screeding, a former is a purpose-designed underfloor solution designed to result in a leak-free wet room. There are several things to think about when choosing a wet room former:
Load bearing. A former with a load capacity of up to 25 stone should be adequate for a typical wet room installation. However, some formers have load capacities of up to 40 stone to cater for the user plus a wheelchair or carer, if required.
Waste and drainage: Drains can either be square (in the middle of the floor) or linear (located against a wall). Ensure they are approved for wet room use and that there's enough depth in the floor to install the drain. Because wet room formers have a built in gradient providing the correct drainage, there is no need to establish a slope like you would with other shower floors. Finally, ensure the drain can handle the water load. AKW's TriForm, for example, can drain up to 78 litres of water per minute, which means that it can cope with the most powerful drench showers. It also features a reversible linear drain, which is tillable on one side and stainless steel on the other to provide extra design flexibility.
Size: Formers from leading suppliers come in a wide range of sizes and, despite their strength, can be trimmed to size using a regular handsaw to ensure a seamless fit.
Waterproof tanking: This is fitted before adding tiles. The latest tanking kits are quick and easy to apply. Advanced systems are self-adhesive and ready to tile immediately, with no drying time required.
Shower system
Shower systems used in wet rooms are undergoing a design revolution, to the benefit of both installers and users. Along with sleek rounded corners and sensory user interfaces, the most advanced electric showers are also Bluetooth-enabled to provide a seamless mix of safety, style and smart technology. These allow water temperature and flow to be controlled remotely and usage can be easily monitored.
Leading suppliers offer electric shower designs with a size and shape that makes them easy to retrofit. A universal shower footprint helps installers as the requirement of any extra works or tiling can be reduced, or, in some cases, eliminated. Modern electric showers also include multiple electrical/water entry points and left or right hand wiring, to maximise fitting flexibility.
With the demand for wet rooms set to continue to grow in the coming years, you're likely to see an increasing number of installations. If you need help, don't be afraid to ask the experts. AKW is the only company in the UK with a dedicated survey team for bathroom and kitchen adaptations. Our surveyors consider the construction of the building, available drainage and existing pipework layout, the type of floor, locations of windows, radiators and ventilation, and access to fittings and will be able to advise you on the best solution for your customer.