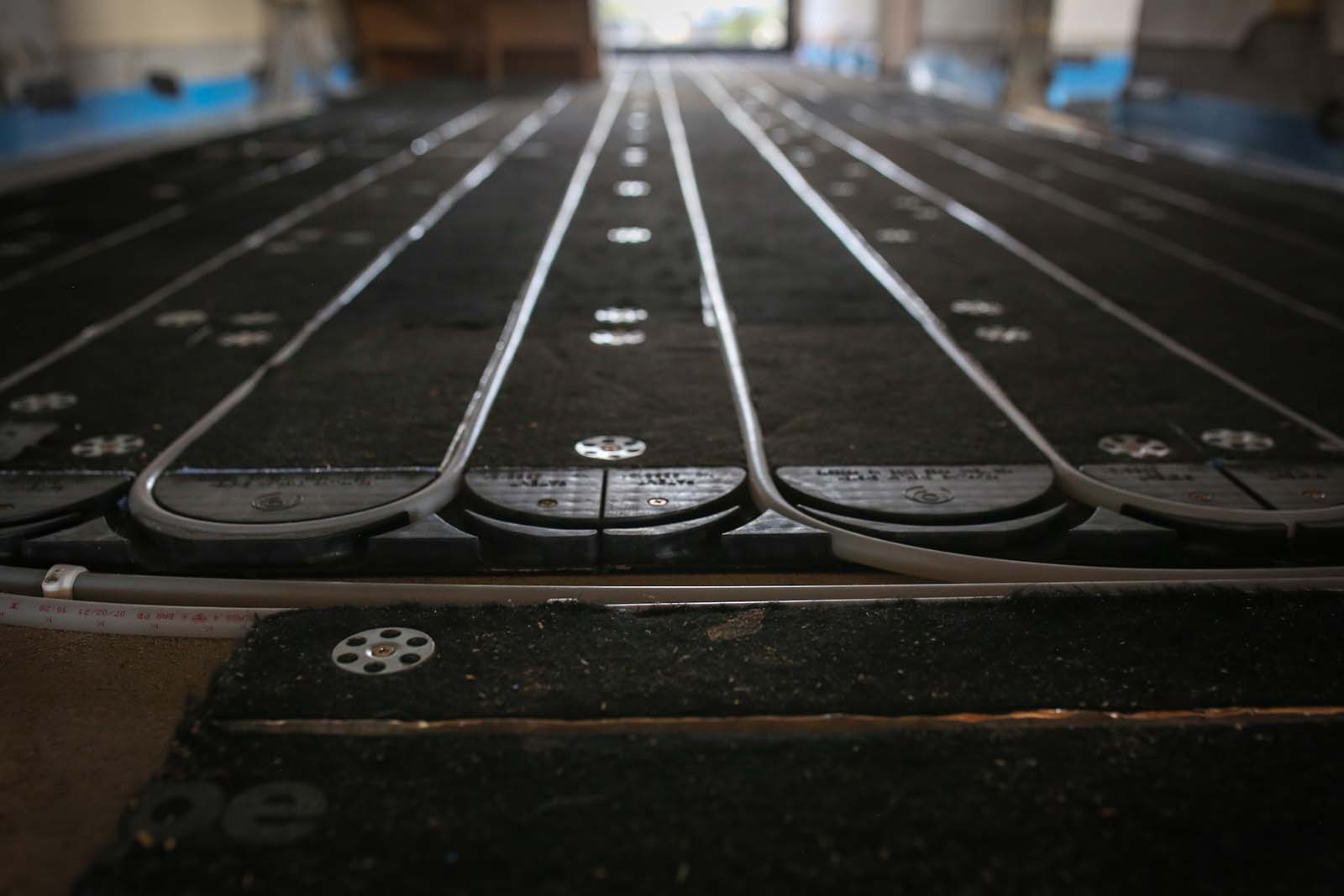 Stuart Wood, Product Manager – Sustainable Heating, for Polypipe Building Products, explains why underfloor heating could be on the rise, especially for new build homes.
For installers working in the new build sector, a huge adjustment comes into force in June this year – but it's one that reputable manufacturers can offer help with.
The amendments to Part L of the building regulations will come into force in June as part of the drive to achieve Net Zero by 2050. The ultimate goal is to ensure that the average new build home produces 31% lower CO2 emissions compared to one built to current requirements.
To meet the standards, new properties will need heating systems that have a flow temperature of 55°C or less – which is not easy to achieve with nearly half of current UK housing stock.
So, what do installers need to be aware of when these changes come – and what systems will you need to be familiar with as the rules come into force in new-build properties?
Go with the flow
A BEIS Government report on the suitability of existing heat distribution systems for low temperature heating found that just one in 10 UK dwellings could meet the heat demand with a 55°C flow temperature on a peak heating day. The same survey found that only one in 100 would meet the demand at 45°C.
The report went on to say that, on an average winter day, 53% of dwellings could use a 55°C flow temperature, and 6% could use a 45°C flow temperature, with no changes to their heat emitters or flow rates.
The ambitious carbon reduction targets – coupled with the existing heating systems of the UK's housing stock indicates that many new builds will now be using heat pumps – rather than gas boilers. These will need to be paired with underfloor heating and, potentially, with heat networks.
In fact, the government has said that it expects heat pumps will become the primary heating technology for new homes – so it's important for installers to be up to speed on products and skills required.
Underfloor opportunity
For this heat pump technology to work at its most efficient level, the system needs to run at 35 to 45°C and this is something that underfloor heating and heat networks can perfectly support.
Underfloor heating is the most popular home heating system to pair with a heat pump as it provides an even, comfortable heat using lower temperature water than an equivalent radiator system. In certain circumstances a radiator system can be overly taxing for a heat pump, but they are ideal for use with underfloor heating.
System design
There are several things which a professional would consider when designing an underfloor heating project, such as the amount of insulation and glazing in the property.
A Design Engineer will also ask about the heat source and what kind of floor the system will be installed in (is it a new solid floor, between joists or over an existing floor) and if there is a finished floor covering in mind.
At Polypipe we have functionality and longevity in mind so we can help you choose a system which best suits your needs.
If any installers are unfamiliar with heat networks, they can speak to their pipe and heating manufacturers – like Polypipe Building Products – who will be able to offer them help and advice on which products to select.
Heat Networks
Installers will know Polypipe as a specialist in plastic plumbing and underfloor heating, but they may not know that the company also offers products suitable for heat networks.
Polypipe's single, double and quadruple insulated pipes come in a wide range of sizes that are in stock and that are made specifically for this purpose.
The single medium heating pipe is primarily intended for the transport of heating water in buried distribution networks. Whereas the double pipes combine both the flow and the return medium pipes in the same jacket pipe, primarily intended for the transport of heating water in buried distribution networks. We also have both single and double sanitary pipes used for transportation of hot and cold water. Additional both heating and sanitary pipes are available in a combined jacket pipe known as a quadruple pipe.
All are hyper flexible and made from cross-linked polyethylene PE-Xa and heating pipes are colour coded to enable easy identification of flow and return during installation, even with mounted dust or shrink end caps
The multilayer thermal insulation is made from cross-linked, microcellular polyethylene PE-X foam with a water-repellent closed cell structure, characterized by its durable, non-ageing insulation performance, and its permanent elasticity, maximizing and maintaining the thickness of the insulation layer, even after bending multiple times.
The high-grade, black coloured UV-resistant, double walled, corrugated HDPE jacket pipe shields the pre-insulated piping system against mechanical impacts and moisture, whilst maintaining maximum flexibility. Polypipe also offers a full range of fittings and accessories.
The key to success is considering the full picture of a new build heating system – the heat source and the underfloor heating – at both the design and installation stage.