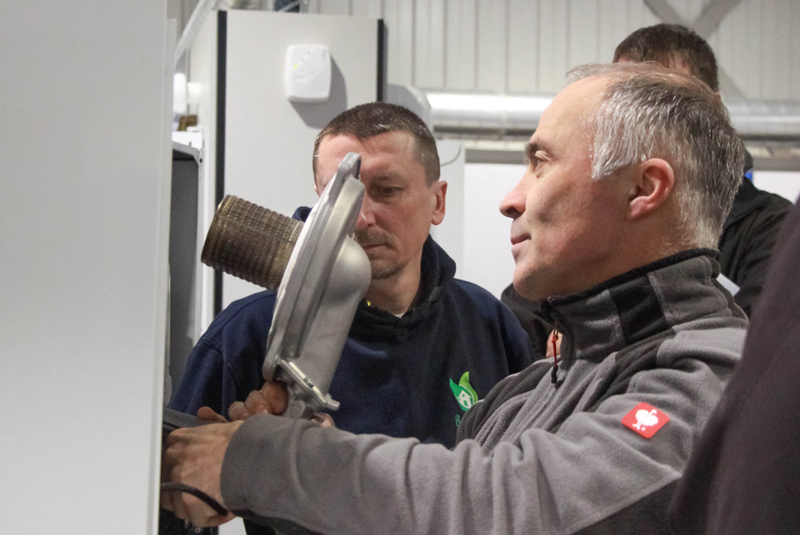 Baxi trainer Graham Collins runs through some of the issues heating engineers face every day – and reveals his tops tips on tackling them.
With over 45 years' experience in the UK gas industry, Graham Collins has a wealth of experience and over the last 10 years has been passing that knowledge on. With thousands of hours of training under his belt, here Graham outlines five of the more common issues that heating engineers present him with as well as some advice to help solve them.
Flue positioning and nuisance pluming
Flue siting is a common issue raised by installers, as the location of the flue terminal should be a priority during installation. If it is in the incorrect place, it can cause an inconvenience to neighbours. For example, a terminal installed across a neighbouring driveway or, placing pluming above a pavement could result in the exiting condensate cloud disturbing residents in adjacent properties.
Not only is this an irritation to those living nearby, this type of installation does not adhere to standard practice. To avoid this becoming an issue, installers should always consult BS5440 Part 1 on the minimum clearance for flue terminal siting and if in doubt consult the manufacturer's guidelines.
If the flue cannot be re-sited, there are options available to avoid nuisance pluming becoming an issue. One example of this, is the availability of plume displacement kits and plume deflectors that can be installed to divert fluming away from specific areas where it may become a nuisance.
Error code resolution
Rarely a session goes by without being asked what certain error codes mean and how to resolve the issue. Of course, knowing what an error code means is quite different to knowing its cause and resolution, as that takes some investigation on site, but it is a good starting point as some codes are component specific whereas others are generic.
Long gone are the days of arriving at site with a load of manuals. Nowadays, for issues like this, online tools, such as the Baxi Toolbelt app are incredibly handy and can help to save a lot of time and resource on the job. Installers simply have to input the brand, range and boiler type into the app plus the error code on the screen, this then produces a pop-up box providing an explanation of what the fault is, which can then assist engineers in their diagnosis.
Understanding the need for de-aeration
A common query is why some boilers require to be de-aerated before firing. For boilers using heat exchangers that have stainless steel coiled tubes the de-aeration process is to ensure that all the air is evacuated from the tubes of the heat exchanger, so it is completely filled with the system water before the boiler is fired up. If there are pockets of air within the tubes when the boiler fires then damage can occur, resulting in premature failure, poor performance or noise.
Those engineers who are returning to a job a year after a boiler was installed, perhaps to change a radiator valve or fit a new radiator, should ensure the boiler is de-aerated before it is fired.
In order to do this, the boiler needs to be put into the deaeration function where the pump will run but the boiler will not fire. It is relatively simple and installers can always refer to the manufacturer's guidelines for further information or watch this simple how-to on the Baxi 600 model…
Electrical safety
With the technological advances that continue to take place, the way that installers interact with heating appliances is changing, with electricity playing a greater role than ever before in modern gas boilers. Consequently, we often find that gas engineers can become hesitant when it comes to dealing with electrics, but this doesn't need to be the case.
There are simple steps which can be taken to ensure safe practice and usage when it comes to dealing with electricity and boilers. Using a multi-meter and other electrical testing equipment can help a heating engineer to check the safety of the boiler and whether all its component parts are working as they should. An installer's first priority should always be to check if a boiler is safe to work on, before even touching the boiler.
Tests that help to identify if a boiler is safe to work on or not, include Earth loop impedance, Safe Isolation, Earth Continuity test, a Short Circuit test, Resistance to Earth test and a Voltage polarity test. Heating engineers can attend training courses to ensure they understand how to perform these basic electrical tests and also learn how to fault-find the electrical components much easier. These skills can give them the chance to stand out from the competition. "Test, don't guess" as we say at Baxi.
Online vs hands-on classroom training
Online training and tutorials are all too common within the heating and plumbing industry right now, but there have been numerous occasions where I've seen people cut corners on some of the key safety aspects. Online content has a place, of course, and can be easy to access but shouldn't be in lieu of face to face, hands-on training. These videos simply don't provide a thorough enough overview of the electrical safety precautions for a service, repair or even an install – placing engineer's lives at risk as well as the boiler owner.
Heating engineers should take the time to invest in training that will help them to understand how to protect themselves while working on a boiler. For example, Baxi's three-day fault-finding course includes training to show installers how to use an electrical test equipment including a multi-meter, how to conduct basic electrical safety tests such as safe isolation, and how to carry out component electrical fault-finding tests. Additionally, the course covers comprehensive training of all boiler components, typical faults encountered and 'hands on' fault-finding diagnostics.