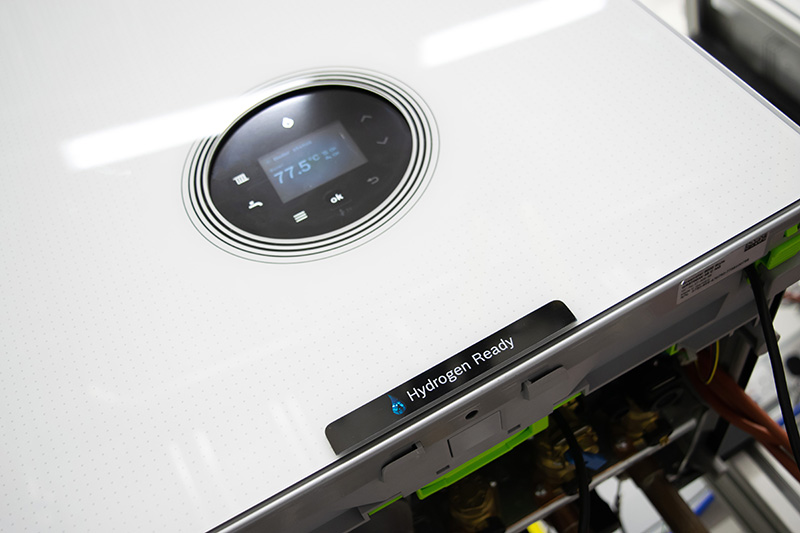 Pete Mills, Commercial Technical Operations Manager for Bosch Commercial & Industrial, looks at the need for training in retrofitting and renewables.
We're currently going through a major transition in the heating industry. We've known it for a while now, however the wider public and the media are starting to be more aware of their energy use and what changes to the way we heat our homes could be.
As new technology comes to the fore, there will be a need for those on the ground, as it were, to develop and expand on their current skillset. Heat networks and heat pumps, for example, are becoming more talked about and prevalent, which in some cases may be completely new territory. Plus with hydrogen on the horizon things are generally going to be more demanding.
I think a lot of customers, whether homeowners or commercial developers, will be looking for advice and guidance from professional installers – particularly if forced to change the way their property or properties are heated to emit less carbon – so it is important to start getting up to speed with the latest developments and have a holistic approach in order to tackle future projects.
Alternative systems
If we think of retrofitting, that is a large job, one that requires a lot of thought and planning. If we are not careful, all of a sudden we will be in a place where installers are asked more and more about alternative heating systems than boilers. If these are completely new areas then the time is now to start learning and trying out different technologies. Looking at how a heating system is different if run on a heat pump for example, taking into fact it runs on lower temperatures, needs different radiator sizing and so on.
This also moves into the renewable space. Say you have a heating system which is linked to, or at homeowners request is to be linked to, Solar PV. Then an installer will need to know how to facilitate this. Smart grid technology is likely to become more widely available and is already in use in Europe. Some heat pump controllers already have this facility and there is likely to be interest, certainly from the commercial sector to begin with.
The demand for solar PV in existing homes has diminished over the last several years, even though it is a great technology. There were several generous feed-in tariffs for solar PV in the early days – a return of 43p for every kilowatt hour (kwh) generated by the panels. This offer kick started the market and was reduced to lower levels over time, as today the offer is around 4p for every kwh generated. At this rate, solar PV is attractive, but it offers virtually a nil return today when compared to seven or eight years ago. The technology is still used in new build properties however, mainly to assist with carbon requirements.
With that in mind, it is still worth a refresher course on renewable technology, just to be prepared if customers start to ask more about it?
The hybrid option
This hybrid approach – a secondary heating source which supports the main renewable technology – is something that will become more apparent, particularly when retrofitting properties. If heat pumps do grow in prominence, building owners may still want to keep their boiler as back-up, but this may also be the route that enables retrofit projects with heat pumps to get established. Hybrids can minimise disruption to existing heating systems but still enable significant carbon savings. So again, it is not only learning how to fit heat pump technology, but also connect to an existing system.
If we throw controls into the mix too, particularly smart monitoring ones, the future is going to be very technology-focused and having a basic understanding of that will go a long way and potentially set you ahead of your local competition.
Heat networks
Finally, heat networks. This is a technology that is growing rapidly and not just for the new build sector. Many retrofit projects now adopt heat networks across a whole range of property types, so there may be value in looking into training in this area. The sector as a whole anticipates that heat networks will account for many of the jobs in the new 'green industrial revolution' and it is certainly one that will benefit from skilled professionals transferring from other parts of the industry.
The benefit of heat networks is they can be fuelled by multiple technologies, including waste heat – such as from the London Underground – meaning they are renewable in that sense. This does mean that local authorities are more open to heat networks so being aware of how to connect a heating system to a network would be valuable.
Ultimately, whilst policy and regulation is still being discussed, and viable technologies are still up for debate, it would be a good idea for any installer to get on the front foot, stretch their skillset and be prepared for any situation that comes in the future. Whatever the energy mix will look like, it is certain that it won't be just solely boiler or heat pump technology, it will be varied, so to be technology agnostic in training can only reap reward.
www.bosch-thermotechnology.com/gb/en/commercial-industrial/home