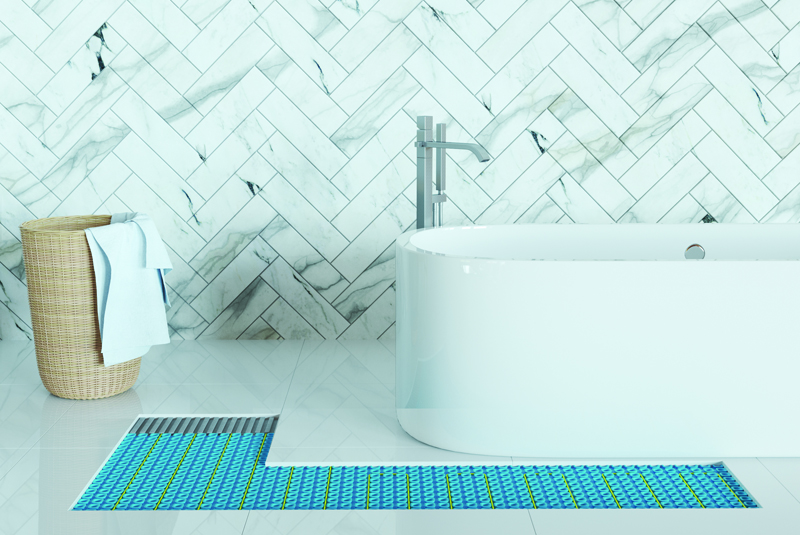 The latest Underfloor Heating Market Report predicts that the global electric underfloor heating market size will only continue to grow. CCL Wetrooms presents its top installation tips.
The report shows that this growth may be a result of the fact that recognition of the product is increasing, alongside a growing demand for home heating systems with deployment across bathrooms, wetrooms and kitchens.
In fact, with open plan living and minimalist design trends on the rise, it's no surprise that two thirds of the underfloor heating market is in the domestic sector – including new builds and retrofit projects.
However, it's not only the domestic sector. Opportunities are also arising in the care home, industrial, warehousing, leisure and entertainment, commercial office, and retail sectors.
The combination of a wet room with underfloor heating meets the demands of design conscious consumers, whilst providing maximum design flexibility for architects and designers.
Fitters have a number of installation options when it comes to underfloor heating, including electric systems and water systems. A number of considerations must be made during the fitting process including the floor type, type of system, tanking, and temperature control.
Here are seven top tips for electric UFH installation…
1. Work with an electric system
Electric underfloor heating systems are considered by many to be the best choice for wetrooms. This is due to their simple installation, effortless control of heat and no plumbing related risks. Electric systems are also potentially far less disruptive during installation. This is particularly true if installing underfloor heating in a ground floor room. You don't need to make room for pipes and connections, instead, simply lay a mat down.
2. Safe and reliable components are a must
It's strongly recommended that an 'earthed, IP68 rated system' is used for total flexibility and safety. An IP68 rating guarantees protection from dust and full water immersion. This is of particular importance as tiling grout is not 100% waterproof. At some stage, your underfloor heating system is likely to be exposed to moisture of some level. Therefore, an IP68 system ensures both safety and reliability.
3. Laying the pipes correctly
First and foremost, you should ensure that pipes are spaced evenly to spread heat consistently across the floor. Whether they are placed left to right or spiralled is dependent on manufacturer instructions. These should be adhered to, to prevent running out of piping before you have covered the full flooring area.
4. Ensure careful placement of the floor sensor
The flooring sensor should sit midway between two of the underfloor heating cable runs. This will link the thermostat and notify the system when the required floor temperature has been reached. You will need to work out where the thermostat will be placed in relation to the sensor, to get the cables to it.
5. Manage your wattage carefully
Ensure the underfloor heating temperature doesn't go above 150 watts or 23 to32°C per square metre. As bare feet are more likely to encounter bathrooms than any other room of the house, the temperature of the floor must be safe.
You'll also need to ensure that the drainage trap doesn't dry out due to evaporation. Leave a space of at least 300mm between the underfloor heating element and the wet room drain.
6. Using the most appropriate tanking
To best install underfloor heating in a wet room, you need to lay the heating component on top of the tanking membrane. This will sit between the membrane and the floor tiles to provide optimum heat flow.
A physical tanking membrane should be used over a liquid-based membrane, as liquid-based membranes can leave gaps and become damaged during underfloor heating installation. Adhesive membranes are more durable and provide a better overall coverage.
7. Not just underfloor heating
Underfloor heating elements work under any tiled surface, so why not consider other options for optimum wet room luxury? For instance, a heated system can be installed behind shower wall tiles, both helping shower areas to dry faster and increasing comfortability during showering.