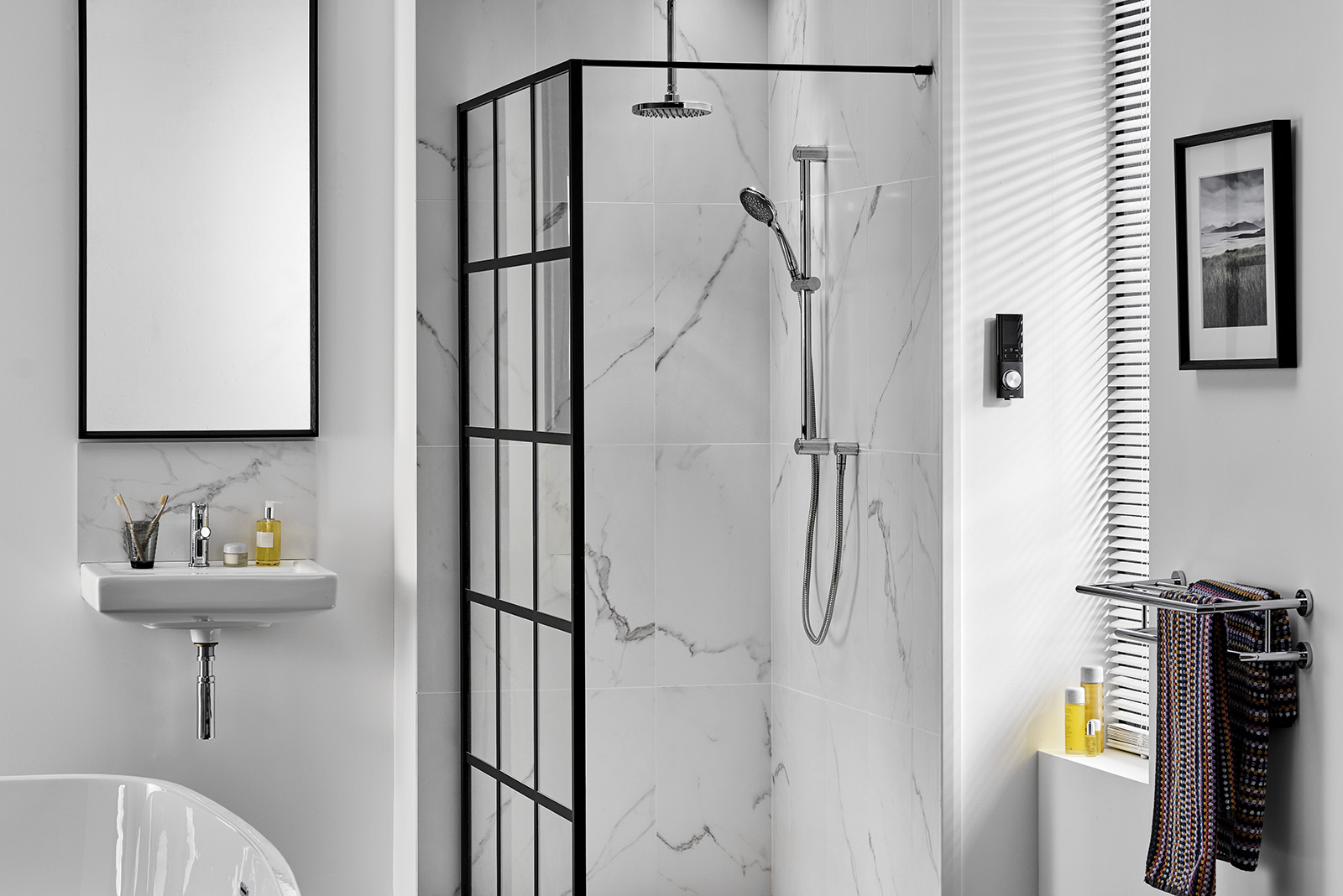 Martyn Brown, Contracts & Technical Manager at Triton Showers, looks at the latest shower technologies that installers can recommend or fit – including some smart innovations that bring showering into the digital age.
Whether it's first thing in the morning preparing for the day ahead or relaxing just before bed, showering forms an important part of many peoples' day. According to Triton's latest 'Greener UK Showers' report, in a survey of 2,000 people, over half of those asked said they spend 10-15 minutes in the shower, while on average, British citizens have five showers a week.
With showers playing such an integral role in our lives, here is an overview of some of the latest shower solutions to consider when replacing or selecting for a new bathroom installation.
Rainfall mixers
One of the most popular additions to the bathroom is the overhead shower, with the fixed spray head positioned above providing the user with a 'rainfall' shower experience.
Triton's new Push Button Bar Diverter Thermostatic Mixer Shower is designed to offer enhanced functionality combined with a contemporary finish.
The diverter feature allows users to easily switch between a single spray pattern handset and overhead fixed (rainfall) shower at the push of a button.
In addition to a more traditional chrome finish, the Push Button Bar Diverter is available in an on-trend matt black with a matching safety glass shelf ideal for contemporary design schemes.
Smarter showers
Digital showers are another fast-growing segment within the UK bathroom market. Triton's survey found that approximately 86% of all respondents would seriously think about purchasing a digital shower in the future. This was strongest amongst people aged between 35-44.
Digital mixer showers allow users to create pre-sets and tailor their shower experience. Triton's HOST is a good example of this type of model and offers increased installation flexibility so installers can tackle varying bathroom layouts. The sleek control panel with full text and colour TFT digital display can be positioned anywhere on the wall as it is wireless, or, if preferred, it can be hardwired through a cable supplied with the unit, allowing it to be positioned within ten metres of the mixer box.
Look for the Quiet Mark
Homes that suffer from low water pressure require shower solutions that are pump assisted to boost the water flow. However traditionally pump assisted showers can be noisy due to the motor emitting a high noise output.
In such circumstances, selecting shower units that have quiet brushless motors and third-party accreditation for reduced noise is a good idea. For example, Triton has a range of Quiet Mark approved shower solutions, that include the AS2000SR power shower, T90SR pumped electric and for care applications the Omnicare Pumped SR.
Multi-generational living
Another trend that has emerged over the past few years is multi-generational living, with 1.8 million households in the UK with several generations living under one roof. This shift in demographics also coincides with the rise in demand for social housing and an aging population.
For such households, it's important that installers consider safety when choosing showers, catering for older individuals who may have mobility and visual impairment needs. Triton's Omnicare range of inclusive showers meets this need, by incorporating a raft of functionality that specifically assists users who require additional support.
It's also important to factor in installation, and the Omnicare Design and Omnicare Ultra are both suitable for retrofit applications, so that they can easily replace outdated models or be installed as an adaptation in situations where a user's needs may have changed.
Eco solutions
Alongside aesthetics and functionality, showers need to be more eco-friendly. Homeowners and consumers are more sustainably aware than ever, yet 64% of those surveyed in Triton's report said they were unsure of how to monitor their water usage. Plus, with the recent rises in the cost of living, installers may well be tasked with choosing models that can save water and energy, as well as money.
To help installers and homeowners better understand the amount of water and energy they are using, Triton has created an online Energy and Water Savings Calculator. The calculator asks simple questions about household occupants and typical showering habits, before providing personalised tips and suggestions for improvement.
With showers and baths being the most water-heavy appliances in the household, it stands to reason that any solution that can help reduce water waste should be considered. However, there is a perception that eco solutions are higher in cost compared to non-eco-friendly products. 55% of people surveyed from Triton's report saying they would expect to pay more, when in reality eco showers are rarely more expensive.
Here, installers can help educate customers, and for those serious about energy and water conservation, electric showers are a sustainable option. Naturally, these showers will lower energy usage as they only heat the water that is used, but there are also water saving electric showers such as the T80 Pro-Fit Eco, which go further by restricting the flow of water contributing to the reduction of household water consumption.