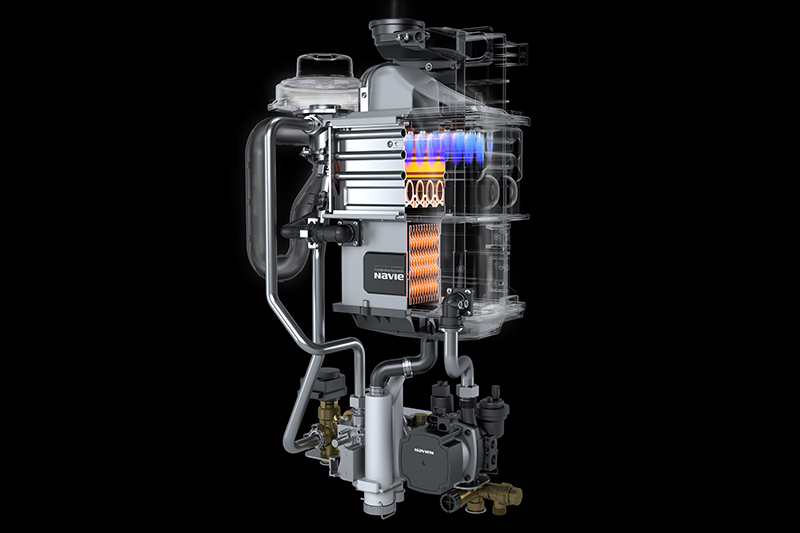 Gas boilers remain the main source of heating and hot water in millions of UK homes, with their technological capabilities and high levels of efficiency perfectly suited for new build and refurbishment projects nationwide. The latest models have advanced significantly, especially in terms of usability, further enhancing their credentials as the heating products of choice, as Sean Keleher, National Technical Manager at Navien UK, explains.
From an installer's perspective, one of the key considerations when choosing a gas boiler is the display. Utilising a unit with a text-driven display makes it easier to view the essential information required for the boiler's operation. Not only does this simplify commissioning and servicing, it also provides engineers with more 'real time' data, including details of how efficiently the unit is performing.
An easy-to-understand text-led display also provides end users with more details on the boiler itself, so there's no desperate search for the manuals! For instance, should the heating system require topping up, an alert can be clearly displayed on the panel, enabling the user to either address the issue themselves or easily relay what's needed to an installer.
The smart revolution
Technological advances and the evolution of the Internet of Things (IoT) have also led to modern boilers being supplied with the latest smart controls straight out of the box. Alternatively, they can easily be upgraded with a manufacturer's smart controller, such as the Smart Plus from Navien.
Another smart development is geofencing functionality, which sees the heating turn on or off automatically, depending on the end user's proximity to their home, as relayed via their smartphone. There is also the option to add multiple users, ensuring everyone in a household benefits from optimum levels of comfort.
Extra efficiency
Combi boilers are renowned for their efficiency, but Boiler Plus also dictates new installations have a minimum efficiency of 92%, in addition to time and temperature controls. The legislation stipulates one of four additional requirements must be present in order for a boiler to be fitted; one of these options is a smart controller – as long as it features automation and optimisation functions, such as geofencing.
Another potential option is weather compensation, which some may argue is the most effective means of maximising a heating system's energy efficiency, as it allows a building to warm up slowly in advance of impending weather conditions. So, in the event of a flurry of snow or icy temperatures, there are no peaks and troughs during the boiler's heating cycle – and operating efficiency is not compromised.
Avoiding the wait for hot water
While homeowners' primary focus will be on their central heating, it is equally important to ensure energy efficient and user-friendly delivery of hot water. Utilising boilers with a built-in pre-heat function ensures taps and shower outlets do not have to wait too long for hot water, while avoiding wastage. Modern boilers can now even learn from a household's behaviour during a seven-day period, so hot water is regularly available in accordance with user habits and daily routines.
So, advances in heating technology continue to have a positive impact on the industry, enhancing efficiency and usability on many levels. By offering long-term economic and energy savings, as well as longevity, reliability and peace of mind, modern boilers look set to remain a stalwart in UK homes for the considerable future.