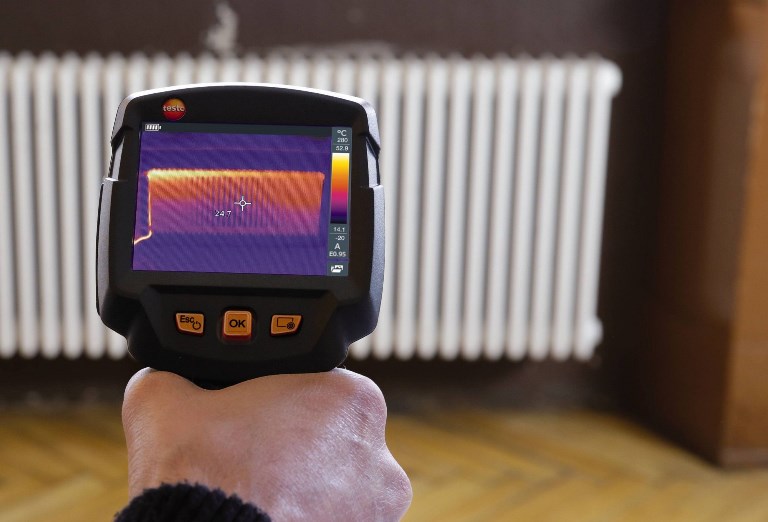 Testo explores some of the key test and measurement tools heating engineers should consider. 
No two days are the same for a heating engineer. There are any number of different tasks ranging from a low to high difficulty and it is essential to make sure you are prepared for anything the day could throw at you. 
We know how important it is to have the right tools for the job. Not only are wait times reduced, resulting in happier customers, but you are also able to measure the correct parameters efficiently. 
We also understand that plumbers and heating engineers need to be able to confidently rely on their tools. As a worldwide manufacturer of measurement instruments for heating engineers for a variety of HVAC applications, this is our expert opinion on the top five measuring instruments heating engineers might need. 
Flue Gas Analyser
An electronic flue gas analyser is a common tool relied on by heating engineers all around the world, especially if you're performing tests on small combustion plants or heating systems. 
Flue gas and emission tests are ideal for determining the levels of heating energy that is lost as well as the pollutants that are emitted. The analyser measures the key gas components within the process of combustion and aids you in ensuring the boiler is performing optimally and safely.  
Thermal Imaging Camera
When you're working in the world of HVACR, a thermal imaging camera really is the perfect addition to a tool box. They are able to help in the detection of a range of issues from radiator blockages to damaged pipework without causing any unnecessary damage to a customer's property. This means you can carry out regular high level of work without causing extra cost and wait times. 
However, heating systems aren't all a thermal camera can assist with. They are perfect to check that ventilation and air conditioning units are working correctly, ensuring a good level of comfort indoors. They are also ideal for locating areas with water damage and dampness, enabling you to spot potential areas where mould could grow, so you can take preventative action.  
Digital Manifold
You might see a digital manifold and think of a refrigeration engineer. However, as heating systems are replaced, in order to take a step closer towards the green heating technology and Net Zero goals, the tools you use as a heating engineer must adapt. Digital manifolds have already been proven as an effective tool for installation and servicing of air conditioning and refrigeration systems. To stay up-to-date consider looking into heat pumps and digital manifolds. 
Smart Probes
Smart probes are the perfect tools for smart measurement. There are a variety of smart probes for all HVAC applications that connect to your measurement instruments or a smart phone or tablet. Not only are smart probes available to purchase individually, but they are also in kits tailored to different needs. For example, the testo Smart Probes Differential Temperature/Pressure kit is perfect for heating engineers as it allows the measurement of flow and return temperature on underfloor heating and radiators, gas flow, static pressure and can perform a drop test. 
Voltage Tester
A voltage tester allows installers to test electrical systems and equipment easily and precisely. Some voltage testers have LED displays, which shows the voltage indication clearly and distinctly from every possible position. These can also be sold in useful kits, like the new electrical kits from Testo including a non-contact voltage tester for precise and professional measurement of electrical parameters.