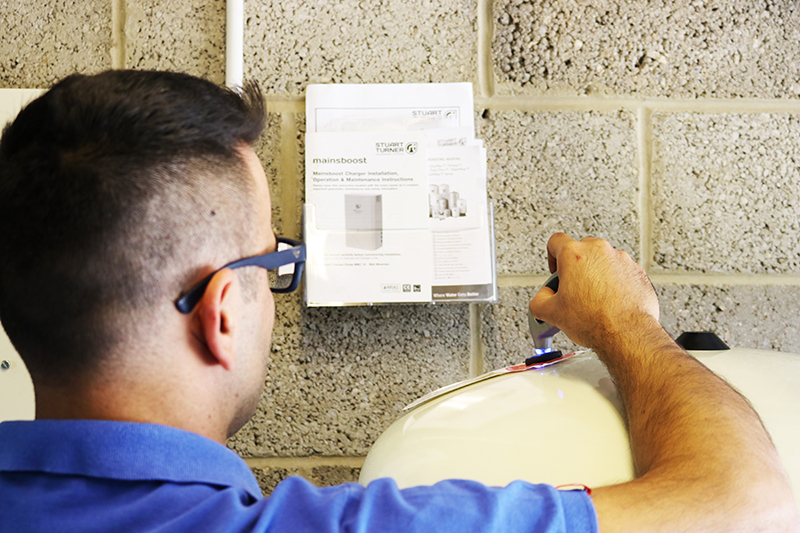 With a heritage of well over 100 years Stuart Turner knows all there is to know about pumps. Richard Ballard, the company's National Training Manager, answers some common questions. 
How much increase in pressure can be expected from a mains boosting pump on a small house (three bed semi). Would I need to find room to site a large tank?
The maximum that you can pump the mains directly is 12 litres/min, by using a Mainsboost Flomate you can increase pressure by a minimum of 1.5 bar up to 3.2 bar.
The Mainsboost iBoost range is an integrated booster set and has a 200 litre tank, and can increase pressures up to 4.5 bar with flowrates up to 100 litres/min and can fit neatly within a 600mm tall larder cupboard, these products come in either fixed or variable speed options.
Other solutions would be to use a booster set, with the Stuart Turner iBolt range of pumps you can increase pressures up to 4.5 bar with flowrates up to 30 m3/h, a break tank would need to be sized to ensure that you have enough stored water for peak demand
If noise is an issue you could use an in tank solution, such as our iMatic range, this is a tank with pumps submerged inside, this makes them very quiet during operation and is ideal if limited space is available.
Do you have any installation tips for putting a Mainsboost into a small loft space with a low pitched roof?
Always check the incoming mains supply to the property at point of use, Mainsboost Water Performance Systems are suitable if the property has an incoming pressure of at least 2.0 bar static pressure but poor flow rates.
To achieve the minimum pressure you can use a Mainsboost charger pump together with Mainsboost horizontal vessels for this application. This allows you flexibility, use multiple horizontal vessels and spread the load across the loft space rather than use one large vessel.
Is there any limitation to the types of items that can be linked to a lifting station when creating a new utility room below the mains drainage level?
Lifting stations have been designed to enable you to connect a bath, shower, basin, sink, washing machine and dishwasher to the unit. Lifting Stations can pump up to seven metres vertically and 72 metres horizontally with flowrates up to 120 litres/min. The units are designed not to have WCs fitted to them.
The Lifting Station should only be used for the removal of grey water. Avoid kitchen towels, hair, food waste, cigarettes etc, as this will damage the unit. Do not pour in any corrosive liquids such as acids, solvents, oil, paint stripper, as this will damage the unit, and is not covered under the warranty.
If the flow rate is too great on a universal (negative) head twin pump, is there any way to reduce the pressure or limit the flow?
There is a selection of Universal pumps that would suit the application, you can choose between 1.5 bar and 4.5 bar pressure with flowrates from 32 litres/min, up to 52 litres/min, depending on the application. Most taps and showers have restrictors to regulate the flow, therefore no reducers after the pump should be required.
What solution would you suggest to pump both hot and cold supplies for a 4-bedroom detached house with a vented system? The property has a main bathroom and two en-suites.
A Monsoon pump would be suitable for this, depending on the gravity flowrates and pressure you can choose between a Standard and Universal Pump.
All Monsoon pumps are continuously rated, therefore it is important to ensure that you have enough stored water to meet peak demands. A Monsoon 3.0 bar or 4.0 bar pump would most probably best suit this application, they would offer flowrates up to 40 litres/min.
Join Stuart Turner's Installer Club to access rewards and more
By joining the Stuart Turner Installer Club, you will receive an unique membership number and personal account. Simply log in and earn points for every product installation you register. Rewards include Stuart Turner merchandise, workwear and products to help you get the job done. Points range from 350 to 8000 depending on the product and you only need 100 points to claim a reward.
A unique dashboard will also provide you with quick links to relevant documents, such as installation guides, and allow you view your registration history to help identify when and where a warranty is due to expire.