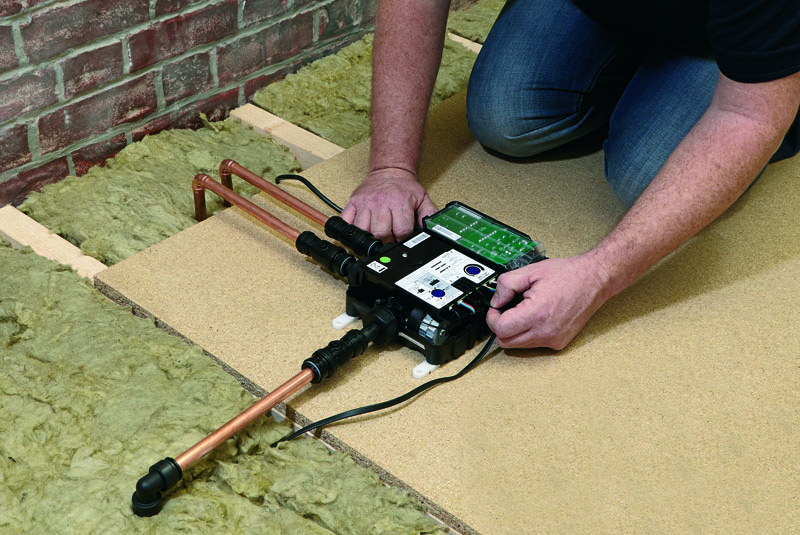 Having previously managed the design and introduction of the original Quartz digital shower range, Paul Pickford has recently rejoined Aqualisa to coincide with the new design changes for the series. Here, he discusses the inspiration that has driven the latest updates.
What originally inspired the creation of the Quartz digital shower?
Paul Pickford (PP): When Aqualisa's Helix Bimetal technology was coming to the end of its patent we began thinking about options for the next phase of development. We were looking towards the future and what could replace that core technology – for us, electronics was the answer.
Electronics in the bathroom was still relatively new, wasn't it?
PP: In the way we know it today, yes. This was almost 20 years ago now, and while electric showers existed, which simply heated water instantaneously, we wanted to look at using electronic technology that would mix hot and cold water and create a completely new showering experience that would deliver the perfect flow and temperature every time.
So what were the key considerations?
PP: Ultimately, our thinking focused on two key groups – the installer and the end user. Installers required a product that would be easy to fit, and we wanted the end user to be able to enjoy an easy to use, high quality device.
How did you ensure a pleasant installer experience?
PP: At the time, installing showers was a lengthy process – there could be a significant, labour intensive chasing process, where walls might need to be excavated to make room for pipes. If there was a pump involved, this job got even lengthier.
However, by using electronics to operate the mixing valve, it could be installed away from the bathroom, removing any need to disrupt walls and decor. The mixed water and a control cable still needed a way into the bathroom and the 'eureka' moment came when we realised that the mixed water and control cable could be located inside the riser rail, which could then be extended into the roof space. This innovative solution substantially reduced the install time by about a third.
A big difference for the installer, but what benefits were they able to show the end user?
PP: Ultimately, what an end user wants from a shower is simplicity – particularly to turn it on at the right temperature. Temperature selection was a challenge at the time with mixer showers. Internal mechanical components created a lot of friction, requiring the user to use a lot of force when turning the temperature control knob. This problem was accentuated in thermostatic technology which required only a small angular movement for quite a sizeable increase in water temperature.
By creating a control that was electronic rather than mechanical, we ensured that the Quartz control required minimal effort to turn. Electronics also allowed us to have a much smarter control that could be programmed to equate a large angular movement to a small change in water temperature. This makes the control easier to use and much more precise. A simple on and off button also improved the user experience and with clear LED lights visually indicating when the shower was at the desired temperature, users had total confidence in the shower they were stepping into.
What then inspired the latest design evolution?
PP: We are constantly looking to improve the shower experience and we are determined that Quartz stays at the forefront of style and functionality in the modern bathroom, whilst keeping its reputation for easy installation and compatibility with all approved UK domestic water systems.
Talk us through the changes…
PP: The new range features a flush, finely contoured control with clean edges in a striking chrome finish. We have replaced printed graphic icons on the control fascia with laser etched ones, to create a more durable design and high-quality finish. Improved control engineering on the temperature bezel ensures a smoother glide rotation for ease of operation and functionality.
The blue LEDs that have become synonymous with the Quartz range are still featured, alongside new one-touch buttons.
Available with the same high-quality showering kit, the range comes as a single or dual outlet system with both wall and ceiling fixed shower head options, or bath fill. The new products are, of course, still powered by Aqualisa's thermostatic Quartz smart valve, which can be located up to 10 metres from the shower controller.
Aqualisa believes that a great day starts with a great shower, something which Quartz has always been. With these subtle new product developments, installers can continue to trust in the Quartz range, with all its installation benefits and sheer reliability, whilst homeowners will love the new design and operational features that will make their showering experience even more pleasurable and convenient.
How do you see the future of showering?
PP: There are three key trends for the bathroom as far as consumer behaviour is concerned – control, comfort and convenience. We need to think about the relationship between consumer and product, which for us means customisation of the whole showering experience. With the reality now of multi-generational households, showers will have to easily convert to different lifestyles and age-groups, which digital technology allows them to do.
Our digital journey continues with Q, which already extends the capability for automated personal showering and water efficiency to signal that the shower is clearly part of the smart home revolution.