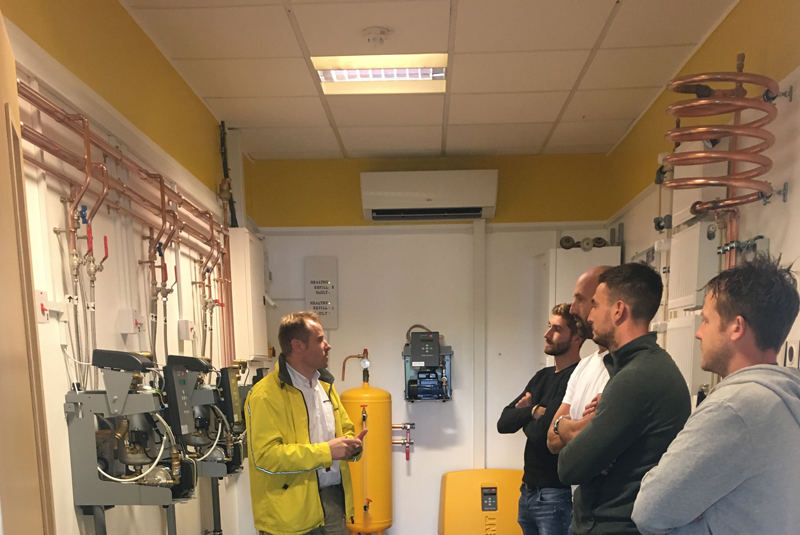 The presence of air within a heating system can cause numerous issues both for installers and their customers. According to Kevan Peaker, Business Unit Director at Spirotech UK, fitting a deaerator to provide ongoing system protection will result in a significant reduction in inefficiencies, maintenance callbacks and overall costs.
Most common heating system complaints, including noisy radiators, reduced flow rate and lower heat output, can be attributed to the presence of microbubbles within system water. All liquid contains dissolved oxygen and nitrogen, which become liberated when there is either an increase in temperature or a decrease in pressure. As a result, tiny bubbles of air are formed, just like when you boil a kettle or open a bottle of fizzy drink.
In order to maintain the highest level of efficiency and keep cost and maintenance to a minimum, it is crucial that the microbubbles are removed before they start to slow down the system. This can be achieved by fitting a deaerator. Unlike an automatic air vent (AAV), which can only release large pockets of free air during the filling or draining of a system, a deaerator is able to successfully capture and release the microbubbles, which are so small that an AAV is unable to catch them.
A deaerator should be fitted on to the flow pipe at the hottest point of a system, as this is where the microbubbles will form due to the increase in temperature. Utilising specialist tube technology, it is able to successfully create the correct environment for microbubbles to rise upwards out of the water and then be released by an automatic valve at the top of the unit. The internal tube cluster creates a temporary decrease in water velocity, creating an integral laminar 'no-flow zone' in which the microbubbles are able to overcome the mass flow conditions and automatically rise, instead of continuing their path around the system.
If left untreated, microbubbles will eventually be reabsorbed into the system water. This is hugely problematic both for end-users and installers, as the dissolved oxygen will react with any ferrous internal surfaces and gradually corrode the pipes. It is this corrosion process that leads to a build-up of magnetite debris, which will eventually clog the system and lead to serious inefficiencies. As a result, installers are often called back to clean the system, costing both themselves and their customers time and money.
Many people believe the way to combat this issue is by fitting a dirt separator that is able to catch magnetite and non-magnetite particles, remove them from the water and store them in an external chamber for the installer to empty. Whilst dirt separation is an effective method for removing dirt from a system, it in fact only treats the symptom of the problem, and not the cause itself.
It is for this reason that we have recently held a series of deaeration training workshops at the Spirotech UK headquarters in Shirley, West Midlands. It is our belief that system protection should take a 'prevention is better than cure' approach, when it comes to maintaining efficiency and thus reducing costs and callbacks.
The workshops are open to any installer who is interested in learning about the process of deaeration. Some of our most experienced engineers and sales personnel deliver presentations about the various aspects of air removal, including busting the common myth that an AAV and deaerator perform the same job. Following this, the installers are divided into three groups to observe live demonstrations of our SpiroVent deaearation range in action, including our domestic SpiroVent RV2 and the commercial SpiroVent Superior.
One of the main aims of the workshops is to provide a two-way forum for installers and the Spirotech team to discuss some of the key issues surrounding deaeration and for installers to ask important questions about how best to deal with systems plagued by air-related problems.
Every installer who has attended the training workshops has gone on to fit SpiroVent RV2s. This shows just how impressive and important the concept of deaeration is once witnessed first-hand and when demonstrated by experienced system engineers who firmly believe in the importance of adopting an air-first approach to system design and maintenance.
Spirotech is hosting more training workshops throughout 2018. To sign up or for further details, tweet @SpirotechUK or @SteeleDamon. For more information on how Spirotech can help you maintain system efficiency, visit www.spirotech.co.uk