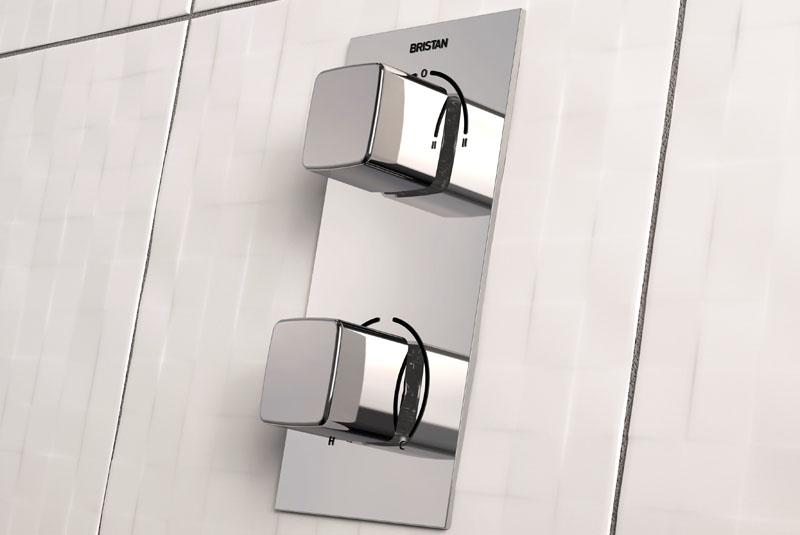 Whilst the bathtub once took centre stage in the bathroom, recent decades have seen the shower rapidly rise through the ranks. For installers, it's important to be aware of what's available in order to offer customers the greatest range of choice and, as Lisa Ward, Product Group Manager at Bristan discusses, there are many shower options to choose from.
The percentage of homes which have a shower has risen enormously, growing from 20% in the 1970s to 85% today. During the year, an average Brit will take a total of 227 showers and only four baths. Although this surge is largely attributable to our increased need for convenience, a secondary factor is growing awareness of environmental issues. According to the AMA Shower Market Report 2015-2019, sustainability and water efficiency are a major concern for consumers.
Dual control
A popular choice with consumers, dual control showers have recently experienced a major boost in popularity, as homeowners increasingly favour a minimalist style. The flexibility of this design means they can be teamed with fixed heads, handsets and body jets – with concealed versions being the preferred option for offering a clean, contemporary look.
Traditionally, however, they can be challenging to install as it can be difficult for an installer to judge how much space is available behind a cavity wall, with this varying significantly between different aged properties. This has led to many installers recommending exposed dual control shower valves, rather than risk purchasing a product that won't be suitable for the space available or that will require the creation of a false wall.
To alleviate this issue, Bristan's dual control concealed shower valves can be fitted into a cavity as small as 35mm, and there is 17 to 30mm of inbuilt adjustability to provide further flexibility – and a wall outlet is even included as standard. Furthermore, there are several options to choose from – valve only, valve with a two outlet diverter, valve with twin stop cocks and valve with a two outlet diverter and stop cock.
Mini vs maxi valves
When it comes to retrofit options which won't require a complete bathroom renovation, mini and maxi valve showers are a good place to start.
Whilst a Bristan mini valve offers a centre selection between 110 and 155mm and the maxi valve range enables a selection between 136 and 158mm, both offer the same level of flexibility and ease of installation. What's more, both the mini and the maxi have adjustable elbows included in the pack, and the riser kits for both feature an adjustable bracket. This means that both can be quickly and simply altered to fit over existing pipework.
Whilst the mini and the maxi valves both include eco-friendly flow regulators, and are both available in a range of designs including concealed and exposed options, the overall style of each valve is different. Mini valves are slimmer in design, and better suited to customers who are looking for a more subtle look for their showering area. For those who want to make a statement, a chunkier maxi valve can make an impact in larger spaces which require a strong focal point.