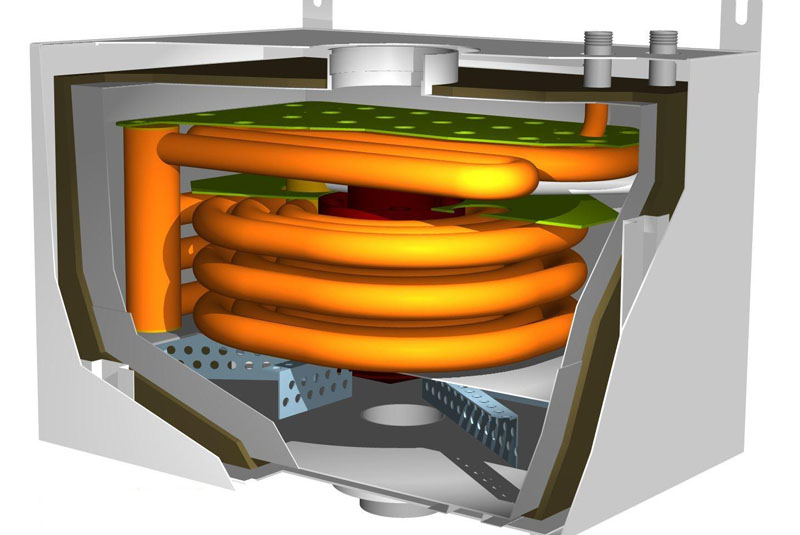 Heating a domestic property in the most efficient way doesn't just involve replacing an ageing boiler. Jon Phillips, Head of Product Management at Baxi, explains how extras such as controls, flue gas recovery and system maintenance solutions all play a part in heating rooms effectively, and should always be recommended by installers.
A new high efficiency boiler can lower household energy bills by up to £300 a year. However, improving efficiency is about seeing the whole picture – whether that's by recommending new controls, chemical water treatment and flue gas recovery or ensuring that a property is sufficiently insulated.
When a new boiler is being fitted, it's an ideal opportunity to install new controls, or upgrade existing ones. It has been estimated that fitting standard controls could reduce the domestic energy used for heating and hot water by 30%, and that ensuring all homes have a timer, room thermostat and TRVs would reduce UK CO2 emissions by 4.3Mt/year by 2020.
Furthermore, the EST says that installing and correctly using a room thermostat and thermostatic radiator valves in a typical three-bedroom semi-detached home heated by gas could result in average savings of £80 to £165 a year.
However, despite these benefits, the right controls are not always being specified. While over 95% of UK homes have a boiler, 800,000 of these have no controls at all, almost eight million have no room thermostat and over 70% lack the minimum levels of controls recommended in the 2010 Building Regulations. Therefore, it's important that heating engineers don't miss valuable opportunities to upgrade existing heating controls or install new ones.
With more controls entering the market than ever before, there's an option for every property. Recently, there has been growing demand for feature-rich, smart technology controls – offering greater potential for increased revenue for heating engineers. Baxi offers a range of controls, as well as hands-on Nest Learning Thermostat training, which is delivered as part of our one-day boiler courses, available nationwide. The Nest Learning Thermostat is easy to use; it's simply turned up and down like a manual thermostat for about a week, and it then creates a personalised schedule that is refined over time.
Chemical water treatment is another solution that can help boost the efficiency of a heating system. The process comprises a chemical clean and flush, along with inhibitor and a filter. System water must be clean and chemically treated for energy savings to be fully realised – even on a new system with new pipework.
Within any heating system, electrolytic corrosion occurs as a result of water coming into contact with the various different metals found in central heating systems, resulting in the formation of magnetite and sludge. Systems that are blocked with sludge and debris mean the boiler has to work harder, for longer, as the circulating water is unable to transfer the heat efficiently.
By cleaning and protecting a previously dirty system users can achieve a 15% gas saving every time a room is heated up. Water treatment products also protect the life of a boiler, and potentially safeguard the warranty; all major boiler manufacturers include specific terms and conditions within their warranties on the cleanliness of the system.
To improve efficiency further, it's worth recommending innovations such as flue gas heat recovery. This significantly reduces energy use and water consumption. Sitting neatly between the boiler and flue, flue gas heat recovery units recover latent heat from the flue gases that are normally expelled into the atmosphere. This heat is recycled and used to pre-heat water coming into the boiler from the cold mains supply – reducing the energy required.
But before considering a new heating system, engineers should check that homes are well-insulated to reduce heat loss and energy use. According to the EST, in an un-insulated home a quarter of the heat is lost through the roof. In addition, hot water cylinders and pipework should be properly insulated.
It's also essential to check that any existing radiators are the correct size for the rooms they are heating, and that they are still working well. Any existing pipework should be checked too, and upgraded if necessary.
While a new high efficiency boiler is a great way to make the most out of a heating system, a joined-up approach, where controls, water treatment and flue gas heat recovery are implemented too, will achieve optimum energy savings.