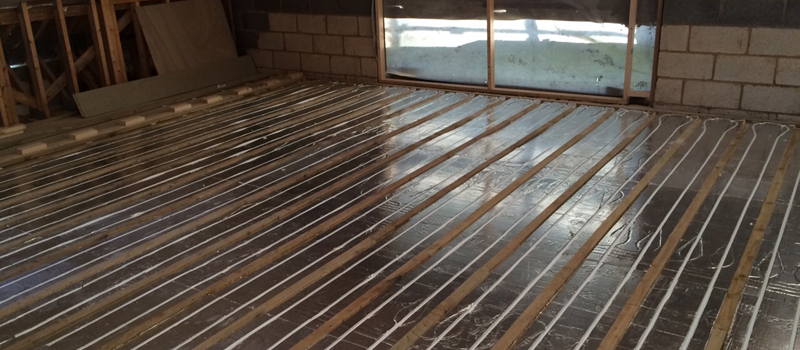 Underfloor heating is one of the hottest choices of heating thanks to its energy efficiency and superior comfort levels. Chris Ingram, MD of Continental Underfloor, explains how installers can choose the best system for the project they're working on.
Whether homeowners are looking to extend or renovate, contractors are developing new residential properties, or developers are working on a commercial site, there is now a warm water underfloor heating system to suit any type of project. Selecting the right system for the project doesn't need to be difficult; here are a few steps for installers to follow to make sure they use the best available option for the application they are working on.
What's the brief?
First of all, installers need to understand the job in hand. Is the building new or is it an existing property being extended or renovated? Do you need a system for the ground floor, first floor or all floors? What is the floor construction type? All of these factors will affect the type of system you choose. Make sure you get a full brief to start with to save time and hassle moving forward.
Existing properties
It is possible to install underfloor heating in existing properties without extensive work digging up the existing floor. For situations where it is not convenient, viable or affordable to disturb the construction of a floor that is already in place, a panel-based, over the floor system is ideal.
To fit such a system, lift the current covering – tiles, laminate, carpet etc – and place the panels over the existing floor, before replacing the covering or fitting a new one. The panels for these solutions are usually less than 2cm in depth, providing a great solution with very little height added to the floor.
Where there's a joist, there's a way
There are some systems available that fit in between the joists of the building, which are particularly suitable for upper floor rooms. Typically, these solutions slip between the joists, meaning there is minimal disruption to the rest of the building. There is no extra build height, even if an existing floor is already in place. If there is a cellar or basement, joist systems can be used for ground floor applications.
Bedrooms and bathrooms are often popular rooms to have underfloor heating installed, so if a homeowner is looking for a suitable system just for these rooms on a first or second floor, a joisted system could be perfect.
New builds, extensions or major renovations
Where underfloor heating is required in a new build, extension or major renovation, the best type of system may well be one that becomes part of the fabric of the building. If the floor is going to be dug up or completely replaced, a screeded underfloor heating system – where a screed is used to seal the pipes within the floor's construction – is probably the most effective system to use.
Covering all bases
Whether laminate, wood, stone, tiles, vinyl or carpet, almost any type of floor covering is compatible with water-based underfloor heating – as long as the right choice of insulation is used. This means that whatever the purpose of the building or room, underfloor heating should be a practical option.
It is worth bearing in mind though that harder surface coverings like tiles, stone and wood are better at conducting heat, but that's not to say other options won't be suitable. If the customer wants carpet in a room with underfloor heating, the installer should advise them to choose one with a tog value of between 1.0 and 1.5 and an underlay of 0.5 to ensure they get the most out of their heating system.
If installers or plumbers are unsure about what type of underfloor heating system they should use for a particular project, they should phone a reputable supplier for straightforward and quick advice.