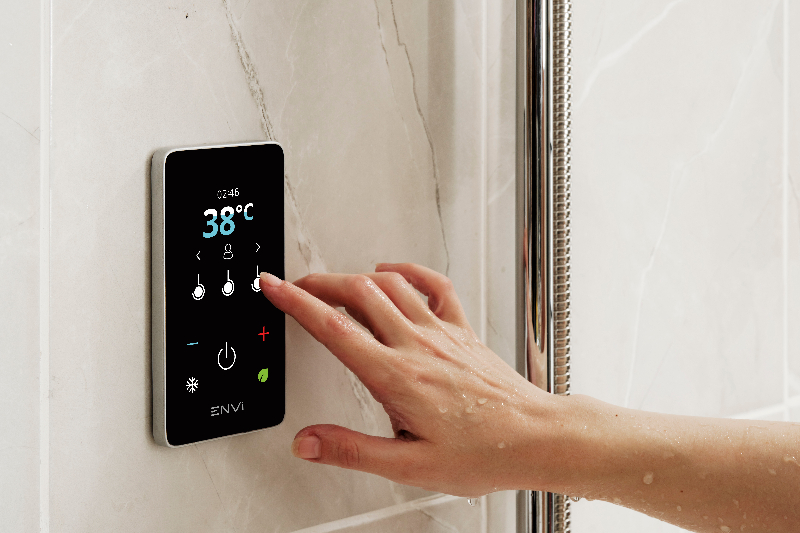 In the ever-evolving landscape of consumer preferences and environmental consciousness, Triton has identified growing demand for electric showers that deliver attractive aesthetics, maximum sustainability, and space-saving potential without compromising on performance. Karen Wise, Head of Product Management at Triton, dives into the creation of a new electric shower solution that tailors to these specific user needs, from conception to completion.
Underpinning product innovation is consumer demand. Notably, aesthetics, sustainability, and space-saving have been highlighted as the key factors end users keep in mind when selecting a shower. Shifting legislation, including energy efficiency standards set out in Part L of the Building Regulations, also continue to influence the domestic market. It is these considerations that paved the way for the next generation of electric showers, ENVi. 
Market drivers
When introducing any new product to the market, the journey begins by identifying a specific demand. Triton does this through consumer research, which has recently highlighted a need for solutions that save energy and water, while being design-forward. 
Once an understanding of market drivers has been obtained, Triton defines Key Performance Indicators (KPIs) and objectives. These are applied to the development of new bathroom systems, providing clear direction to prevent 'project creep,' which refers to when product development deviates from the original brief. Equally crucial is commercial viability, making solutions affordable for developers, installers, and – most importantly – end users. 
Space and style
Increasingly, consumers are focused on interior design, caring about both form and functionality. As a result, desire for trend-led bathroom fixtures has grown. Triton's answer to this demand is ENVi, which is available in three finishes – black, copper, and silver effect – and has shower head variations, such as dual-outlets. 
From a developer's perspective, being able to provide flexibility in smaller bathrooms is also crucial. To achieve this, Triton developed an electric shower heater box, known as Tri-Hub, which can be located up to three metres away from the control panel, in spaces like lofts or airing cupboards.  
Another vital consideration is ease of installation, which can be accomplished by getting installers involved in the development process. Prior to its recent launch, Triton facilitated a focus group with a group of experienced installers to seek necessary feedback. This played a fundamental role in refining ENVi, including the addition of captive screws in the Tri-Hub, to improve visibility for installation in unlit spaces, and installation support QR codes on the unit.  
Going green
As energy efficiency becomes increasingly important to consumers, manufacturers shoulder the responsibility of integrating it into product development. For example, Triton's dedicated sustainability manager collaborates with the project team from the outset, providing expert analysis, carbon footprint calculation, and strategies to minimise environmental impact. 
Triton has even gone one step further by collaborating with ClimatePartner, an organisation dedicated to incorporating climate action into corporate operations. In fact, ENVi is Triton's first ClimatePartner certified product.  
Empowering users
Triton's research also unveiled user desire for personalisation and control. In response, ENVi features a digital display control panel that empowers users to adapt their showering behaviour by adjusting the temperature, setting timers, and monitoring their water and energy usage. Additionally, it offers thermostatic functionality, ensuring temperature stability during showers. 
The control panel accommodates up to six user profiles and boasts an eco-mode, simplifying efforts to reduce water and energy consumption by encouraging shorter shower duration. This intuitive feature not only promotes sustainability but also offers users a seamless way to customise their shower experience while being environmentally conscious. 
Designing sustainably
Due to the on-demand heating aspect, electric showers use less water than mixer counterparts. Building on this foundation, ENVi is designed as an A-rated appliance, guaranteeing that 96 per cent of the product's energy usage contributes to delivering water.  
On top of this, user behaviour is key to ensuring energy and water saving is achieved. For example, a mere one per cent reduction in daily shower time among UK households could save over 673 million litres of water per annum – which is the volume of water in 270 Olympic swimming pools. It would also save nearly 6.7million kg of CO2e each year – equivalent to taking 3,950 cars off the roads. The ENVi eco mode makes it easier for users to save energy every time they shower, and installers can play an important role in helping consumers achieve this by educating on them on how to use their systems more effectively. Triton's energy and water savings calculator can also play a valuable tool for consumers.  
Main Image: Triton Showers