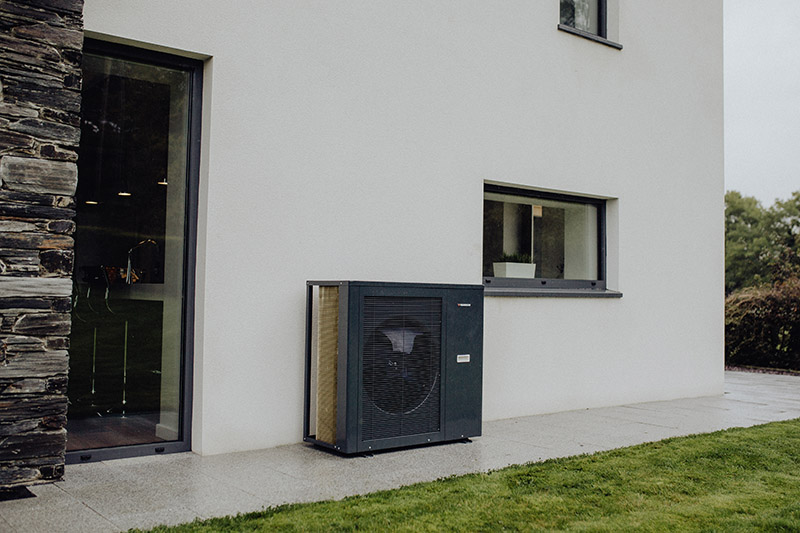 PHPI speaks to Brian Beattie, Head of GB Sales for Warmflow, about the company's oil and renewables solutions.
Warmflow has been operating as a manufacturer and supplier of oil fired boilers and other home heating products for half a century. What do you think the big topics will be for the sector in the coming years?
The industry has undergone radical change in the previous few years with an increasing focus on developing products which help companies and customers reduce carbon footprint as well as enhancing energy efficiency. At Warmflow we've been working hard to ensure we future proof our products and help the environment in reducing our carbon footprint. This has involved launching a new range of oil and renewable products which are more energy efficient meaning they use less fuel to provide customers with heating and hot water.
Our new Agentis oil boiler range includes the UK & Ireland's only AA rated oil combi boiler which will save the homeowner up to 5ltrs of fuel per week and we have recently launched a range of renewable air source and ground source heat pumps under the Zeno brand. I see these two trends continuing for the foreseeable future and at Warmflow we will continue to push forward to ensure we are at the forefront of this trend.
The company's solutions include oil boilers, hot water cylinders and renewables. Are you seeing any shift towards products like air source heat pumps and wood pellet boilers?
We have certainly seen a growing demand for renewable products and air source in particular over the past 12 months. This has been encouraged through government incentives such as RHI and the more recent Green Homes Grant which is currently running throughout England. More and more customers are now increasingly aware of the need to protect our planet and its natural resources and renewable technology is a great way to harness the earth's natural energy to heat your home.
For many homeowner customers it provides a feel good factor that they are helping "do their bit" for the environment. In response to this trend, we launched a range of Zeno air & ground source heat pumps just over a year ago. With SCoPs of over five, our Zeno renewable range is one of the most efficient and technologically advanced on the market today.
Warmflow is well-known for its Agentis Oil Boiler range. What are the key technologies and features of this solution?
Liquid fuel will always have a place in the market where gas is not available and as renewable technology can sometimes be cost prohibitive for some households. We have approached our oil range with the same focus and determination to increase energy efficiency and reduce carbon footprint as we have with our renewable range of Zeno heat pumps. At Warmflow we are always looking to develop products which save our customers installation time and money whilst enhancing efficiency.
At the turn of the year we re-launched our oil range and introduced Agentis to the market. Our Agentis oil boiler range includes the UKs only AA rated combi oil boiler which can save the home owner up to 5ltrs of fuel per week. In addition, we reduced the footprint of our internal combi by 8cm and added some £200 worth of factory fitted accessories including a hinged 24ltr expansion vessel, a DHW mini expansion vessel, a 32 plate heat exchanger, pressure reducing & relief valves and a two channel seven day digital programmer. Our new combi will save the installer approximately two hours in installation time at no additional cost. Our entire Agentis range of oil boilers are bio fuel ready.
In addition, we launched a range of Professional boilers, all of which come with a factory fitted Adey MagnaClean Pro 2, Teddington fire valve, Crosland oil filter plus other accessories worth over £250. Again, as the accessories are factory fitted the engineer can save valuable installation time.
Do you offer any training to installers unfamiliar with oil boilers or renewables?
At Warmflow, we see training as an essential service. We view our business as a partnership between us and our engineer customers and by working together and helping them on their journey we can add real value to their business as well as our own.
Ensuring any boiler is installed correctly can prolong the life of the appliance and we have developed a range of courses which we offer at our eight training schools UK wide. Our dedicated, professional trainers are available throughout the year to help provide courses which suit the needs of any engineer customer in a range of technologies from oil to renewable products.
What kind of technical support is available to customers?
Customer support is the bedrock of any manufacturing business and we place the upmost importance on providing a first class support service to our many service and installation engineer customers UK wide. As I mentioned in the previous answer, we view it as a partnership between us at Warmflow and our customers. We are on this journey together and our dedicated team of customer support technicians are on hand to help our customers with any query they may have regarding the installation or servicing of any of our appliances.
We appreciate that like many we may not have always got it right in the past, but we are continually striving to improve and more recently we have implemented new customer support processes which ensure our customers receive the support they need to help them look after their homeowner customers in the most professional manner possible.
Warmflow runs a loyalty programme, the Warmflow Connect scheme. What are the benefits of signing up to this scheme?
We launched the Warmflow Connect scheme over a year ago to reward our loyal customers. The scheme is simple to sign up for and rewards customers for every purchase they make, as well as offering them an easy to use online portal for managing their product registrations and servicing plans. Customers collect points for every purchase they make which they can in turn redeem for rewards such as Warmflow branded clothing, tools including a Draper socket set, Anton analyser or a Makita drill – or even a free boiler.
Since we launched the scheme thousands of installer customers have signed up and regularly avail of the services and rewards on offer. For us it's another way in which we can support our customers and add value to their business.