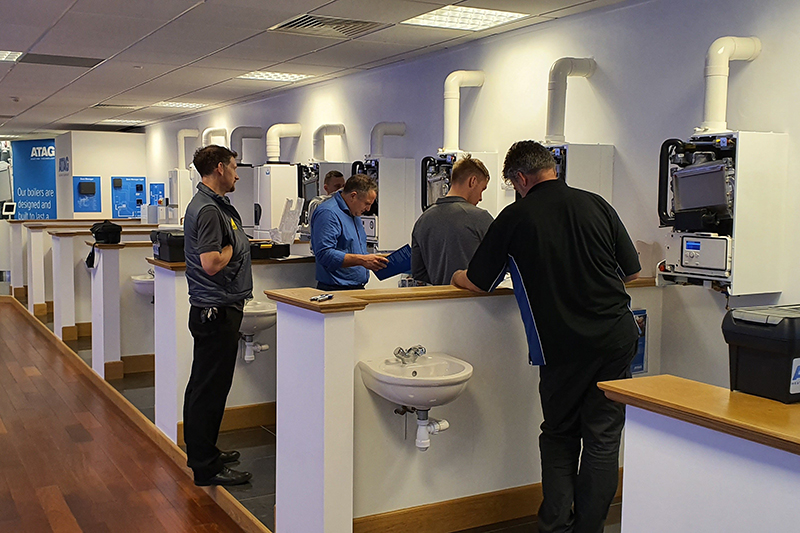 ATAG has recently launched a 14-year warranty across its range of boilers. We asked Sales Director David Stolton about the company's heating technology and the new warranty packages.
What range of boilers is available from ATAG?
At ATAG we're committed to producing technologically advanced heating equipment that's built to last. Our precision-engineered i range of boilers is the most efficient in Europe as a result of our iCon heat exchanger. All our models are available from 15 to 40kW, offer low noise outputs of between 42 and 46db and share the same standard compact dimensions of h700mm x w440mm x d355mm. They are all also available in models that fit inside kitchen cupboards with a depth of just 275mm.
The iC Economiser Plus combi boilers help drive down gas bills and protect the environment by recycling lost heat. Economiser Plus technology reuses flue gases for a second time, resulting in optimum energy efficiency. With an ErP 'A' rating for heating and hot water they provide 17 litres of hot water per minute at 35°C rise. They also offer levels of central heating output from 23.2 to 31.2kW, contributing to significant delta T flow rates.
ATAG iC combi boilers offer savings of up to £320 a year on gas bills. Compact and quiet, they are the perfect choice if a customer has limited space. With an ErP 'A' rating for heating and hot water they provide up to 16.2 litres of hot water per minute at 35°C rise. They also offer leading levels of central heating output from 23.2 to 31.2kW.
ATAG iS system boilers are among the most energy efficient in Europe on account of their in-built ErP pump and are ideal for homes where the heating system includes a hot water storage cylinder. With the pump and controls contained within the boiler casing, they offer a simple and space-saving solution that has achieved an ErP 'A' rating for heating.
ATAG iR regular boilers offer a simple and straightforward boiler replacement solution. Energy efficient, with simple-to-use controls, extensive flue solutions mean you can site the boiler almost anywhere in a home. They have been awarded an ErP 'A' rating for heating.
Some ATAG boilers feature Economiser Plus. What is it, and how does it work?
Inside our Economiser Plus range of boilers there is a Passive Flue Gas Heat Recovery (PFGHR) device. It works by harnessing the residual heat left in the boiler after hot water has been heated. Rather than allow this energy from the flue gasses to be released as waste, the PFGHR essentially recycles them.
It results in cold incoming water being preheated before reaching the plate heat exchanger in the boiler – increasing its calorific uptake, which in turns leads to a higher delta T flow rate and lower gas consumption for the same hot water output.
With consumers often wanting instant control of their heating, are there smart controls available?
ATAG OneZone Controllers operate remotely via WiFi allowing a customer to control their hot water and heating on the move – and heat up to six different areas of their home to the temperature they want.
All of the heating and hot water zones are easily and separately controllable on separate time/temperature schedules through the OneZone app or web portal, which is fully compatible with Apple HomeKit and Amazon Alexa.
The smart solution provides consumers with real-time information about energy consumption helping them to cut their annual gas bill by up to 12%, while also allowing ATAG Selected Partners (ASPs) to remotely run full diagnostics of all aspects of the system.
Talk us through the warranties
We've recently launched an industry-leading 14-year warranty across our range of high-end boilers. It comes as ATAG scientists have optimised our range, providing high end filters and water treatment packs that can be used in the installation to greatly extend the life of our boilers.
The new 14-year warranty includes both parts and labour when annual servicing is completed by an ATAG Selected Partner (ASP). To unlock the extended warranty ASPs need to bolt on an Adey Atom filter, Water Treatment Pack and One Zone control when they purchase direct. All ATAG boilers come with a 10-year warranty as standard on all parts and labour.
For those unfamiliar with the company, what is the history of ATAG?
ATAG has been designing and manufacturing boilers for over 70 years. In that time we've set the highest standards for energy efficiency and engineering excellence across the world.
In 1983 we chose to focus solely on manufacturing super-efficient heating products and became active in the UK in 2001. In 2013, we launched our iCon heat exchanger, the beating heart inside all of our boilers. Made with high grade stainless steel it carries a lifetime replacement guarantee.
At ATAG we're passionate about what we do. We're proud of our high performing and super-efficient boilers and firmly believe that, due to their build quality, they have the lowest cost of ownership in Europe.