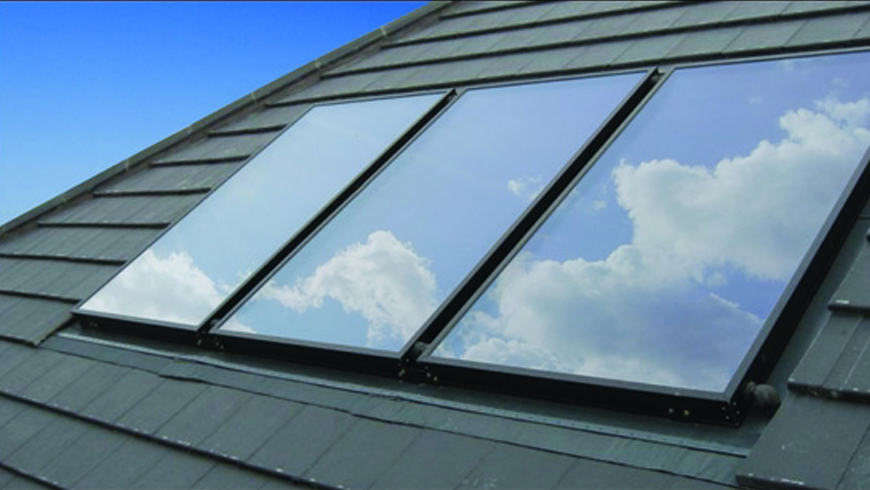 With the long-awaited launch of the Government's Renewable Heat Incentive (RHI) scheme, renewable installations are set to surge and opportunities will be created for installers with a host of products, including the relatively low-cost and increasingly efficient solar thermal technology.
Whilst some have been making the most of this emerging market for some time, others still feel daunted by the prospect of fitting unfamiliar products as part of their daily work. Clare Campbell, product marketing manager at Dimplex Renewables, explores five ways in which installers can make solar work for them.
The increasing popularity of solar thermal amongst other renewable solutions is creating a wealth of business opportunities within the heating industry. Leading manufacturers and industry bodies agree it is the renewables arena in particular that will really drive forward a full recovery following what has been a very tough few years and as the efficiency of new homes continues to increase, the 'value' of hot water heating over space heating will only increase.
This is why, when it comes to new business opportunities, savvy installers are doing all they can to give themselves the edge over the competition and maximise on the potentially lucrative solar thermal market. Fully embracing the 'green energy ethos', working smarter and gaining a thorough understanding of the renewables sector are all things that can help any forward-thinking heating engineer to secure a share of the solar technology market.
Knowledge is king

In an industry where innovation is key, the importance of training cannot be underestimated. In order for any solar thermal installation to qualify for RHI funding, installers must be MCS accredited and for those not already up to the standard, it can be a fast and effective way of gaining a new skill set and tapping into the renewables opportunity.
However, in a competitive market basic training alone is not enough to stand out and there are a host of additional, product specific training opportunities available to help installers boost their business. Working closely with your equipment manufacturer of choice can give you the expert advantage when on the job, with a clear understanding of the specific products you have chosen to install.
Time is money

To help installers save both time and money, market leading manufacturers like Dimplex invest heavily in developing products which have been created with installation front of mind. Time-saving solutions like the new Dimplex flat plate solar collector can do just that, with the whole assembly encased within a lightweight, weatherproof aluminium casing for maximum convenience and minimal fuss.
Making the most of time on site with quick fit technologies can generate cash savings for the end user and let the installer move onto the next job. We all know the phrase 'time is money.'
Understanding the RHI

The RHI scheme offers financial rewards for renewable heat generated, with different payback tariffs depending on what products have been installed and whether it is a domestic or commercial building. It is important to remember that the government has pledged ongoing scheme reviews that will periodically change what is available to the end user – and this has already happened with the non-domestic scheme. Keeping up to date with these changes is vital in order to pass on accurate information to customers.
The current payback tariff for solar thermal is 19.2p/kWh for domestic dwellings and 10p/kWh for non-domestic installations. In the non-domestic sector in particular, DECC has acknowledged after conducting field research that higher rates would attract further uptake, but the current 'value for money cap' prevents any further increase at this time. Look at the bigger picture
Solar thermal systems are perfect for linking with other products such as heat pumps to create a 'complete renewables solution' which can, when correctly specified, deliver a highly efficient whole building approach to greener energy production.
When advising customers on products which suit their renewable goals, it is always best to talk to them about their space and water heating requirements as a whole rather than one area in isolation. This could lead to further product specification and installation work, maximum carbon reduction and greater financial saving on the customer's monthly outgoings.
Reignite old flames

Many homeowners will not be aware that RHI funding is eligible on all MCS-accredited installations since 15th July 2009. For installers, it presents a fantastic opportunity to get in touch with previous customers, inform them of their eligibility and deliver added value with the opportunity of further work too. RHI gives a reason to revisit old order books – and it could pay dividends.