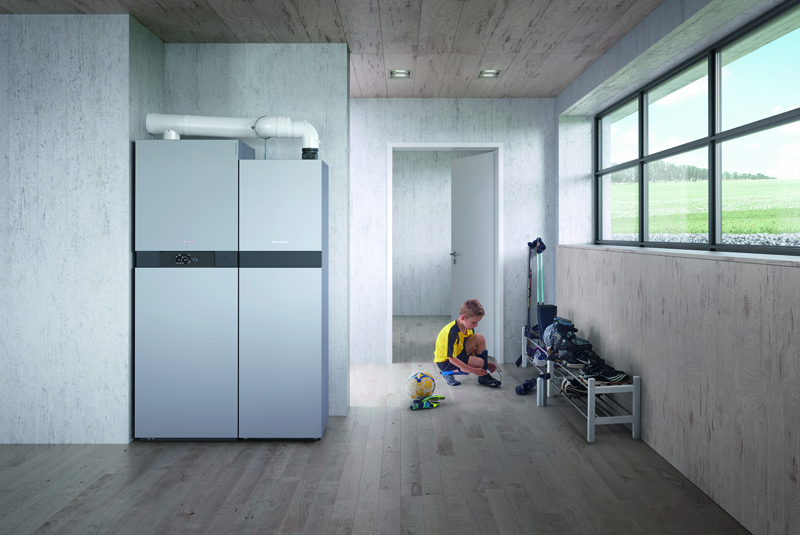 PHPI hears about how the Vitovalor 300-P, Viessmann's micro-CHP boiler, is aiming to improve the energy efficiency of the UK's heating systems.
In a world that's becoming more and more connected, and with the climate change clock ticking louder than ever, consumer behaviour is changing. Homeowners are increasingly looking for household heating and power options that are low-cost and sustainable. They are thinking of their energy consumption more holistically and are prepared to look beyond the traditional boiler.
In this context, the time is right for micro combined heat and power (micro-CHP) boilers based on a fuel cell. Many installers are aware of the existence of Viessmann's Vitovalor 300-P product – the fuel cell boiler and one of the few heat- (as opposed to electricity-) led fuel cell products developed to date – but some still feel it's too big a leap into the future to be a serious option today.
But to believe that is to ignore its compelling economic, environmental and usability benefits, which make it an easy sell to anyone looking to reduce their bills and environmental impact while enhancing the comfort of their home. Although still gaining ground in the UK, fuel cells already have a large user base in Germany and Japan.
Rated A++, the Vitovalor is one of the most energy efficient heating systems available, thanks to its use of hydrogen as a fuel source and energy store. To generate heat and electricity, it comprises a polymer electrolyte membrane (PEM) fuel cell unit (overall efficiency 81.3 % gross calorific value), peak load condensing boiler (efficiency 98 % gross calorific value) and hot water tank in a single visual unit, which needs 0.65 square metres of floor space.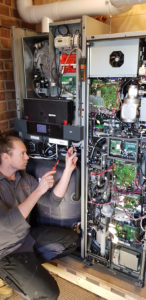 The fuel cell unit converts gas to hydrogen, then, in an electrochemical process known as cold combustion, uses the hydrogen to generate both power and heat. The CO2 and NOx-producing combustion that takes place in conventional condensing boilers does not occur.
The hydrogen used comes from natural gas, said to be the cleanest of all fossil fuels. Hydrogen is exceptionally efficient and also releases mainly water during the fuel cell combustion process, further minimising its environmental impact.
Save, save, save
Viessmann's participation in the EU-funded PACE fuel cell project has almost halved the purchase price of the system. In addition, Vitovalor saves users up to 36% on household energy consumption compared to separate heat and power generation, giving a return on investment of under five years.
And it reduces reliance on the national grid, offering protection from rising electricity prices. If that wasn't enough, MCS certification lets owners claim approximately £6,000 over 10 years from the UK Government's feed-in-tariff, thus it now costs around the same as a conventional high-quality condensing boiler, but produces electricity as well as domestic heat.
As well as the cost benefits, the Vitovalor reduces CO2 emissions by 30 to 50% compared to conventional boilers, making savings which correspond to driving 12,500 miles in a petrol car.
Maintaining standards
The fuel cell generates as much power as 30 square metres of photovoltaic cells. However, unlike solar panels, it works around the clock and in all weathers. Generating up to 15kWh of electricity per day, it offers considerably higher electrical efficiency (37%) than other CHP solutions, making the Vitovalor particularly suitable for new builds and renovations.
The electricity generated covers the base load of most households and is enough to power an electric car, while its 1-26kWh thermal output meets the heat demand of modern one- and two-family homes. The unit is designed to run for 20-22 hours/day, charging the heating water buffer and hot water cylinder. When more heat is required, for example on cold days or if a lot of hot water is used in a short period, the gas condensing boiler switches on automatically.
The unit's integrated, responsive energy manager optimises the rate of power consumed on site, taking into account recorded power consumption data and the temperature in the heating water buffer. It only starts the hydrogen-driven heating appliance when it's worthwhile – i.e. when sufficiently long runtimes are expected.
Users can access data on heat and power generation and control the system remotely via their tablet or smartphone, while the integral remote monitoring system allows heating contractors to keep a constant eye on it.
Simple installation
The Vitovalor comes in two units – the fuel cell module and the gas condensing module. Both are supplied via a common gas line and flue system, making installation as easy as for a wall mounted gas condensing boiler, even in small spaces. Incorporation into existing heating systems is simple, without the need for major modifications.
Check out what two satisfied customers had to say about the new Viessmann Vitovalor fuel cell heat and power appliance below: