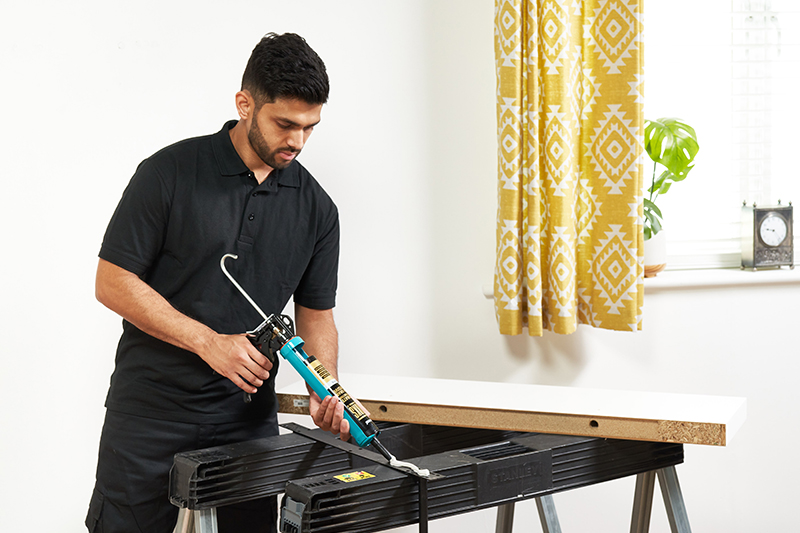 Andy Cummins, Senior Product Manager at Geocel, identifies the key product attributes of a high-quality MS Polymer and hybrid sealant.
Prior to 2008, two of the most popular sealant types available when it came to bonding and sealing were silicone and acrylic.
Silicone sealants offer excellent UV and colour stability in addition to extreme temperature and water resistance. They are ideal for connection and expansion joints in sanitary areas, floors and walls; however, they are not paintable, and do not have a strong resistance to abrasion.
On the other hand, acrylic sealants are best used for jointing, caulking and filling in hairline cracks. With no sanding required, they can be overpainted in just one hour. Nevertheless, they have limited movement capability and are not ideal for applications subject to regular water contact.
Recognising the value of combining the benefits of both options, Geocel launched the first MS Polymer sealant (also called 'hybrid sealants') in 2008. This sealant possesses the paintability of acrylic as well as the flexibility and UV stability of silicone. It was also incredibly versatile, with an ability to bond and cure underwater.
Due to being a non-staining product, MS Polymer sealants can crucially be applied to a variety of surfaces, including marble or granite as well as plastic, tile, wood, stone surfaces and others. This product has consequently become very popular. In fact, according to research carried out by GFK in 2018, MS Polymer sales accounted for 22% of total sealant sales in builders' merchants over the course of a single year.
Key attributes
In order to identify the ideal solution, plumbers should prioritise three sealant attributes. First of all, its compatibility with substrates must be considered – does the product perform consistently well when applied to a variety of surfaces? It is equally crucial to ensure that the correct sealant is chosen for the specific joint design and its expected movement. Finally, the sealant must suit the service conditions. Does the product offer the right finish that will stand the test of time? Is it water and mould resistant?
There are products on the market that deliver on all of these criteria. Geocel, creator of the first MS Polymer, for example, felt it was time to revisit the market, launching a new sealant range – THE WORKS PRO.
Premium sealant
Available in a new 'whiter' white, THE WORKS PRO is a premium sealant designed to provide a high strength bond or a water-tight, permanently flexible seal on almost any surface, curing fast in all conditions, even underwater. This versatile product is also highly weather resistant, with excellent UV stability and does not leave any stain.
Another product in the range is THE WORKS PRO X. This ultimate strength adhesive gives 50% more grab than traditional grab adhesives. Providing an ultra-fast bond on virtually any surface, including wet surfaces, it is also incredibly resistant to UV, abrasion and impacts – offering a long-term, weather-proof bond.
THE WORKS PRO is also now available in foils, making it compatible with the ecoSEAL system that is designed to reduce plastic waste. This is achieved by replacing the traditional plastic cartridge with a reusable sleeve alternative. Simply place the foil into the sleeve, cut the top of the foil and use as normal with any standard gun.