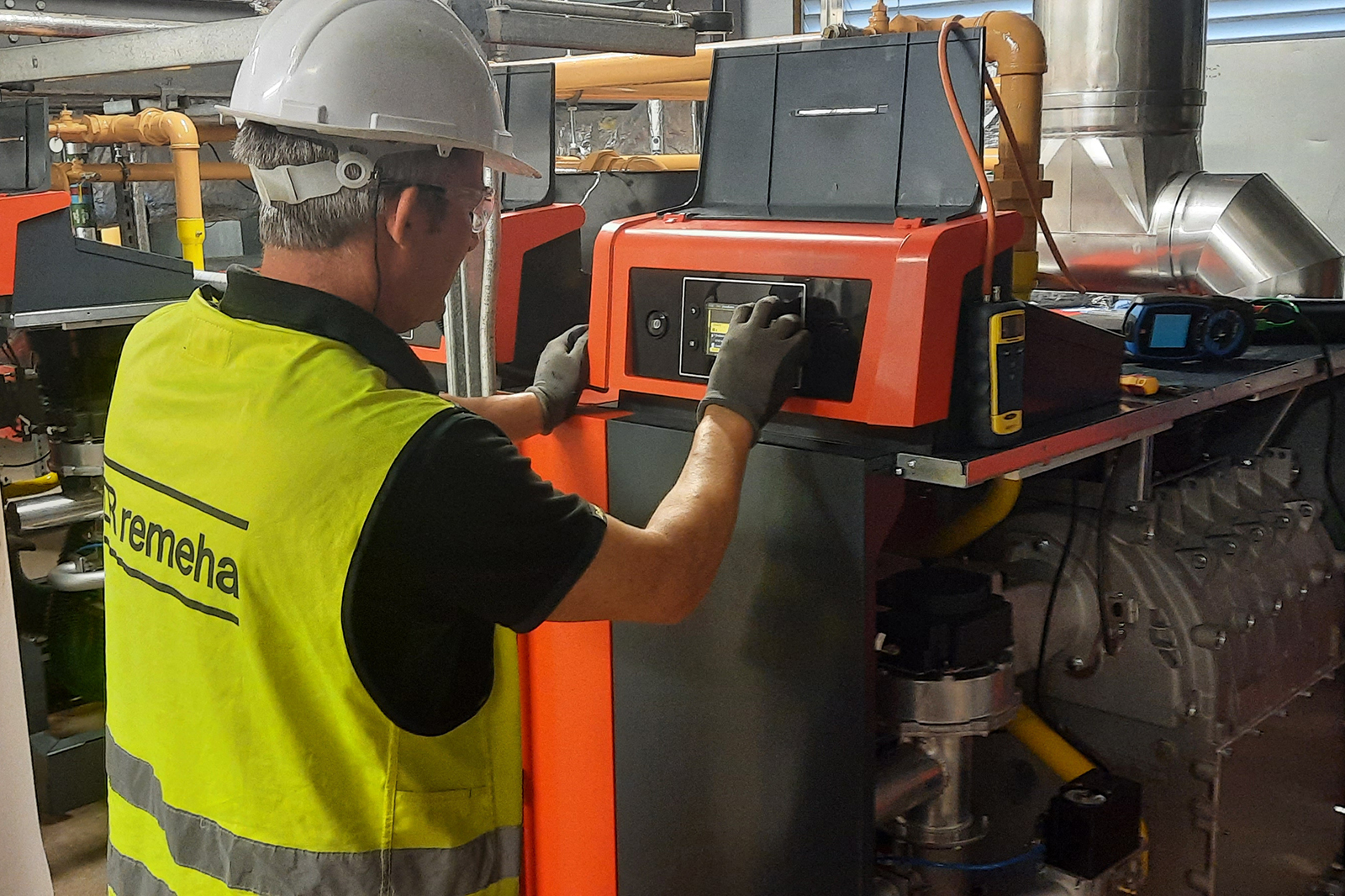 With the 2050 net zero target looming ahead and energy prices set to soar, meeting heat demand more sustainably in commercial buildings is an increasing priority for businesses. Rob Erwood, Sales and Specification Director at Baxi Commercial Solutions, looks at the role heating manufacturers can play in supporting installers and their customers.
Heat is a hot topic for businesses. According to the Department of Business, Energy and Industrial Strategy (BEIS), it's the biggest reason we consume energy in our society and accounts for the largest proportion of UK greenhouse gas emissions. As a result, near-total heat decarbonisation will be necessary if we are to meet the UK's legally-binding target to achieve net zero emissions by 2050.
Alongside this ambitious goal, the surge in energy costs is prompting small to medium-sized businesses to seize opportunities to reduce energy consumption and associated costs wherever possible – with heating and hot water a natural starting point.
So how can heating manufacturers support installers in the drive for more sustainable heat?
We know that how we heat our buildings must change. But we also know that individual buildings will require different solutions depending on their type, age and profile. For this reason, we believe that it's essential that manufacturers provide the correct mix of technologies, backed with expert technical knowledge and support.
Low carbon solutions
Take new and well-insulated buildings. In properties like these, heat pumps offer well-established benefits. We see air source heat pumps as the most popular and cost-effective choice of heat pump and are pleased to have added them to our expanding Remeha portfolio of sustainable heating and hot water solutions. With a choice of outputs, from 44kW to 168kW, our new Remeha E-HP AW ASHP range dovetails with current commercial customer heat demands.
Retrofit challenges
What about our older, poorly insulated buildings? Here the challenge is tougher as heat pumps operate most effectively in conjunction with energy efficiency upgrades.
As full decarbonisation is unlikely to happen overnight, the aim must be to identify the opportunities for improvement within any budgetary or technical constraints.
Experienced manufacturers will assist with site visits and help 'triage' the heating system. They will be able to ask the right questions to understand the project needs and limitations and arrive at the most appropriate solutions. This is key if we are to prioritise performance and practicality.
The first step should be to reduce heat losses, typically by improving insulation. Energy efficiency is absolutely critical to reducing emissions and cost and should always be the first consideration when addressing existing buildings – the cleanest and cheapest kWh of heat is the one we don't use.
The next stage should be to use the energy source more efficiently. Upgrading inefficient or ageing heating plant to modern, more energy-efficient equipment is a well-established quick win. Replacing non-condensing boilers with modern condensing boilers that are up to 20% more efficient, for example, will deliver immediate, significant energy, cost and carbon savings.
Hydrogen-blend certification
How future-proof are boilers? We view hydrogen boilers as a key pillar of the energy transition, especially in existing building stock where the options are often restricted.
The introduction of 20% hydrogen into the UK gas network is expected to be the first step in the transition to greener gas. This move could save the UK up to six million tonnes of carbon dioxide a year, equivalent to taking 2.5 million combustion engine cars off the road. (Source: HyDeploy).
To provide peace of mind of a future-ready installation, we've put our Remeha Quinta Ace and Gas 320/620 Ace condensing boiler ranges through independent testing to certify their ability to operate on the proposed 20% hydrogen blend. We've also produced a concise guide on hydrogen for heat to help provide installers with a timeline of the anticipated transition to this green gas.
Low NOx
An additional determining factor when selecting new boilers is likely to be nitrogen oxide (NOx) emission levels.
BREEAM 2018, the widely adopted building sustainability assessment scheme, awards a maximum of two points for boilers with low NOx emissions below 24mg/kWh in both high and low pollution areas.
To support more sustainable installations, we have introduced new commissioning settings for our Remeha Quinta Ace and Gas 320/620 Ace ranges that enable the boilers to achieve NOx emissions below 24mg/kWh at no cost to performance. As such, they qualify for the maximum two BREEAM credits.
Hybrid solutions
How can we reduce the carbon footprint further in older buildings? We see hybrid heat pump systems as a natural next step when plotting a building's route to net zero. Integrating our low-carbon 44kW heat pump with our future-proof condensing boilers, for example, offers an effective solution to the complexities currently associated with light commercial retrofit projects.
Hybrid heating systems can resolve the typical challenges caused by restricted space, limited budget and/or available electrical power to deliver an efficient, cost-effective heating system all year round.
Working together for greater sustainability
Our pledge is to help the UK achieve a low-carbon future. And as there is no one-size-fits-all solution, we have expanded our product portfolio to best support installers in delivering the right heating and hot water solutions for their customers' heating needs.
We also want to make installation and maintenance as easy as possible. That's why we offer flexible cascade and bespoke-designed rig options, as well as free installer product training, for our Remeha boilers which also come with a seven-year warranty. And of course, installers can rely on assistance at every stage from our heat experts, including round-the-clock technical support.
Working together we can turn challenges into opportunities, achieving high-performance solutions for customers and making important progress towards a more sustainable future.