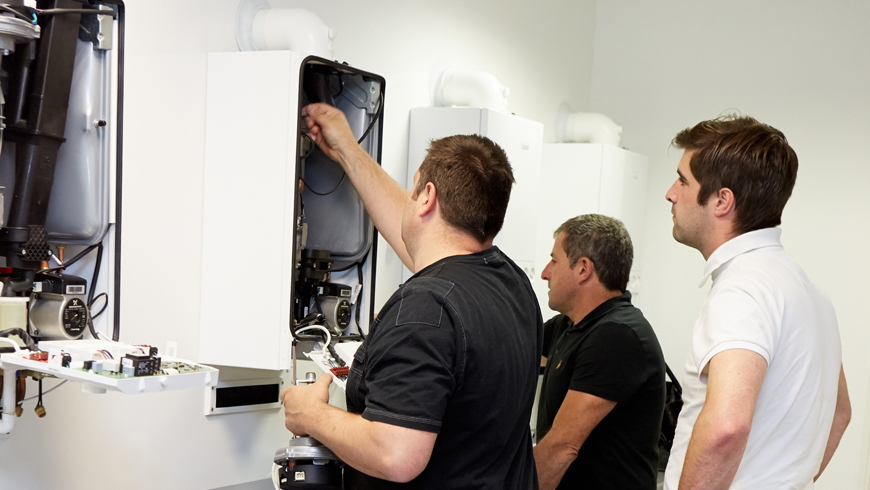 Training courses offer much more than product information and increasing numbers of installers are taking advantage of manufacturers' free courses to build their businesses. Ideal Boilers' Training Manager, Scott Young, explains.
Training is good for business, although it can sometimes be hard to quantify the benefits that come from it. Training can often be seen as a luxury by business owners, especially in challenging economic times when training is often among the early costs to be cut. The problem is that it is often much easier to see training as a cost rather than an investment.
"It's important for installers to recognise the value of training as an investment in their business," says Scott. "Businesses must ensure employees are developed in a way that will help them expand their skills and enable them to recognise opportunities to benefit the business in the future. We deliver a wide range of courses, offering our installers a complete service, whether that is a product specific course or an element required for accreditation.
"Our ethos is based on supporting the installer every step of the way, offering guidance through training programmes to meet the installers' training needs, both on boilers and renewables. We ensure installers have the most up-to-date product and industry knowledge. We also talk about legislative changes affecting installation and give the installers an understanding of any effects on their business. 
"Our focus is on ensuring installers have the knowledge needed to help them do their job efficiently and effectively. Training must return value to our installers; it must be time and money well spent. While our product-specific training courses are themselves free, an installer's time is very valuable.
"In addition, the knowledge gained and skills enhanced by training are put to instant and obvious use when the installer or staff member returns to their work. Easier installations, right first time, mean increased customer satisfaction, reduced repairs and word of mouth recommendation, thus growing the business.
"Ideal offers free product courses at our training 'Centres of Excellence' in Leeds and Reading, as well as through our Satellite Centres in Newton Abbot, Milton Keynes, Edinburgh, Glasgow, Belfast and Dublin. Our technical training is second to none and installers enjoy informal interaction with our trainers.
Alan Cooke, owner of AC Plumbing & Heating, based in Reading agrees: "It has been great to get free training whenever I've needed it, and it's important that there is a choice of training venues to visit, making it easy to fit in with work." 
"Installers especially enjoy the workshop element of each session, talking about problems that other installers might come across and sharing experiences," says Scott. "Our training is focused on enhancing their knowledge, which is driven by installers themselves who come to the sessions looking for information. The great thing about these sessions is they are a two-way street, as installers also provide valuable feedback."
Dave Beeson, owner of Grimsby-based Beeson Plumbing and Heating has also attended a free training course, commenting: "Ideal offers first class training. The Company encourages installers to feed back any problems they have, to help with product development and listen to what we have to say."
"Our sessions are more than just information-sharing. We discuss additional ways that installers can grow their business, using their experience and expertise to ensure they get greater value from existing customers as well as expanding their customer base," comments Scott.
Dave Beeson says: "The top-quality product knowledge gained from training means I can inform customers of the benefits and features of each boiler I install, and reassure them that they have back-up from Ideal through reliable, efficient products and excellent customer service.
"My customers get peace of mind when I install an Ideal boiler. I can confirm the quality of the product, the long manufacturer-backed warranty and inform them that by booking annual services with me, they can be assured of the on-going safety and efficiency of their new boiler."
There are occasions when installers will be unable to attend one of Ideal's training sites, but Ideal has the solution. Scott explains, "If installers can't come to our Centres of Excellence, we can take our Mobile Training to them, free of charge. We have several training vehicles with both wet and dry boilers on board for a hands-on experience. If an installer wants to take advantage of our training courses, whether off or on-site, we can oblige!"
"There is no doubt the industry is undergoing radical changes, such as the unprecedented take-up of the Green Deal Home Improvement Fund, which issued a total of £118million of grants. This opened up opportunities for installers as it is now simpler and faster for people to make their homes more energy efficient.
"Providing reassurance for customers that installers and their staff are up-to-date with the latest information and training, is key to helping installers take advantage of the opportunities provided by the rapid changes in the heating and energy industries."