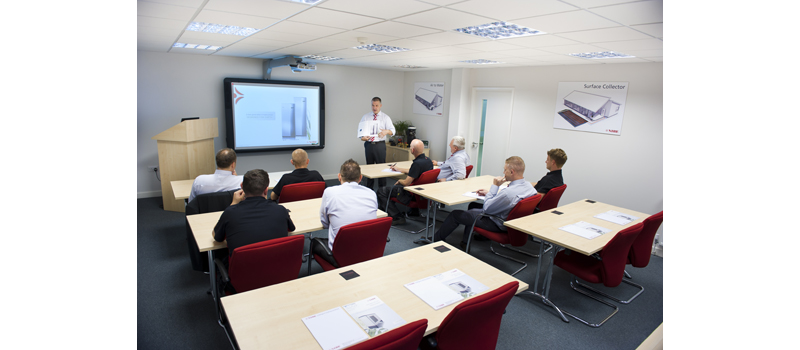 Phil Hurley, Managing Director at NIBE, explains why installers should work with manufacturers to reap the long-term rewards of rising demand for renewables.
It's no surprise that the market for renewable heating technologies has surged in recent years – and it's only set to continue growing. Fossil fuel supplies are dwindling and the pressure is on to adopt clean, cost-effective and secure alternatives to meet the country's energy needs. Official EU targets also stipulate that the nation must reduce its CO2 emissions by 20% (compared to 1990 levels) by 2020, as well as generating 12% of all heating from renewable sources. For installers who train up now, all of this amounts to an unprecedented chance to get ahead of the game.
However, to truly maximise the opportunity at hand – and build a robust future market in the process – installers must make the most of manufacturer support to ensure they are not only fully qualified to fit renewable technologies competently, but are also up-to-speed with the latest legislation.
The first step is getting to grips with the products themselves. As with any technology, renewable heating systems must be correctly specified, designed, installed and maintained to deliver best results. Poor installations can have a detrimental effect on ongoing system performance, customer satisfaction and – most worryingly – the overall reputation of renewables.
For this reason, it is imperative that all installers working with renewable heating technologies undertake proper product-specific training. Manufacturers have an important role to play in this, as it is their responsibility to promote best practice. At NIBE we provide a range of interactive foundation and intermediate courses at four locations nationwide – covering our air source, ground source and exhaust air heat pumps, as well as biomass and solar thermal packages.
As well as upskilling, installers must make sure both themselves and the products they are fitting are fully MCS-accredited. This not only ensures products are fit for purpose, but also that installers are trained to the highest standards. It is also an essential requirement when it comes to qualifying for the Renewable Heat Incentive (RHI).
Doing your homework
After arming themselves with the right accreditation and product training, installers must also stay abreast of new and evolving legislation. Ultimately, this can have a knock-on effect not only on the way they do their job, but also on how they advise their customers.
The ErP (Energy-related Products) Directive is a perfect example. Under the directive, all air source and ground source heat pumps and solar thermal systems with an output of less than 70kW require a unique, product-specific energy label – identifying which energy efficiency band (from A+++ to G) they belong to. While the onus is on manufacturers to provide energy labels for individual products, it is the installer's responsibility to produce a package label for the complete system.
These calculations are now a mandatory part of MCS and SAP – which just goes to show how vital it is for installers to keep on top of policy developments. That said, while there is a lot to learn, installers aren't on their own. All reputable manufacturers should offer the appropriate training, support and advice. For instance, at NIBE we provide installers with readymade package labels when they opt for complete systems from our product portfolio.
As renewable heat becomes the norm, the commercial opportunity for qualified installers will grow. Those who equip themselves with the right knowledge and expertise now – and invest time in continued professional development going forward – will be in pole position.