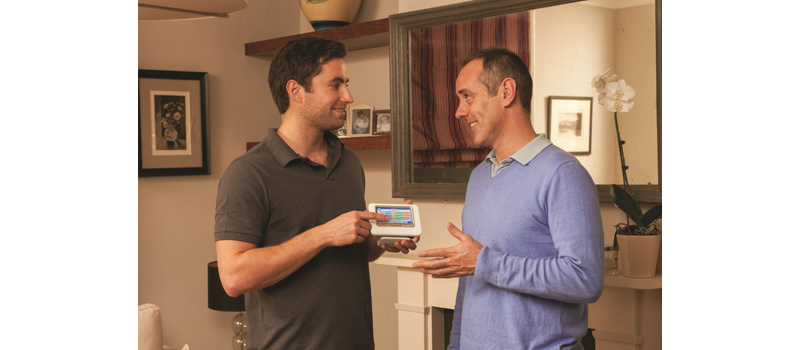 Heating controls have become more compact and smarter and the internet now has an increasing role to play. It's important that the installer evolves at the same pace as the industry. Andy Mansfield, Marketing Communications Manager at Honeywell, with the help of Neil Plimmer, a Honeywell Installer Network member, explains how.
The smart home has moved from a concept to reality, almost overnight. With installers increasingly being asked about smart, connected controls, the industry in some respects is playing catch-up. We know there is a growing demand for the smart home. In a homeowner survey carried out by Honeywell in 2014, nearly half of all respondents said they would be interested in having a fully connected smart home where they could control everything from a tablet or phone – a figure which will undoubtedly increase.
We also know that the smart home is no longer limited to the more affluent homeowner, as entry-level connected thermostats are now available on the market – meaning there is a connected thermostat to suit every application and budget.
Installers need to work hard to make sure they cement their position as the go-to contact for the homeowner looking for smart controls. This means moving towards becoming a smart energy advisor who can add real value for customers and ensure they are the first port of call.
Though 86% of installers surveyed stated they would be interested in becoming a smart installer, a gap still exists between the manufacturer of smart products and the homeowner. Three quarters of homeowners said they wouldn't know who to look for to install a smart home, demonstrating that their installer is not front-of-mind for this role. This opportunity is there for the taking – however, installers need to be quick, intuitive and willing to invest in training to position themselves as a smart installer.
Installers need to not only be able to not only install smart controls, but set them up and talk the homeowner through how they can programme them to suit their lifestyles. The smart control business model relies on more than simply 'install and go'. Installers need to invest time in talking homeowners through the set-up process, step-by-step, so they can ensure they are programmed to suit that specific user. Investing additional time during the installation process means no costly call-backs.
Training
We therefore can't stress enough the importance of training. Smart controls require installers to offer homeowners a good level of consultancy, as well as their expert advice. The latest connected thermostats have more energy efficient functionalities than more traditional thermostats, which allow the homeowner to programme their heating to suit their lifestyles – and not the other way round. It's vital that the installer invests time in educating the homeowner on what these are and how to use them so they can get the most out of their smart controls.
Profile
Considering the first port of call for 80% of homeowners would be the internet, ensuring installers are visible to potential smart home customers online is a no-brainer. Developing an online profile, updating and optimising personal websites and information pages to sell successes and remain visible in the search rankings when a homeowner searches for a smart home installer, is crucial.
Partnership
Forming alliances with manufacturers at the fore of smart home technology is a good way of doing this. Many manufacturers host a 'Find an Installer' database on their website, which installers can sign up to and develop their own profile. Honeywell has found that more than 40% of its online traffic is actually from the consumer, showing that homeowners are using manufacturers' websites in order to learn about heating controls and benefits. Installers need to be proactive to make sure they can share a piece of this new market for smart homes.
The installer's view
One installer who is embracing the smart home revolution is Neil Plimmer – a Honeywell Installer Network member. Neil says: "More and more of my customers now want this new technology, as the images in the press of a mobile phone controlling a thermostat have brought a new lease of life to heating controls. Even the older generations are getting on board. As owning a smart phone or tablet becomes the norm, accessibility to smart controls – as well as demand for them – is on the up.
"This can only be a good thing for the heating controls industry, and a great opportunity for installers. However, as the manufacturer has a duty to continue making intuitive, easy to use products, the installer has a duty to ensure they invest in the proper training to install them.
"For the installer, ensuring you talk through the functions of smart controls with a customer is crucial. Taking time to sit with the homeowner and explain how they can be programmed to suit their lifestyle will not only make a great first impression, but mean you have peace of mind that they will be used properly and to their full potential.
"Finally, carrying out all the relevant checks on the controls before you leave the property is a must, to avoid call backs from a disappointed homeowner who believes they don't work properly, simply because they haven't been set up correctly. This is why, for an installer in the smart controls market, training needs to come first."