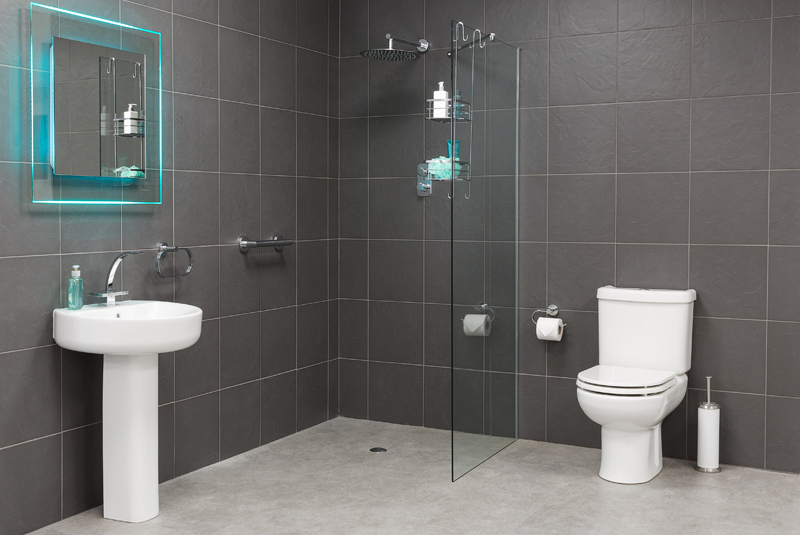 For sole traders, time is a precious commodity and there is nothing more frustrating than overly complex products that make a job run behind schedule. Here, Peter Pegden, Product and Procurement Director at Croydex, provides his top tips for making sure projects run to time and customers are kept happy. 
For self-employed plumbers, time is money. The more jobs they can complete, the more they can earn, meaning any scheduling setbacks can really affect earnings. What's more, customers often don't decide which bathroom accessories they want until the later stages of a project, which can elicit new challenges, such as risk of damage to tiling and other decorative finishes.
By using products designed to speed up installation, installers can move onto the next job quicker – and boost their bottom line.
Speedy showers
Bath and shower installations are bread and butter work for most plumbers, so being able to shave a few minutes off each job with clever finishing touches will really add up over time. The key is to find time-saving tricks that do not compromise the quality of the finish, to safeguard customer satisfaction.
Choosing adaptable accessories, such as shower screens and bath panels, is another way to save time and avoid the headache of having incorrectly sized products. Foldable bath panels are useful for sole traders or those with limited space in the van, as they can be folded for transportation and unfolded to fit, making them much easier for one person to carry and fit alone. Many also come with height adjustable base panels, making it easy to tweak the dimensions for a neat and tidy look. The same goes for shower screens; some products are adjustable to allow for walls that are out of true.
Tricky toilets
Flimsy products that quickly become loose during use are a persistent problem for installers. Customers who've recently finished their new bathroom don't want to see poor quality fixtures and fittings spoiling their brand-new look, and installers don't want to use their time on unnecessary call backs.
Out of all the bathroom accessories that need to be properly installed and firmly fixed, toilet seats are probably top of the list. Unfortunately, this type of product is notorious for coming loose in a short space of time, and this can unfairly reflect on the work of the installer. Most people will have experienced a wobbly loo seat at some stage, and whilst an inconvenience for most, for households with less able or older members, it can be a real safety hazard. With this in mind, it's well worth looking for seats which are designed for sticking power and durability.
A good place to start is the fixing mechanism. Innovative new Flexi-Fix toilet seats are now available, which feature grip pad technology and patented 'V' plate hinges, providing maximum adjustment for the fixing holes of any standard toilet pan, to make sure the seat stays fitted. These seats also come with fittings for installation from above or below the pan, ensuring they always fit and never slip.
Flexible fixtures
Customers often change their mind about where they want to put various bathroom accessories. But with quick installation and flexible fitting, installers don't have to spend too much time if a re-think is needed.
With this in mind, Hang-n-Lock technology is an easy route to flexibility, simplifying the installation process for cabinets and mirrors.  A fully adjustable hanging bracket enables the level to be changed after fixing holes have been drilled, whilst an in-built spirit level ensures the product is aligned before it is securely locked in place. What's more, these features also allow for single person installation – ideal for sole traders.
Retrofit projects can be sped-up if installers use no-drill fixing methods. Flexi-Fix brackets with 'X plates' ensure that most existing fittings can be replaced easily using existing fixing holes, regardless of any differences in spacing or alignment. Accessories can be secured to walls with no mess, no fuss and no damage to existing décor. X plates also make it easy to swap accessories when customers fancy a change of style.
The finishing touches are what make a bathroom, and by choosing the right products, installers can get the job done quicker whilst keeping the customer happy.