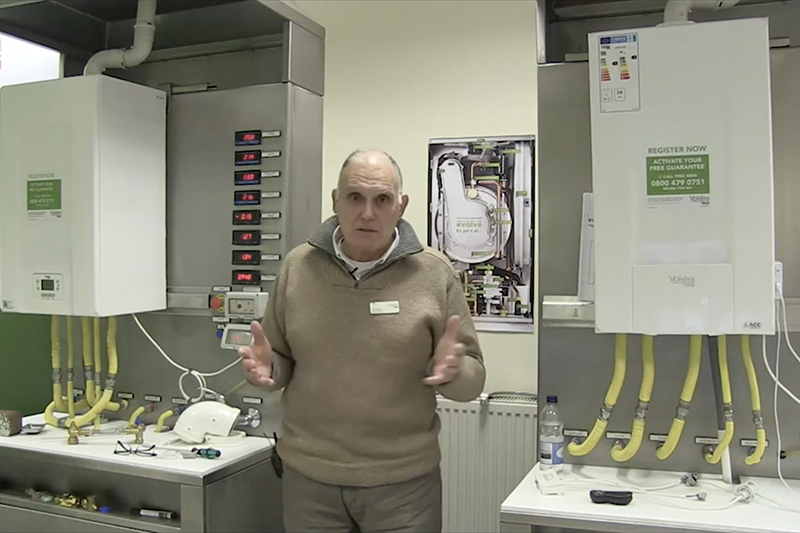 With the pandemic putting most in-person training for installers on hold, being able to access online training to keep up to date with the latest products and practices has never been more important. Neil Mattock, Marketing Director and Head of Training at Vokèra by Riello, looks at how interactive webinars can help heating professionals sharpen their skills and improve efficiency during these challenging times.
Few would argue that Covid-19 has changed the way we live and work and at Vokèra we know that many businesses out there are under extreme pressure simply to survive. Even in the best of times, let alone in the current crisis, we appreciate that adapting to new products and technologies, as well as changing legislation, can be a challenge for busy Gas Safe Registered/RGII engineers. To guide installers through these challenges key manufacturers like Vokèra have developed comprehensive training courses that cover topics such as advanced new heating technologies, the latest electronic controls, and renewable energy solutions.
However, in this strange new world of lockdowns, travel restrictions and social distancing it has become increasingly difficult, if not impossible, to conduct traditional in-person training at a physical location. It's not surprising, therefore, that during 2020 we have seen an exponential growth in online courses, workshops and webinars – and since it seems as though Covid-19 will be part of our lives for some time, the trend towards virtual training looks set to continue throughout 2021 and possibly beyond.
Keep learning
Although Covid-19 has prevented most face-to-face training during the past year, we don't see that as a reason for installers to call a halt on honing their skills. In fact, in today's tough economic climate it is more important than ever for heating and plumbing companies, whether large or small, to learn new ways to work even smarter and more competitively in order to retain their existing customers and win new ones. As well as improving their product knowledge, installers often seek training on regulatory changes and the impact new standards might have on the way they work and how they can ensure compliance. Being able to tap into high quality online training from the safety of their own homes or offices means installers can continue to get invaluable advice and tips on completing hassle free repairs and compliant installations.
Going online
Of course, online training is not a 'new thing' in business or personal development. Although e-learning tools have been around for many years the restrictions imposed on all our lives by Covid-19 have brought the benefits of this technology to the fore. Online seminars, or webinars, can turn a basic presentation into an engaging online event and an opportunity for participants to raise questions on subjects that are relevant to them. During the current crisis this type of virtual event also has the advantage of being location flexible and allows people from all around the country, or even the world, to attend and interact in real-time.
To ensure installers can continue to develop their skills and business potential during this pandemic Vokèra has created a complete suite of webinars using the popular Zoom video conferencing platform. Our webinar programme covers a wide range of topics and is purpose-designed to deliver real value and business benefits by helping installers save time and money on site. Indeed, we have always believed that our training, whether in-person or online, should be structured to ensure it covers everything Vokèra installers need to enable a quick and easy install or repair, from wiring and flueing to benchmark and fault finding.
Interactive experience
Hosted by our experienced training team, our webinars include in-depth instruction on Boiler Installation and Commissioning and Fault Finding, as well as informative overviews of our Commercial Heating Solutions and the latest Controls. The programme also features a Technical Q&A webinar and specific sessions on new products, such as the Vision Plus combi and system boilers, which give installers an opportunity to become familiar with new additions to our range. Most of the events are presented from Vokèra's London Colney training centre, which is fully equipped with a broad range of heating products and teaching aids. The multi-camera setup allows for real, close up interaction with the products and components. To provide an interactive experience, participants can use the Q&A function within the Zoom interface to ask our team questions, which are then answered during the scheduled breaks.
In planning our online programme we also took account of the fact that time is money and taking time out of their working day for training may not be an economically viable option for some installers. With this in mind, we have scheduled our Zoom webinars to start at 4pm and 7pm, which we believe installers will find more convenient. If installers want to take part they can simply go to Vokèra's website (www.vokera.co.uk/webinars) and register for the session they want to join and then log on at the appointed time.
Convenience and flexibility
2020 was the year we all had to change the way we live and work in order to accommodate what continues to be an unprecedented public health crisis. Covid-19 restrictions have driven more and more business activities online – and that includes training. Whilst face-to-face training clearly has an important role to play in our industry's education, until this is safe to resume we must embrace the virtual training environment.
However, even after the pandemic ends we believe some installers may decide they actually prefer the convenience and flexibility offered by online training such as webinars. Location flexible for hosts and participants and able to reach a broad audience, we predict that webinars could well remain one of the top trends in e-learning whatever the future holds.