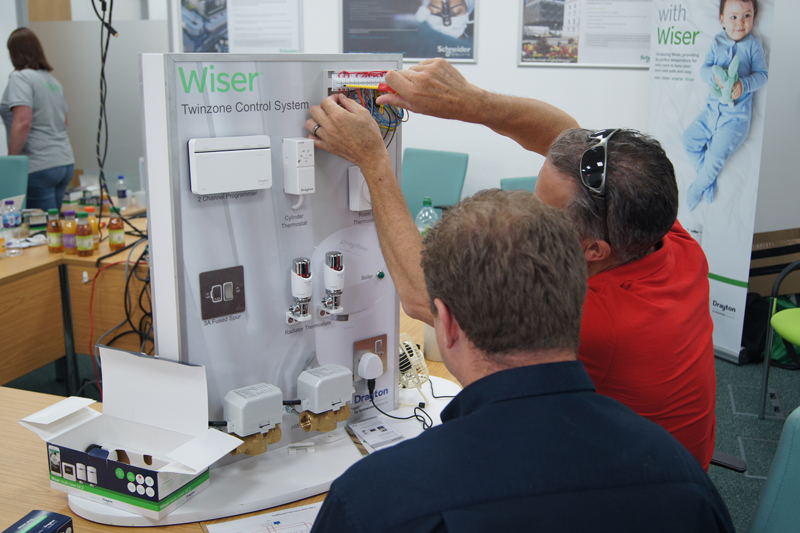 James Clark, Training Manager at Drayton, discusses why training is so important and how it can help installers stand out from their competition.  
Although heating engineers are likely to have their go-to favourite products to fit, customer preference can sometimes mean they are faced with having to install products they might not be familiar with. So, to ensure installers are up to date with the latest technology, training can be a key investment of both time and money.
In person
Attending training sessions in person is a great way for installers to familiarise themselves with a manufacturers' range of products. But as well as learning the ins and outs of the product and how to correctly install and service it, there are other benefits to attending training sessions.
Most sessions will be hosted by trainers who are experts in their field, meaning they have years of expertise and industry knowledge they can share that extends beyond the range of products. The majority of trainers will also be up to speed on the latest legislation changes, as well as those that have been proposed for the future, so this can be a helpful way for installers to stay up to date with the latest news that might impact them.
With an expert at the helm, training sessions are also the perfect chance for installers to ask any questions, whether it be about the product or the industry, as well as getting hands on with product to familiarise themselves with it before fitting it for a customer.
Likewise, one of the most beneficial aspects to attending training in person is having the opportunity to meet other professionals in the industry. Sharing insights amongst fellow installers in these social settings allows a real sense of community to be formed, encouraging participants to improve the standard of work across the country.
Online
When it comes to online training, the overarching benefit is that it can often be completed at an installer's own pace and in their own time.
Many online training academies use video content as this is the easiest way to demonstrate the key elements of a product in a succinct, comprehensive way – much like a trainer would if an installer was attending in person. To ensure installers fully understand the content, there will usually be some form of question and answer session, giving participants the opportunity to put their newfound knowledge to the test. This also ensures that only those with a good understanding pass the course and obtain the relevant certification.
So, whether it's learning about the product for the very first time or using the online training as a follow up or refresher having attended a training session in person, it's certainly worthwhile looking at what options are available for the products installers fit daily.
What's the benefit?
As well as broadening knowledge, there are often a number of perks available once training has been complete. Some manufacturers, like Drayton, will sign you up as an accredited installer once you have completed its training, which can often help provide installers with further sales leads.
For more information on Drayton's 90 Network and its 90 Know How online training academy, visit www.draytoncontrols.co.uk/installers/training-centre/online-training-academy