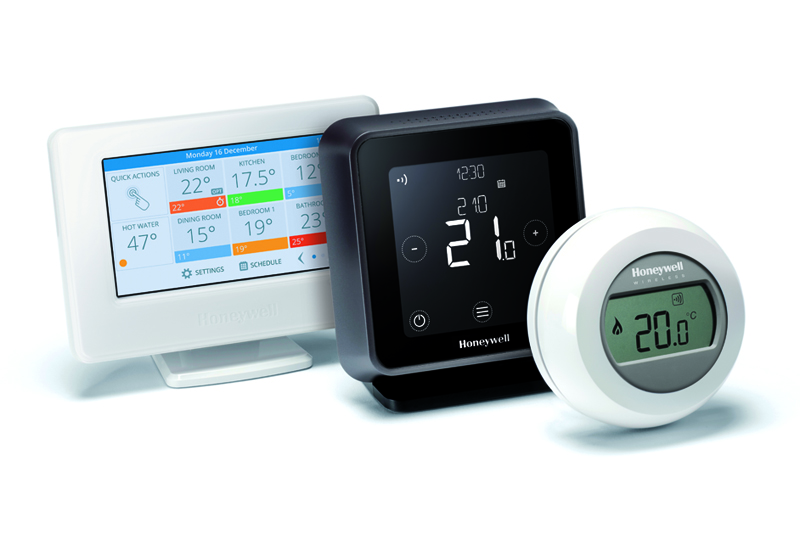 Although Sundial control plans form a core part of any installer's training, recent technological developments and changes to best practice recommendations – such as zoning requirements – have highlighted their relevance once more. Andy Mansfield, Marketing Communications Manager at Honeywell, provides a brief refresher course.
Sundial Plans are proven control methods which ensure heated water is diverted to the correct areas of a central heating system to fulfil space heating and domestic hot water (DHW) requirements. There are several types, but the most commonly used in UK homes today are S, S+ and Y plans.
When correctly installed, they ensure boiler interlock is achieved – that the boiler is switched off when there is no demand for heating or hot water – which is a requirement under part L1A of the Building Regulations.
From April 2018, there will be stricter requirements regarding the installation of heating controls under an element of the Government's new energy efficiency strategy – commonly referred to as 'Boiler Plus'.
As well as setting new minimum efficiency standards for boilers, heating systems must also have 'controls that programme the system to come on and off at set times, and set the temperature to achieve the greatest comfort in the home'. In addition, those fitting new combination boilers must ensure that they fit a control that provides at least one level of energy efficiency functionality:
Flue gas heat recovery systems
Weather compensation
Load compensation
Smart controls featuring automation and optimisation functions
It is important to understand that, within the 'smart controls' category, the standard control should provide a way of achieving both a 'programmed demand' and a level of automation such as optimum/delayed start. Modern programmable thermostats such as the Honeywell T4 provide this.
The S and S+ plans
The best way to ensure legislative compliance is with an S or S+ plan. A typical S plan comprises two separate motorised valves, with independent time and temperature control of heating and hot water; a cylinder thermostat; a room thermostat; and a programmer. It is the simplest of the plans used in modern properties, and is the easiest to wire in, commission and fault find – given the ability to isolate the heating and DHW circuits. It is also the most flexible, with the possibility of adding further heating zones to set up what is known as an S plan+. For larger homes (greater than 150m2), it is good practice to make the heating zones time and temperature independent. Therefore, each zone has its own timing, its own temperature control and its own zone valve.
An S plan has the advantage of future-proofing the system so that additional heating zones can be added; for example, if the homeowner has a conservatory extension, or simply wants more control over individual room temperatures. For larger properties with higher hot water demands, the S Plan also provides superior flow rates over a Y plan.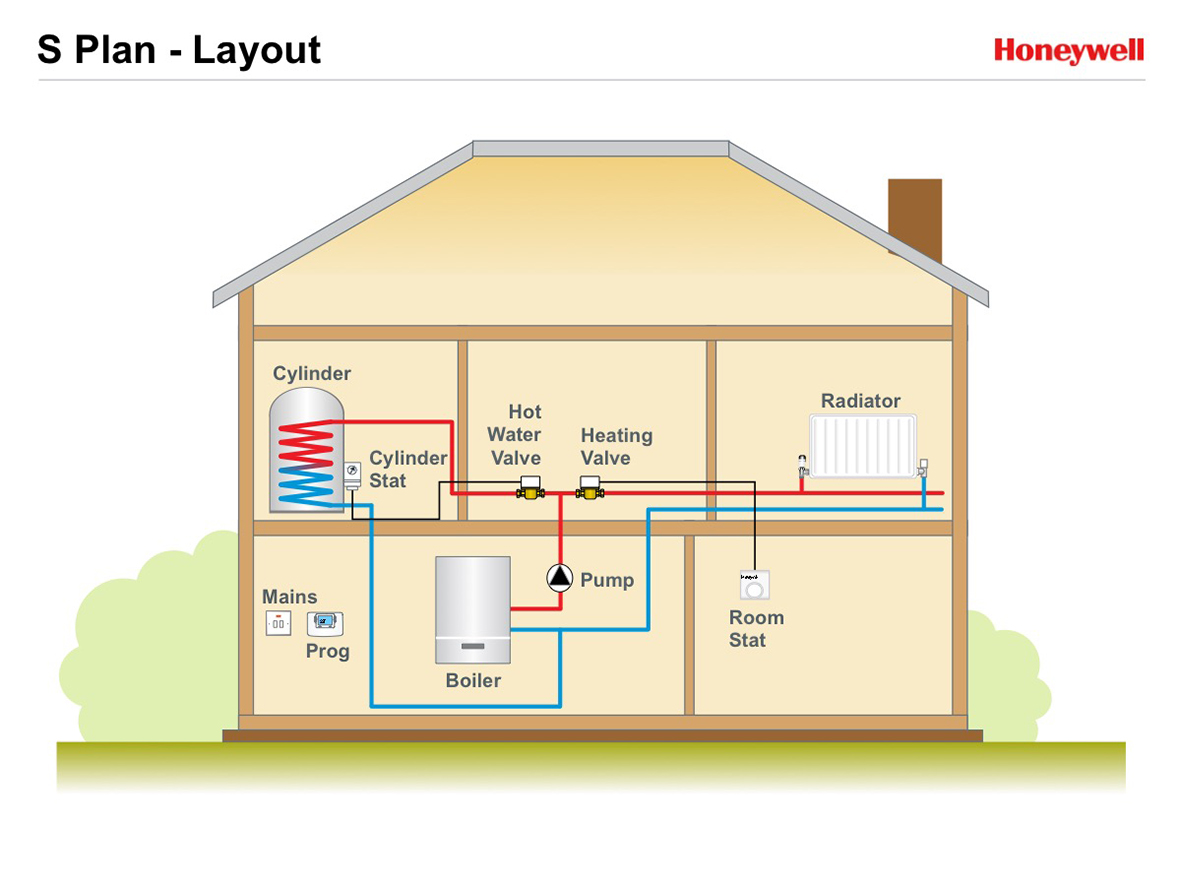 Zoned heating systems give homeowners the greatest level of flexibility, comfort and energy efficiency. Rooms that are not in use can be 'zoned off', so that heating is only supplied to certain areas rather than the entire property to minimise energy use. Having multiple heating zones is particularly useful for multi-occupancy premises, so that each tenant can adjust the temperature of their living space to meet their individual needs.
To make life easier for the installer, wireless controls that zone without motorised zone valves, such as the evohome multi-zoning system, are available. The evohome Zoning Pack contains four HR92UK wireless radiator thermostats, providing individual radiator control with multi point boiler interlock in heating systems where zoning is required. It can be fitted easily to most radiators and, when there is an existing TRV in place, the system does not need to be drained down.
Regardless of whether the heating system covers the entire property or there are multiple heating zones (as recommended for larger properties in the Building Regulations), the S Plan will provide the most flexible heating control system. Having a separate zone valve controlling the hot water, and using one or two zone valves to provide heating to one or two zones, creates an upgradeable and flexible heating system.
The Y plan
This type of system is still commonly found in older properties, and is still suitable for use when conducting part replacements or repairs. For example, a Y plan can be retained if only the hot water cylinder needs to be replaced.
A Y plan has fewer components than an S plan, making it a more compact installation. It typically comprises one three-port motorised valve for both heating and hot water, a room thermostat, cylinder thermostat and programmer. The main limitations are that only one heating zone can be controlled and that the maximum flow rate through the valve is for the combined heating and hot water supply.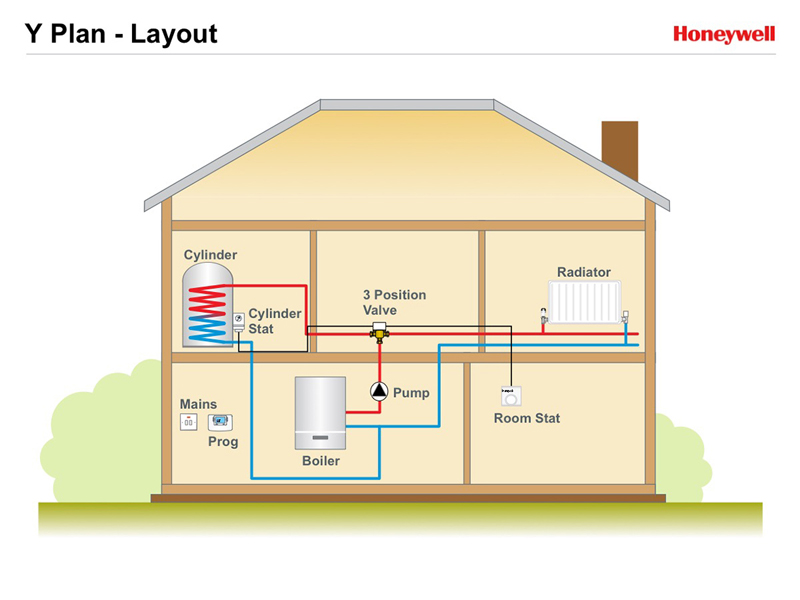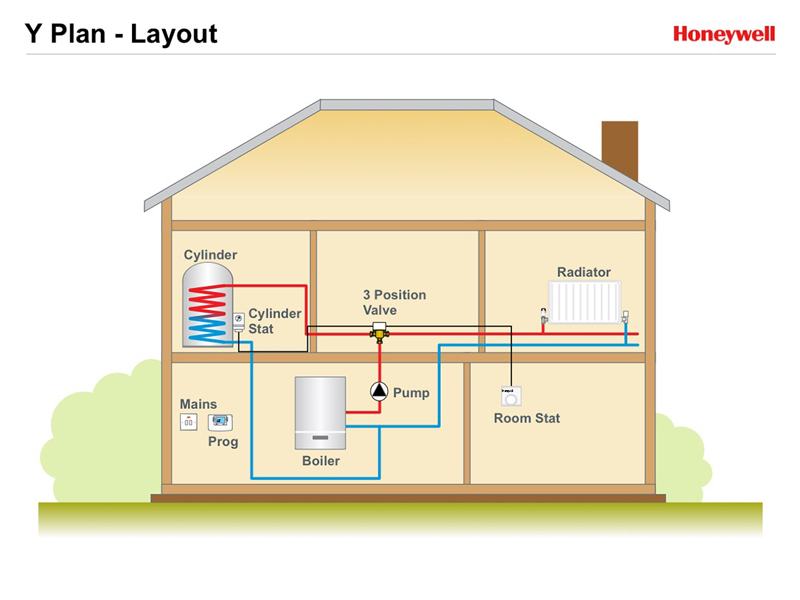 Another limitation of a Y plan is that, with just one valve in the system, the customer will have neither heating nor hot water if it fails. On the other hand, an S plan system with multiple 2-port valves servicing separate heating zones, would still be able to operate in part. However, as the Y plan is still found in many homes, it is important for any installer and heating engineer to know how it works.
For installers looking for further information, there are a number of resources on the Honeywell professional zone. These include the latest edition of the wiring guide, as well as diagrams for individual scenarios, such as installing a pump overrun on an Y, S and S Plan+.
What's next?
S and Y plans will continue to be at the heart of domestic heating systems for many years to come. However, as installers seek new solutions that will help them to achieve the same quality result in less time, there will also be a growth in multi-zone systems that use wireless remote TRVs to do the same job as a traditional zone valve.
For more information on Honeywell controls, visit: www.honeywelluk.com