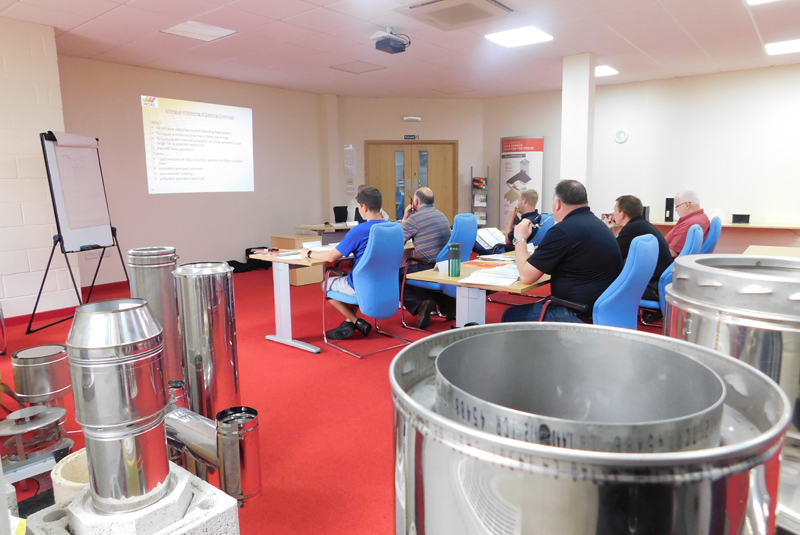 PHPI gets to grips with the benefits installers have access to when becoming HETAS Registered.
Consumers and the public are becoming increasingly aware that installation and servicing of a wood burning stove must be carried out by a properly trained and registered person. With the continuing popularity of wood burning stoves, it's more important than ever that installers ensure appliances work safely and efficiently.
As well as ensuring the compliance of the installation, installers are also responsible for educating customers on how to operate their appliances effectively and safely, says HETAS.
Bruce Allen, CEO of HETAS, explained: "Stoves have become more sophisticated pieces of equipment, as manufacturers develop ways to make their appliances more efficient and cleaner burning. Even consumers accustomed to solid fuel may need an update on the way that stoves best operate.
"We all want to protect our environment and there are proven links between good fuel quality and reduced particulate emissions. Clean, dry fuel is essential for clean burning and reduced environmental impact. Educating the consumer from the start to use the appropriate fuel with the most up to date industry advice will help reduce call backs and potential complaints from users or neighbours."
A helping hand
By becoming HETAS Registered, installers can access a wealth of information, regular industry news, technical bulletins and regulation updates. It is essential for installers to demonstrate how to choose and use the appliance effectively and this is where the HETAS website, printed guide and consumer flyers, available to registered members, can help.
As we move towards 2020 for boilers, and 2022 for stoves, the list of HETAS approved appliances will be useful in demonstrating which appliances meet the regulations and offer the various attributes of clean burning and efficiency consumers are now demanding.
One of the specific benefits offered to HETAS registrants is access to the technical helpline. Used as a means for discussing safety and technical issues with installers, the helpline acts as a resource for those seeking advice and knowledge from experienced professionals. It offers additional expertise provided by HETAS' partners including the BFCMA, Stove Industry Alliance, Solid Fuel Association and chimney sweep associations.
As well as having business details listed on the 'Find Installer' search page on the HETAS website, another benefit of being registered is the free Prompt Payer membership for debt recovery and loan brokering services. This service has recovered over £200,000 for registrants to date and is ideal for registered installers who are sole traders, needing advice and guidance in this area.
Other advantages include access to the online shop offering a variety of tools, equipment and branded workwear, with the option for dual HETAS branded items.
Becoming compliant
Another benefit is self-certification of installations. In England & Wales, Registered Installers notify HETAS of self-certificated works and HETAS provides the consumer with a certificate of compliance. This certificate is a declaration by the installer that the installation complies with the relevant building regulations.
This can be done through an online form, reducing the need for paperwork, or via a more traditional paper copy if desired. HETAS will then notify the relevant Local Authority on their behalf. Alternatively, as with installers who are not registered, there is the option for the customer to apply to the Local Authority Building Control department for a Building Notice and pay the appropriate fee, which can cost up to £300 per job.
A bespoke, industry dedicated insurance is another bonus which has been created with a thorough understanding of the requirements of registered installers. The insurance scheme covers more than the standard three types of contractor insurance – Public Liability, Professional Indemnity and Products Liability – and is designed to protect you and your business. It includes, but isn't limited to, protection from clerical errors, inefficacy cover and legal expense cover, with options such as tool and van insurance to be added.
A free, annual HETAS Guide is also available to registrants, containing listings of approved appliances, ancillary equipment and products for use with biomass, wood and solid mineral fuels. It includes efficiency figures which help to determine whether an appliance is suited to a property and can be installed in accordance with Building Regulations. The Guide also states when an appliance is DEFRA exempt, or MCS certified.
HETAS also insists on registered installers being trained and assessed with five, yearly update training/assessment courses available to attend, with approved training centres available in England, Wales, Scotland, Northern Ireland and the Republic of Ireland.
To find a full list of HETAS Approved Training Centres, visit www.hetas.co.uk/professionals/training-centres