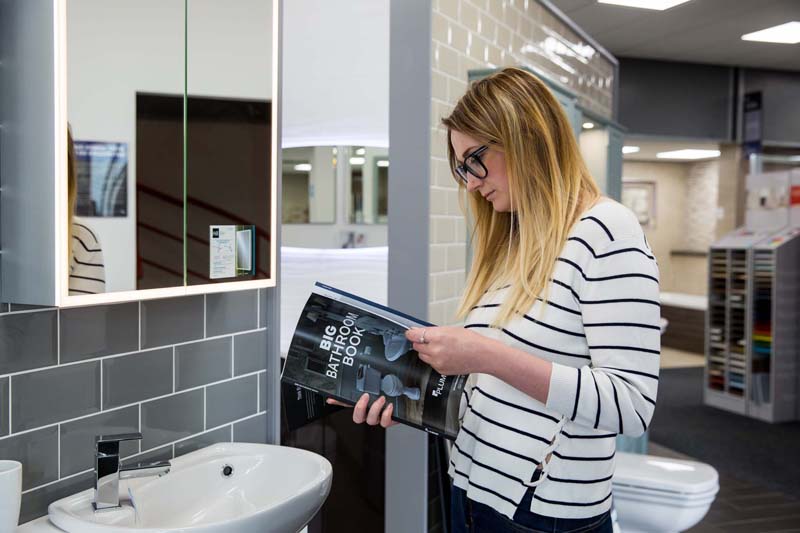 Installers have to consider the practicality of fitting products that are both functional and on-trend, no matter the property.
Richard Coles, Showrooms Business Development Manager at Plumbase, highlights some of the latest trends and discusses key factors which need to be considered to achieve these looks.
With homeowners being more aware than ever of current home décor trends, installers must consider how to manage the expectations of customers and advise the best ways to achieve key trends without compromising bathroom functionality.
Tap into trends
With aesthetics in mind, homeowners will consider design aspects right down to the finer details, and one easy way they can achieve an on-trend look is with unique taps on bathroom fixtures.
Victorian-style basin taps, for example, remain popular for those after a classic, timeless finish. Black taps are also rising in popularity with customers looking for a modern bathroom look, however installers need to consider the practicality of the black coated finish and advise customers accordingly. For example, in hard water areas, these kinds of accessories may need cleaning on a more regular basis. Rough scourers or chemical cleaning products can damage the matte finish, or even scrape it completely off, so it's best to advise customers that, once the taps are installed, they should be cleaned using warm water and a soft sponge.
Maximise minimalist furniture
Many new builds feature multiple, smaller bathrooms or en suites rather than one large family bathroom. To accommodate the loss of bathroom space, there is an increasing demand for minimalistic furniture and fittings that create the illusion of further floor space. There are lots of ways installers can make bathrooms appear bigger, such as the use of fitted and modular furniture which create additional storage and make the most of any awkward shaped rooms.
Creating extra storage also allows customers to declutter their bathroom and keep toiletries concealed, will also create a relaxing space for those using the bathroom. Under basin units are a great way to increase vital storage space as smaller items can be hidden away, making the room appear less cluttered and more spacious.
A sleek and stylish wet room
While wet rooms have traditionally held a reputation of being installed purely for accessibility rather than style, walk-in showers are now becoming more popular for those seeking a minimal look. Installers can make wet rooms aesthetically pleasing using sleek, glass panels with chrome accents.
Thankfully, brands are now paying attention to the finer details so installers have access to an extensive range of modern wet room accessories, allowing them to meet the design briefs of their customers who want a practical wet room with a contemporary feel. Even functional products, such as handrails or shower seats, are being designed with aesthetics in mind and can seamlessly complement an existing bathroom design.
Use panels to add colour
Darker colours are rising in popularity, and people are opting for matte black finishes and textured slate or marble for their walls. Many homeowners will opt for coloured or patterned tiles to achieve this look however they may not consider the upkeep of tiling over time. Water pooling, for example, can erode the grout which results in people having to do lots of maintenance work.
An effective solution that installers can suggest is to use 1 or 2m wall panels, instead of smaller tiles. The panels are available in a range of styles and colours, giving customers complete flexibility to match the aesthetics of their bathroom. These panels are popular as they do not need grout so are not at risk from water damage. They are also easy to clean, and can be removed easily for maintenance and access to pipework.
With expert guidance from an insightful installer, homeowners can create their dream bathroom that is also a highly-functional, efficient space for all the family to enjoy.