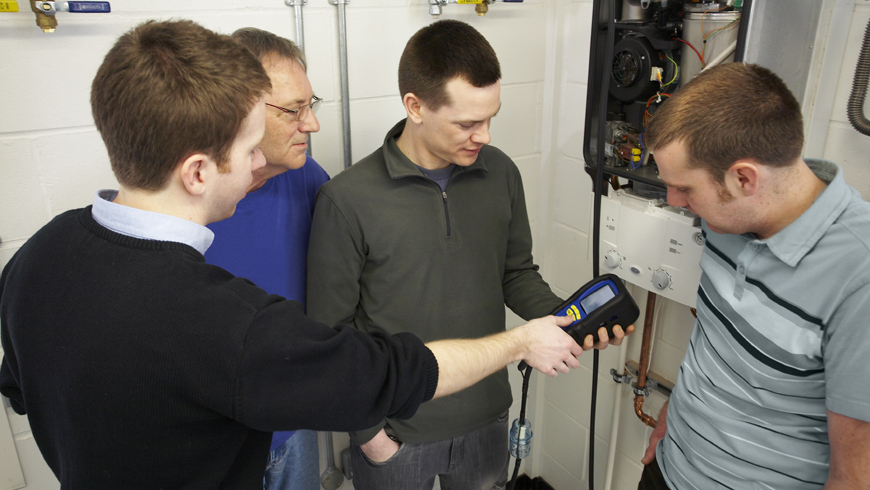 April saw the introduction of a requirement for installers to take an analysis of the flue gases of a newly installed condensing boiler. In order to demonstrate competence in this area, the installer must have completed their CPA1. Martyn Bridges, Director of Marketing and Technical Support at Worcester, Bosch Group, reflects on how the industry has accommodated the change. 
April 1st 2014 was the date when it became a mandatory requirement to take a Flue Gas Analysis of a newly-installed boiler. This followed two to three years of the industry's manufacturers and governing bodies preparing installers for what was set to be quite a significant change for those who perhaps wouldn't have carried out this procedure previously. Particularly for those national installers with hundreds if not thousands of employees around the country, a degree of advanced preparation needed to take place, in order to allow such organisations to budget for the required investment in new equipment.
The heating and hot water industry is generally very good at adapting to new legislation and changing requirements, but just to ensure the transition was as seamless as possible, Worcester was one of a number of organisations to offer a helping hand. The introduction of bespoke training programmes and literature to communicate the new requirements to installers was designed to make the shift towards the extensive use of Electronic Flue Gas Analysers as smooth as possible.
Since the introduction of mandatory installation of condensing boilers in 2005, the number of CO incidents in the UK attributable to gas-fired boilers has fallen dramatically, which is almost certainly down to the general improvement in installation standards as well as the fact that all condensing boilers (with few exceptions) are accompanied by a room sealed fanned flue.
A natural addition to this improvement record was to extend the requirement for a check of combustion products to the commissioning process. We're now in a position where every installer has to check the integrity of the flue system as well as ensuring the CO/CO2 ratio is as despatched from the manufacturers. There are also still occurrences where the boiler gas type requires converting – for example, where the natural gas grid is extended to a property where the fuel type was originally LPG.
At Worcester we've been producing all models within our boiler range for around a decade in either LPG or natural gas, which means it is quite rare that a conversion is ever required. Nevertheless, the industry agreement that all boilers now require the combustion check is one we welcome wholeheartedly.
Crucially, the move could also help drive out some of the underground 'Sunday morning' installations and legalise more legitimate installations. This is because there will be a requirement to complete the benchmark checklist fully to initiate the boiler warranty. With the benchmark checklist, installers will have to populate set fields to ensure that analysis measurements are recorded. Therefore when it comes to a Gas Safe audit, the Gas Safe team will be looking to see if all of the benchmark checklists you've completed have been done correctly. If not, it's possible you could invalidate the manufacturer's warranty.
At Worcester, in support of the step towards mandatory electronic flue gas analysis, we introduced our own CPA1 training course and ensured that the content of our other gas-fired boiler training courses was adjusted to feature a section on the new requirements. This led us to create more facilities to allow a greater number of operatives to progress through our training course and subsequent assessment – ultimately making it very simple for installers to equip themselves with the necessary accreditation.
Considering the significance of the change in requirement, the way the industry has responded has been very well-organised and effective. It seems everyone from the manufacturers to the non-Government organisations (NGOs) and installers has been unanimous in their support for the change. Of the Benchmark Checklist samples we receive, the combustion analysis section has been filled out correctly in almost all cases, which underlines just how well installers have adapted to the change.
Whilst boiler manufacturers may be 100% confident that their products leave the factory set up very precisely, it remains hugely important that installers run procedures such as flue gas analysis to ensure levels are as they should be once the boiler and flue have been installed. Working to the assumption that there are 228 working days in a year, around 6,500 gas-fired boilers are fitted into UK homes every day, and installers should be applauded for ensuring these boilers are expertly fitted and maintained.
Crucially for installers, now the requirement has come into force, it is virtually impossible for 'DIYers' to fully complete an installation – which theoretically increases the amount of work out there for qualified installers across the UK. There is no question that this is a step in the right direction for the future of both our industry and the safety of UK homeowners.