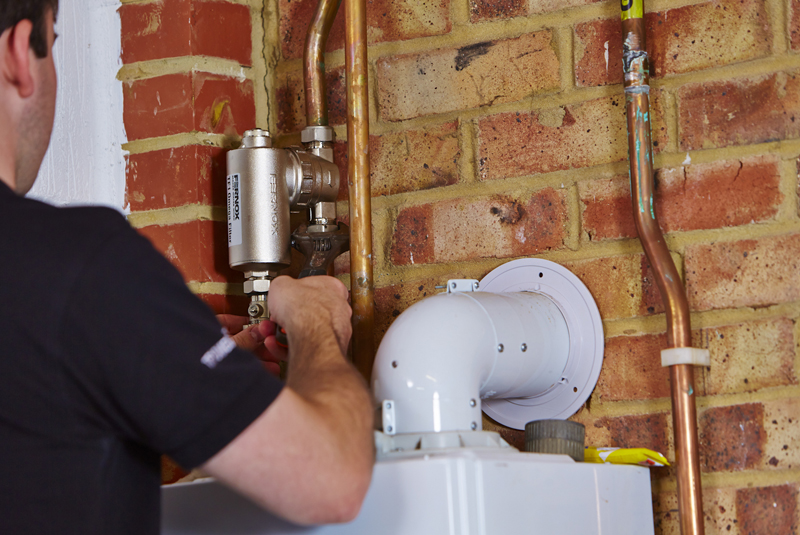 When choosing an in-line filter for a central heating system, it is important to be aware that not all filters use the same technology to capture circulating debris. Sam Hayes, Filter Project Engineer at Fernox, explores filtration technologies and offers advice when selecting the right filter for the job.
System filter technology has rapidly advanced in recent years, with the use of filters becoming ingrained as best practice within the heating and plumbing industry. However, like many other industries, as expertise advances, various products and new technologies emerge.
This type of progress and variety can be seen within the vacuum cleaner industry. Providing choice and various levels of performance for all possible applications, the technologies employed by leading manufacturers varies. The same principle is true for central heating system in-line filters – although they may appear to offer similar features and benefits, the technology within them is often quite different.
When selecting an in-line filter for a central heating system, there are a number of commonly used filtration methods available – barrier, mesh (utilising settlement), magnetic, hydrocyclonic and Hydronic Particle Separation (HPS).
Barrier technology captures circulating debris by trapping particles which will not pass through the barrier medium due to size, similar to how food is drained in a colander. A simple but effective method of capturing debris of a certain size, barrier filters can present issues with clogging and, without frequent maintenance, create blockages.
Loose mesh type filters placed in the flow, disrupt the water flow and allow dirt particles to hit the mesh. This causes the particles to lose energy/ velocity and sink to the bottom of the filter for containment.
Filters that incorporate only magnetic principles capture and contain magnetic sludge formed from iron or steel corrosion. Although effective, nonferrous materials that are not magnetic will not be captured and are left to continue to circulate within the system.
For filters utilising hydrocyclonic action, water often enters the unit from the side. It is then directed around the exterior wall of the filter, creating a swirling action, which funnels down into a cyclone. Similar to a naturally occurring tornado or hurricane, this produces a 'dead zone' in the lowest part of the filter where dirt particles are deposited for containment. If combined with a magnetic technology, there is an added advantage as the water then moves up the middle of the filter, directly past the magnet, allowing very small, light magnetic particles to be attracted and captured by the magnet.
Finally, Hydronic Particle Separation (HPS) filtration directs the water flow at a specially designed baffle which fits the space envelope of the filter. The water hits the baffle, which removes its energy or velocity and results in the suspended debris being dropped to the bottom of the filter where it is contained for safe removal.
For a high quality filter that offers superior protection, Fernox recommends selection of a unit that has dual collection methods for both magnetic and non-magnetic debris.
Along with the technology inside the filter, the design of the unit itself can impact upon its suitability for an application. Size, appearance and component material can all affect both an installer's and a householder's preference. When seeking a filter, it is therefore important to consider the area where the filter will be installed and if it will be 'on show', as a householder may deem one design more aesthetically pleasing than another.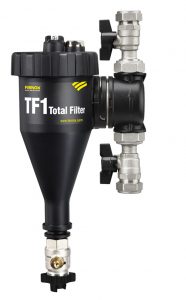 Installers should therefore look to manufacturers that provide a comprehensive selection of in-line filters for domestic applications incorporating various filtration technologies. One such example is the Fernox TF1 Filter portfolio, which has a product solution for every situation, application and personal preference.
Offering composite plastic as well as brass filters, in a variety of sizes, the TF1 range includes the TF1 Total Filter, TF1 Compact Filter and TF1 Omega Filter.
The composite Fernox TF1 Total and TF1 Compact Filters incorporate hydrocyclonic action with powerful Neodymium magnetic assemblies and can be fitted on vertical or horizontal pipework at an angle of up to 45° – either product can be installed in even the smallest of spaces or in awkward to reach, restricted areas around the boiler.
The brass, nickel-plated TF1 Omega Filter combines a Neodymium magnet with Hydronic Particle Separation (HPS) technology to achieve superior debris capture and system protection.
The company's brass filter, the TF1 Omega Filter, is available with slip socket connection, which is the fastest option to install, or with quality valves dependent on installer preference and both filter options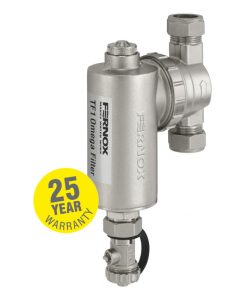 can be installed onto horizontal, vertical or any pipework orientation in both flow directions.
In addition, the TF1 Omega Filter is supplied with a 25-year warranty, which requires minimal replacement of perishable components, such as O-rings, as the filter does not have a removable lid.
When selecting an in-line filter system, it is important to consider the technology it employs. By choosing a filter that can tackle both magnetic and non-magnetic debris, superior system protection can be achieved.
For more information on filters from Fernox, visit: www.fernox.com/