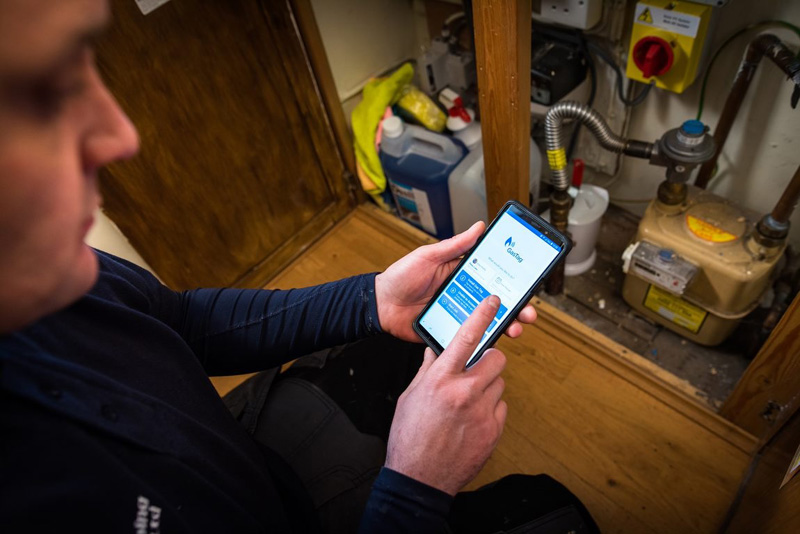 With more than a million homes suffering from work performed by illegal gas fitters, PHPI speaks with John Roche, Chief Operating Officer for Gas Tag, about how the company is looking to eliminate this pressing issue.
What is Gas Tag and how does it work? Where did the idea come from?
Gas Tag is a real-time gas safety solution aimed at protecting people's homes from the dangers of unregistered gas fitters and could help to eliminate the 1.1 million unsafe gas checks that are carried out in the UK every year. In November 2018 Gas Tag was awarded the coveted New Business of the Year at the Lloyds Bank National Business Awards. It now employs 99 full-time UK-based employees.
The company was founded in 2015 by Chief Executive Paul Durose and Stephen Ullathorne, with the aim of changing an industry that had not adapted to using technology to make homes safer. It raised seed money from early investors and then raised private equity money in early 2018 to expand the business.
How big is the problem of unsafe gas works and unregistered gas fitters?
This problem has proven to be huge. The Gas Safe Register says that each year there is an estimated 1.1 million illegal jobs conducted by rogue unqualified engineers. This unsettling number of illegal jobs has resulted in one in six homes – an estimated 4.28 million households – in the UK having a dangerous appliance.
Similarly, we have found that perhaps due to British politeness, one in three residents would not ask an engineer for ID, let alone proof of their being Gas Safety registered. Not only does this high number of unqualified engineers undermine the professionals who do pride themselves on making homes safe for residents, it can have truly deadly effects.
How do you ensure only Gas Safe Registered engineers can sign up?
Upon sign up, engineers must enter their Gas Safe Register license number, Gas Safe Business ID number and national insurance number. This enables the app to uniquely identify the engineer and bring back a list of their competencies. This list displays the appliances that the engineer is qualified to conduct work on and the appliances they don't have the qualification for and engineers will only be able to record work through Gas Tag for the things they are qualified to do.
How valuable is the support you have received from Gas Safe Register and Local Growth Hub?
The support from the Gas Safe Register has been brilliant from the beginning. The register's aim to protect the public from unsafe work directly aligns with the capabilities of our system and that is why we're aiming to get a Gas Tag into every UK property. We hope that achieving this goal will make the UK the gas safety capital of the world and to give the work back to gas engineers who have spent time gaining qualifications.
The support from the Local Growth Hub has also been invaluable in helping us boost our credibility and build our local network as a business in the Liverpool city region. Some of the connections we have made through the growth hub, and recruitment we have done as a result, definitely helped us take Gas Tag to the next level.
Is signing up to the app and using Gas Tag extra a lot of work for engineers?
Quite the opposite, it takes a couple of minutes to download Gas Tag for free and sign up. Whilst on the job the engineer will use the app to answer the questions they are used to. The app assists the engineer throughout their work, asking them to answer a set of mainly pass/fail questions, saving time on having to fill out endless forms and paperwork and helps best practice. Contractors using the app for Manningham Housing Association have found that they have saved an average of eight minutes on a standard landlord gas safety check after setup.
Will the app have any additional benefits for engineers and installers?
Yes, there are a number of benefits for engineers. We previously mentioned that there are efficiency gains from streamlining the process of work and reducing the time spent filling out repetitive forms and that Gas Tag only allows qualified engineers to work on their system, eliminating illegal work by rogue fitters.
In the past an engineer may have been able to potentially forget certain smaller aspects of the work (after all, we're all human and can have a bad day), but with Gas Tag there are mandatory prompts within the app to remind the engineer to complete all areas of the service.
How does the app support the interaction between installers and their customers/homeowners?
Using Gas Tag will make your customers happier by providing an impartial audit trail. This will also make it easier for the engineer to resolve any potential issues or disputes which may arise.
Portal 2.0
Gas Tag has also recently announced how its new Portal 2.0 and upcoming project, X-Tag, will continue to drive innovation. Portal 2.0 will mean it will be even easier for housing providers to monitor their gas safety and compliance.
Development has been focused on navigation, splitting the product into six main task areas; compliance, management, jobs, issues, audit and administration. The new navigation areas will allow housing providers to view at a glance their overall compliance and easily resolve issues, including access problems and unsent LGSRs.
Other benefits of the portal include the management of stock and contractors, job allocation and an area for auditing Landlord Gas Safety Records. Portal 2.0 is also a prelude to the X-Tag project, which will signal the start of the rollout of new workflows, including Solid Fuel, Oil, Solar, Unvented and Air Source, meaning that its clients can ensure compliance across a greater number of properties and fuels.