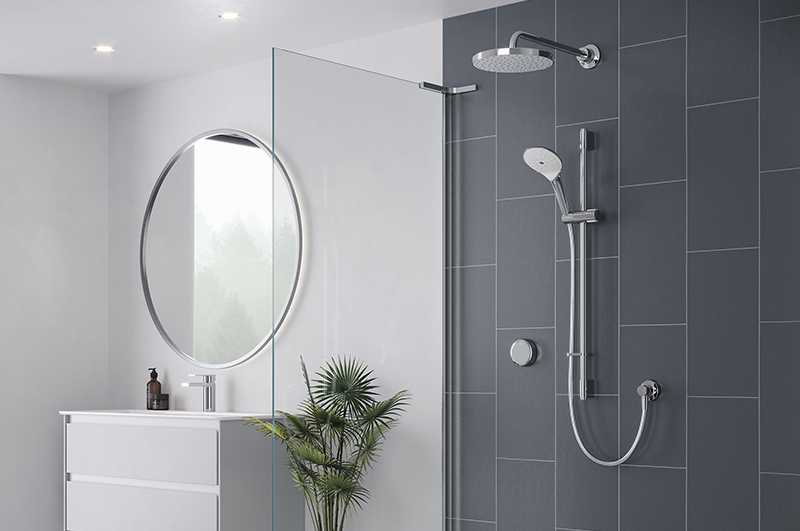 Suzannah Hallam, Digital Product Manager at Mira Showers, explains how digital technology is leading the way in the design of new showering products.
Last year was the year for home improvements and renovations, with many of us spending far more time at home than we normally would. Having all that extra time during lockdown really made consumers look around them and notice all the things that needed to be done to improve their home space.
We all know that in recent years digital technology has been leading the way, and smart homes have been on the increase in popularity, with many customers aspiring to the comfort and experience digital technology can offer. The bathroom is no different. Today's consumer no longer sees the bathroom as simply a place to wash; they want an experience, a 'time out' to escape the stresses and strains of everyday life – and let's face it, there have been plenty of those of late – and a place to luxuriate.
Shower manufacturers such as Mira are constantly developing new products in line with consumer demand, and striving to lead the way in product design and innovation. And we're really excited to introduce our latest range of digital showers, The Mira Activate, which not only offers easy installation to installers, but brings the future of showering to any bathroom.
When it comes to showering in the 21st century, many consumers are going digital. After all, we have digital devices in every other area of our lives, so why would the bathroom be any different?
Consumers are becoming increasingly aware of the benefits of digital technology in the bathroom space and how the functionality which comes with that can enhance their overall experience. When intuitive design is coupled with functionality which allows consumers to create bespoke experiences, the digitalisation of the bathroom space makes perfect sense.
Digital bathroom products allow consumers to configure and personalise their showering experience through the digital interface or app. Our research shows that this is something that consumers are becoming a lot more interested in when redesigning bathroom spaces in their homes.
Our latest digital shower to the market, the Mira Activate, is available in single and dual outlets and offers all of the features that consumers love, as well as some new ones, including a stylish digital controller, with linked app technology to personalise shower settings further. It's also engineered for easy installation. It's available in multiple outlet options, and has two digital valve platforms suitable for both high and low pressure systems, designed to make installers' lives a little easier.
For the customer, the Mira Activate offers a stylish digital display, enabling them to create up to 10 shower presets (with four default presets included), to set the perfect shower for any household member, as well as staying in the know about how much time – and water – their showers take up.
Sustainability
Some of the major benefits of digital showering technology are the eco-friendly and sustainability benefits which can be achieved.
As we all strive for greater sustainability, I only see this type of functionality increasing. Just as a consumer would monitor their energy use through their smart meter, or their energy consumption using their app-enabled home thermostat, the expectation is to be able to monitor and take control of water through their shower, which is offered within the Mira Showers app.
Modern design
The Mira Activate also boasts a modern design, with a high quality chrome plated finish, controller bezel accessories available to purchase separately in matt black, brushed nickel and titanium finishes, with a wireless remote control accessory also available (purchased separately).
Customers can switch up temperature, flow rate, showerheads and more, to create the right kind of shower for every moment. You can revolutionise their shower experience, without compromising a thing.