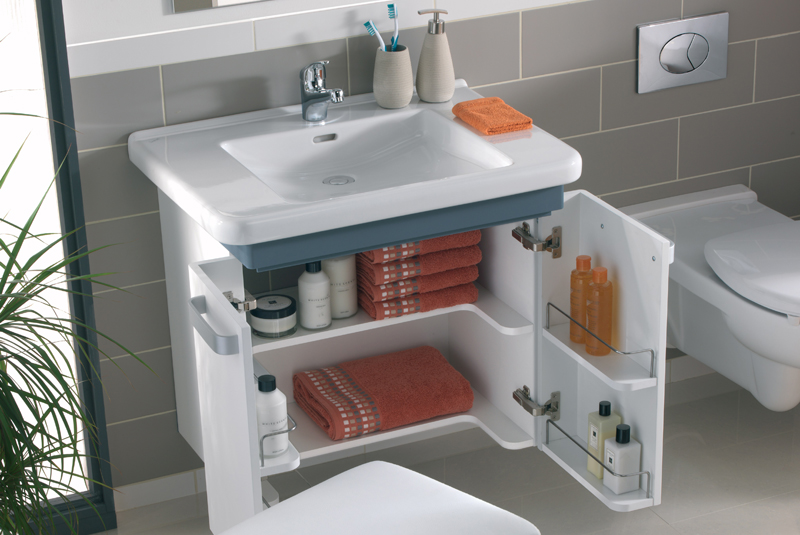 The modern home is often a packed one, with multiple generations all living under one roof. Each age group has its own set of requirements and catering for everyone can be a challenge; particularly in the bathroom. Daniel Ward, Ceramics Product Manager for Twyford, looks at how to design bathrooms fit for all the family.
According to the recent research by Aviva, multi-generational homes are expected to become more common over the next decade, with households containing two or more families rising from 1.5 million to 2.2 million by 2025.
With this change in living arrangements comes a change in how our houses are designed. They must be practical for a cross-section of generations and facilitate some levels of personal space, even in the most cramped environments. For the elderly and very young in particular, the bathroom can be a challenge. Choosing the right products and configuration is essential.
Practical privacy
The first stop for any bathroom is storage. Hiding away unsightly toiletries will give the illusion of space, ensure the room looks clean and remove potential hazards. Messy teens can shut the door on their products and potions and adults can at least keep a cupboard of calm amongst the chaos.
Multi-functional storage, such as under-sink cupboards, or movable stools with hidden compartments, mean function can be maximised, ensuring every square inch is used in a practical way. For very small bathrooms, tall units, a growing trend in the UK, can provide the ideal solution, with each family member allocated a shelf.
Safety first
Safety is often the key concern for parents, or where households have less able residents. Thermostatic taps will prevent scalding, with the lever variety making it easy for arthritic and young fingers to use. For bathing, products such as Twyford's All Offset Family Bath come complete with a movable and reversible seat, headrest and a wider edge for parents or carers to sit alongside the bather. Shower seats are also available as well as flush to the floor shower trays to reduce trip hazards.
Safety also means keeping occupants free from unnecessary illness, which can easily be spread in the bathroom. Products to improve hygiene include Rimfree toilets, which leave germs with nowhere to hide – originally developed to meet the stringent demands of healthcare buildings.
All-inclusive
A few simple tweaks can make a bathroom a more user-friendly place – such as shallow basins which provide better access for wheelchair users, or cupboard doors including shelving so the small or less able don't have to reach far inside. Comfort height toilets, positioned to make it easier to get on and off the pan can be a great addition. For the very young, toilet training can be encouraged using adaptable seats in child-sized proportions. Our family seat, available in the e100 Energy range, includes a soft-close mechanism to protect little hands for added safety.
Improved quality of life
With the multi-generational home set to become a growing fixture in the UK, creating and adapting housing to meet its requirements is likely to be more commonplace. Many of your customers may already fit this bill. Helping them to make their domestic set-up more practical is a step which could improve quality of life for all.