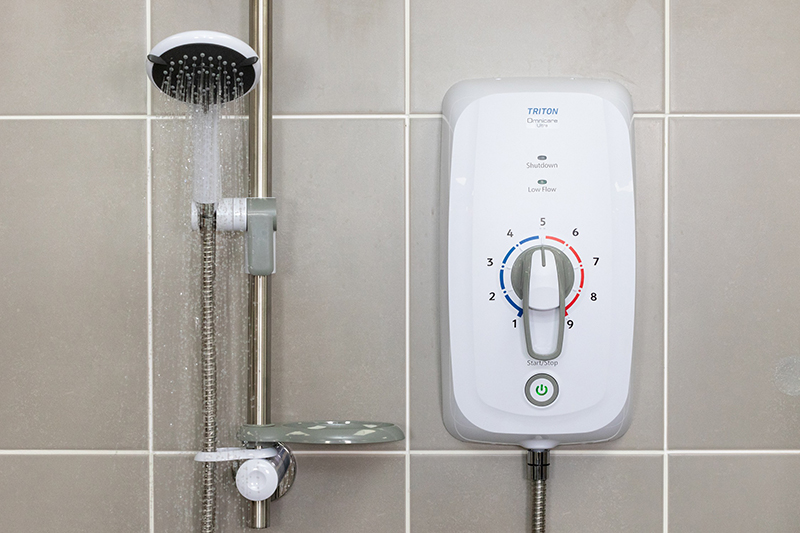 An aging population and growing numbers of multi-generational households have shifted the typical demographic of a UK home, which can have significant repercussions when specifying a bathroom. Martyn Brown, Contracts and Technical Manager at Triton Showers, explains.
With young people finding it harder to get on the property ladder and older people at risk of isolation, more families are choosing to live in one house and share the same space. In fact, around 1.8 million homes now span two or more adult generations, up 38% since 2009.
In part, this is being driven by millennials who are struggling to leave home due to rising house prices – 20% of 25 to 35-year-olds, for example, still live with their parents. Crucially, the UK also has an aging population. Currently, there are 11.8 million people over 65, which is forecast to grow to 18.5 million by 2040. Estimates suggest that these converging factors will result in multi-generational housing tripling by 2040.
Catering for everyone
Despite being one of the smallest rooms in the home, a blend of restricted space, humidity, water, and the range of tasks that need to be carried out, make bathroom safety crucial. For older individuals, mobility and visual impairment needs to be accounted for, while younger generations will also have specific care needs, such as careful temperature control. This is why inclusivity has to be at the heart of bathroom installations. The following points are some of the key safety features to consider:
Layout – the shower cubicle or walk-in enclosure needs to be as spacious as the room will allow. Being too cramped makes it difficult for an individual to get in and out. Obstructions and hazards should also be avoided.
Intuitive and ergonomic controls – complex controls can be confusing, so for multi-generational households, the best showers have the minimum number of variables. Figures from the Royal National Institute for the Blind (RNIB) also suggest that one in five people aged 75 and over are living with sight loss, so look out for showers that carry BEAB, BEAB Care and the RNIB Approvals.
Remote stop/start button – helps to ensure that the shower is already at the correct temperature when the user enters it. They are also important in cases of emergency, allowing carers to stop the shower should a trip or slip have occurred.
Grab bars and riser rails – these are safety features designed to help a person to maintain balance, stand for longer without tiring, hold some of their weight while moving around, or have something to grasp in case of a slip or fall. Dual purpose riser bars that also function as a grab rail are also available for added support while showering. These products can reduce the need for a separate rail, remove clutter, and help decrease the overall cost of a shower installation.
Shower seating – getting this right is particularly important for some users, enabling people to adopt a more comfortable position while showering, thus reducing fatigue levels. The seat should always be fitted at '90 degrees to the shower unit to allow it to be controlled with ease from a seated position.
The PASA Test
To help tradespeople and specifiers ensure they are providing the right solutions, Triton has developed the PASA Test (Purpose, Accessibility, Safety, and Aesthetics). This serves as a checklist to cover off the most important aspects of shower design as outlined above, and can be a useful prompt when working on a bathroom that is suitable for people of all ages.
Purpose – have you taken an end-user first approach to ensure products have the correct functionality and if necessary, the safety credentials are fit for purpose?
Accessibility – is the shower area fully accessible for everyone living in a multi-generational home?
Safety – does it minimise risk and maximise user safety?
Aesthetics – is the bathroom and shower area a stylish and welcoming part of the home?
While the last point may seem out of place in a safety checklist, a person's home is a place they will take pride in. Providing solutions that are not just practical, but look the part too, can go a long way to making a bathroom stand out.
Installation considerations
The sheer number of shower safety factors to consider makes it vital the chosen solution is as straightforward as possible to fit.
Triton's Omnicare Ultra and Ultra+ are examples of products that are equipped to meet the needs of multiple generations, addressing all of the issues outlined above. Crucially, the range has been designed with a specific emphasis on ease of installation, including retrofit applications where a previous shower is being replaced.
Final thoughts
As a result of an aging population and more multi-generational households, there is a mounting need for fit-for-purpose fixtures and fittings to be installed in homes. They have to meet the demands of the young, the elderly, and the vulnerable. Nowhere is this challenge greater than in bathroom specification.
For more information on this topic, and to read Triton's 'A blueprint for bathroom safety: how to make bathrooms fit for purpose for all generations', visit www.tritonshowers.co.uk/a-blueprint-for-bathroom-safety