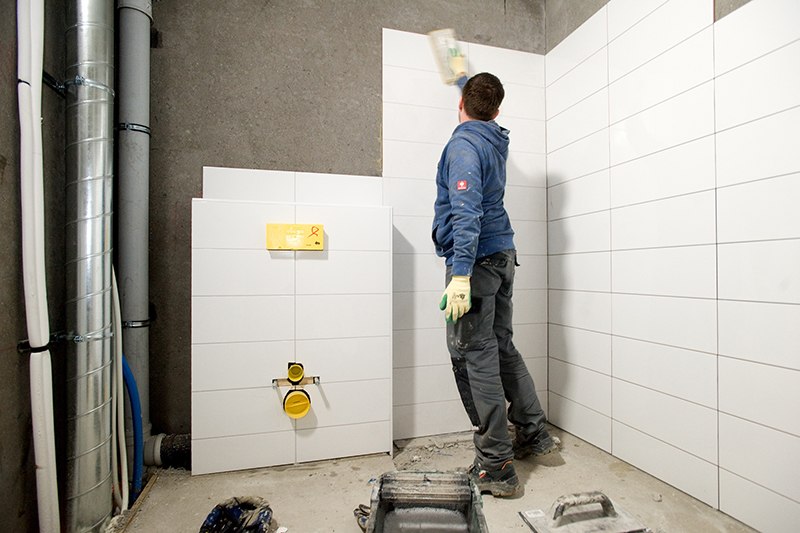 Concealed cistern WCs have grown rapidly popular in recent years, driven in part by advances in pre-wall system and flush plate technology. Glen Peters, Technical Support Manager at Viega, looks at the key considerations when selecting concealed or wall hung pre-wall bathroom systems.
The continued popularity of minimalist bathroom designs has led to an increase in the use of wall hung fittings and concealed toilet cisterns, especially in high-end residential properties and hotels. These designs not only optimise the use of space but also create a pleasant, uncluttered aesthetic. However, when selecting pre-wall systems there are a number of factors that installers need to consider.
Pre-wall frames are installed behind the finished wall and house the pipework, connections and, in the case of WCs, the cistern and flush mechanism. They also provide a supporting structure for the sanitaryware, which can be easily connected to the pipework and bolted to the frame. The wall panels can then be fitted, and the final finish applied – as with any bathroom install. Pre-wall frames are available for WCs, washbasins, bidets and urinals.
Space savers
One key consideration that installers need to think about when selecting a pre-wall frame system is the physical space requirements of the unit. Typically, the frames and mechanisms will require a void of just 200mm or less and often it is the diameter of the waste pipe that sets the minimum void space. Available on the market today are ultra-slim pre-wall cisterns and frames that can be designed to fit in a void space of just 80mm. In addition, there are corner frame options with a total depth of just 233mm which allows washbasins, WCs, bidets and urinals to be located in the optimum position in the bathroom or washroom.
Another variable that installers should consider is the loading and capacity of the frame to ensure it is robust enough to withstand normal use and intentional or accidental misuse. Installers should look for frames that have been thoroughly tested, which should include exposure to forces greater than those expected during day-to-day use. For example, Viega's WC and bidet frames can support up to 400kg of weight, roughly five or six times the weight of the average UK adult, while the washbasin and urinal frames are tested to 150kg, in case of misuse.
Sound advice
When planning a bathroom, reducing the transmission of sound is a further consideration, especially where the bathroom is located next to a bedroom. Included in the Building Regulations guide is approved Document E, which provides advice on limiting the passage of unwanted sound through and between buildings. The document outlines the requirement that internal walls between a bedroom and bathroom should provide 'adequate resistance to the passage of sound'.
However, specifying the correct choice of pre-wall systems can also help create a quieter environment. Installers should look for pre-wall frames that are acoustically de-coupled to prevent sound being transmitted through the walls and floors.
Ease of use
Furthermore, it is also important to ensure that the bathroom is easy to use for everyone, including children, the elderly and those with disabilities. The increase of multi-generational households means that this is a common requirement for residential properties. There are pre-wall frame units available that allow the height of WCs and washbasins to be adjusted at the push of a button. For example, the Viega height adjustable WC and washbasin pre-wall elements use a gas-pressure spring to provide a smooth adjustment from 40cm to 48cm and 70cm to 90cm respectively.
Flush with success
An essential part of planning wall hung, and concealed systems is the selection of the flush control as this is the element that people will interact with most frequently. While there are a range of options available, quality flush plates have a number of benefits and suit a variety of different applications. Already a common sight in hotels and public spaces, flush plates are also growing in popularity for residential bathrooms.
Flush plates typically have a lower activation pressure compared with some alternatives and, due to the larger surface area, applying the required force is easier. There are also touch-free products available that sense when the user's hand is close to the panel and triggers the flush mechanism. This provides enhanced hygiene for users, and the lack of buttons or moving parts on the front of the plate means it is easy to clean – improving the cleanliness of the bathroom further.
Pre-wall units provide a popular space saving, minimalist aesthetic. However, it is important to select the right system to ensure the best possible use of space as well as comfort and ease of use for users.