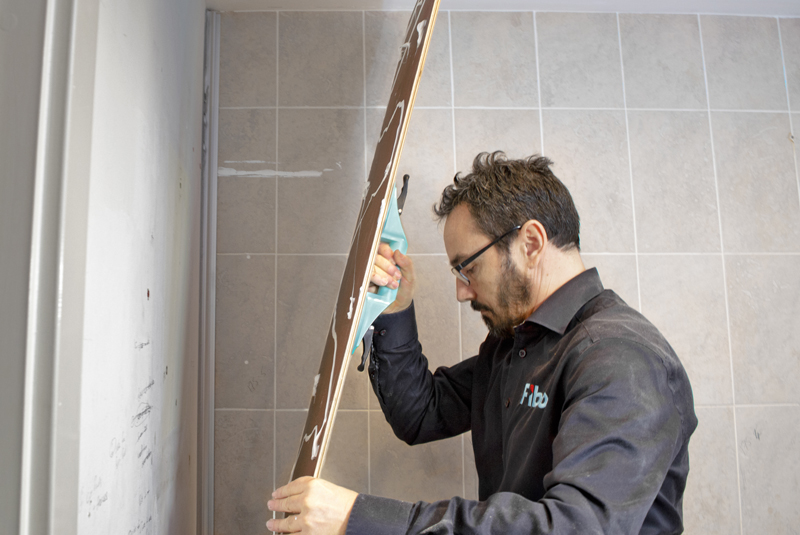 PHPI was recently invited on a trip to Fibo's Norwegian HQ to visit its factory and learn more about the company. Kelly Newstead reports.
Nestled in the Fjords of Norway (think Disney's Frozen…), surrounded by rolling hills and glistening lakes which stretch on for miles, lies Fibo's HQ. Located in the municipality of Lyngdal, southern Norway, it's hard to believe that this picturesque backdrop could possibly be a place of work, being so far removed from the traditional industrial estate many in the UK are so familiar with.
Established in 1952, Fibo describes itself as the European market leader in wall panels. The company moved its HQ to its current location in 2007 and expanded the premises in 2016/17, investing €15 million in new equipment and extending the factory. This has allowed the business to introduce new systems and technologies to help improve the efficiency and quality of its wall panels.
Product development
Fibo champions wall panels as a real alternative to tiles in terms of installation, aesthetics and upkeep. In the UK, Fibo panels now feature in 295 showrooms across the country – up from 35 in 2016 – and can be found in numerous plumbing merchants. One of Fibo's key selling points is that the panels don't require specialist skills to install. There's no need for a tiler, and as they can be fitted onto the existing substrate, you don't have to re-plaster either, making them an ideal solution for plumbers.
Installer Nuwave, for example, uses wall panels as a selling point to promote full bathroom refurbishments across the South and West Wales: "We installed 126 bathrooms in one year, with just one fitting team. With Fibo panels, we can remove a bath, fit wall panels and install a walk-in shower in five to six hours!"
"A number of our installer customers only use panels, but it's useful to compare the market to Norway and indeed to other countries on the continent," commented Scott Beattie, Managing Director of Fibo UK. "Tiling and painting your bathroom is seen as being somewhat old-fashioned. Bathrooms are often bigger, higher-spec and considered one of the most important rooms of the house, so on a larger scale, panels are much easier to fit and maintain than tiles. People can redecorate more often too and keep up with the latest trends."
Those on the trip were to see a range of different products, as well as the new designs recently launched in the UK. The matt marble range, for instance, is new to the whole Fibo Group, while other options include solid colours in sea-greens and blues that have been introduced to the UK after selling well in Norway and elsewhere.
Scott explained: "The recent additions are included in our Scandinavian and Contemporary Tile Effect Collections, and in our Signature Collection. It's important we support our customers with stand-out products and a wide range to help them sell. Our latest panel designs mean installers now have more choice and more opportunities to transform projects with stylish, durable panels." 
"Trips like this help build long-standing relationships. Customers get to see a different side to the suppliers they use – the substance behind the surface," Scott added.
"Our factory expansion at our Norway HQ was a big moment for Fibo. We invested a significant amount in the new facilities, which increased capacity and improved manufacturing efficiency by over 50%. Taking customers to see it all was an opportunity to give them a first-hand insight in to how our products – the panels installers fit day-to-day – are manufactured, and the care we put in at each stage of the production process, through to supporting them with sales and training."