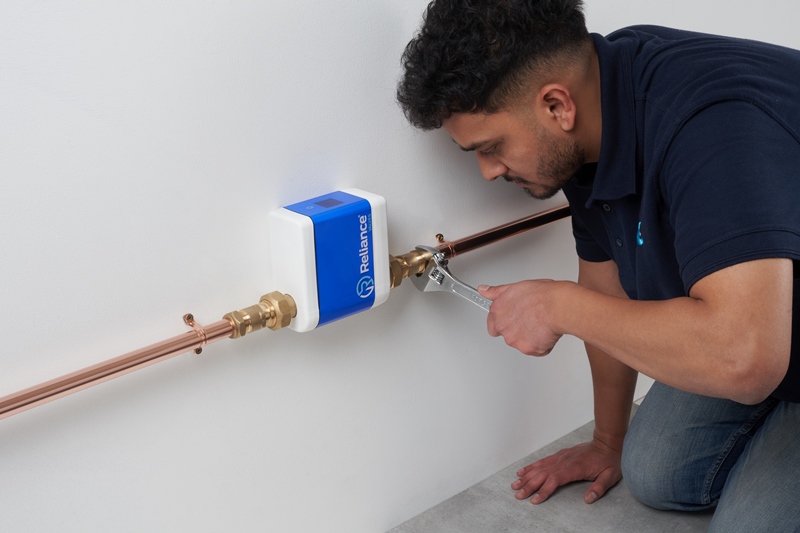 Richard Bateman, Product Marketing Manager at RWC, explains how installers can build leak protection into systems. 
Figures from the Association of British Insurers suggest that water-related claims, including leaks, result in around £650m being paid out annually. Besides the financial cost, leaks can cause broader damage to property and possessions, as well as inconvenience to residents. 
By utilising high-quality components and proactive measures such as smart leak detection systems when carrying out improvement and repair work, installers can help to strengthen their customers' water systems for long-term reliability, improved leak resistance and greater peace of mind – even when they're away from home. 
Respond quickly
Leaks are never a welcome presence for homeowners. Whether it's a small leak that's gone unnoticed for some time, or a burst pipe that showed no prior warning signs, leaks can result in extensive damage. 
With a burst pipe continually discharging water until turned off at the mains, damage isn't limited to the ceilings, walls and floors. Surrounding pipework could also be damaged, alongside environmental issues, with every leak contributing to the millions of litres lost to leaks every day across the UK's water network. 
While leaks are more likely to occur in older buildings where pipes have corroded over time, more recent installations could also be prone to leaks. So, whatever the age of systems being worked on by installers, the best advice is to take a proactive approach to leak prevention. 
This starts with the selection of fittings, informing how connections are made and the overall quality, strength and longevity of the system. 
Permanent connections
Push-fit fittings and valves have become commonplace in recent years, relied upon by professionals to deliver reliable, leak-proof connections – particularly in places where traditional soldered or compression alternatives are impractical to install. 
Pioneered by JG Speedfit, plastic push-fit fittings are precision engineered to deliver a reliable, leak-proof and permanent connection, with push-fit and multi-seal features underpinning performance. In practice, connections can be made quickly and easily, saving installers valuable time while facilitating consistent performance on every job. 
To equip installers with a full suite of solutions to deliver leak-proof systems, the JG Speedfit range brings together pipes, fittings and valves. Combining familiar push-fit technology with Twist & Lock technology, installers can maximise durability and performance without the need for special tools. To provide further support to connections, Superseal Pipe Inserts can be used to improve strength and rigidity. Furthermore, when used alongside JG Speedfit Twist & Lock Fittings, the dual O-rings of the pipe inserts combined with the fitting's own O-ring form a multiseal, which is an additional step towards preventing leaks and offering greater protection. 
With most leaks stemming from connection points, using solutions that strengthen these points is a reliable way to create a leak-proof system. Going further still, reducing the volume of connections overall will further reduce the potential for leaks to occur. 
This can be achieved by installing longer pipe runs – with solutions like JG Layflat Pipe from JG Speedfit – contributing towards leak-proof systems for customers, but also reducing installation time for professionals. With the ability to bend around corners as well as lying flat for straight runs, the pipe coil can strengthen installations and reduce fitting time. 
Detect leaks
For added security and peace of mind, installers should also look to methods of leak detection to quickly identify leaks should they occur on a system in the future. Here, technology can play a vital role – not just in identifying the presence of leaks, but also in notifying occupants to enable a prompt resolution. 
While big leaks can typically be spotted quickly without the need for equipment, low-flow leaks can be much harder to spot, with signs such as small increases in water consumption being easy to overlook. By incorporating smart technology into systems leaks can be identified quickly and properties protected from further damage. 
Solutions like the Reliance Valves MultiSafe Leak Detector can detect unusually high water usage in real-time and take preventative action by shutting off the supply and alerting the homeowner via text or email. Through constant monitoring of water usage and regular micro-leakage monitoring functions, the system can detect leaks before more water is lost and greater damage caused.  
By taking a proactive approach to leak prevention, installers can strengthen their customers' plumbing systems to improve efficient performance and protect against leaks. With the addition of detection systems, customers can benefit from greater peace of mind and security, even when they're away from home or leaks are hard to spot