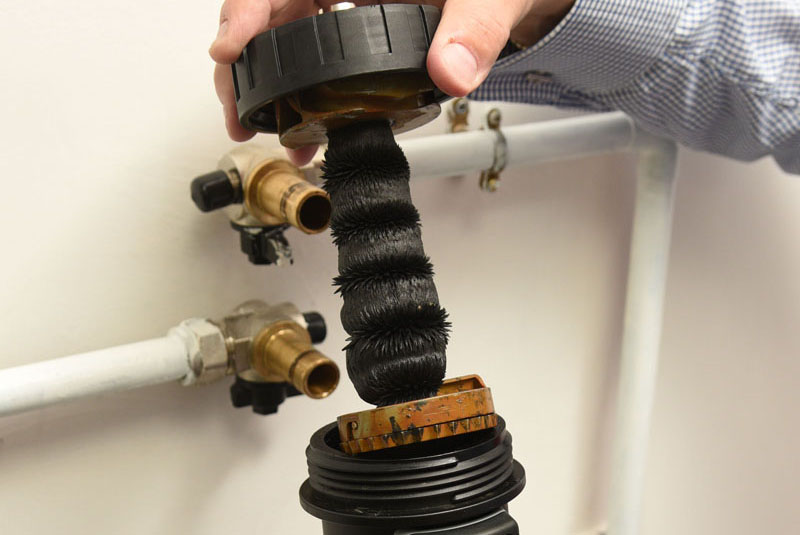 Changes to the British Standard for the preparation, commissioning and maintenance of domestic heating and cooling water systems, BS 7593, will help drive the need for installers to take a holistic approach to protecting system health. Dr Neil Watson, Global Technical Director at Adey, explains what installers need to know.
Since Chris Adey invented magnetic filtration technology more than 15 years ago, Adey has been working to change the way household heating systems are maintained. As the first manufacturer to champion a best practice approach, the company has been helping installers to adopt system cleaning and the use of high-quality chemicals hand-in-hand with the installation of a magnetic filter, to deliver better long-term system performance for customers.
For the first time, new incoming legislation in the form of an updated British Standard, BS 7593:2019, recognises a necessary shift towards treating systems as a whole, rather than solely focusing on the boiler.
A simple way to comply
Having come into effect as a Code of Practice on 31 May, BS 7593:2019 now requires the fitting of a permanent in-line filter, in addition to a chemical clean and fresh water flush before inhibitor is added.
Once officially incorporated into Part L of the Building Regulations, BS 7593:2019 will become law, so it's important that installers are aware of what they need to do to comply. One of the easiest and most effective ways for installers to ensure they are meeting each of these requirements is to follow Adey's Best Practice approach.
The six-steps outlined here will help ensure that installers are BS 7593:2019 compliant, as well as providing optimum, long lasting system protection.
Best practice
BS 7593:2019 regulation
Clean

A premium chemical cleaner will help shift any sludge that has already built up.

All systems should be cleaned using a chemical product formulated specifically for heating and/or cooling systems.
Flush

This will help ensure that system water is completely free from sludge.

Flushing should be undertaken prior to commissioning a new system and during repair of an existing system.

The speed and effectiveness of cleaning can be improved by magnetite capture and the mechanical vibration of radiators.

Filter installation

Fit a filter to catch and collect any sludge that future corrosion could cause.

An in-line filter should be fitted immediately after completing the clean, on all systems.

In systems where a filter is already in place, it should be serviced as part of the recommissioning process.

Protect

Dose the system with protective chemicals to slow and even stop corrosion.

Chemical inhibitors should be added at the time of the final fill with fresh water.

Systems that are dormant over the winter months should be protected from freezing. Biocides are particularly important for systems designed to run at temperatures below 60°C, such as underfloor heating.

Test

Check the system's water regularly with a test kit.

A water test is required to test the level of inhibitor and cleanliness of the system every year.
Maintain

Keeping up with maintenance provides maximum protection, whether servicing the filter or re-dosing with chemicals.

Chemical inhibitors should be re-dosed every five years, or a lab test conducted to verify that the chemicals are sufficient. Following work on the system where the protection has been significantly diluted, the inhibitor should be checked that it meets the manufacturer's recommended concentration.
Clear customer benefits
This new standard is intended to improve the performance of domestic heating and cooling systems while reducing energy use, lowering carbon emissions and guarding against breakdown. Benefits which will all have a positive impact on homeowners. The costs associated with heating the home are notoriously high, whether it's energy bills, repairs due to system breakdown or investing in a new boiler. Ensuring compliance with BS 7593:2019 therefore represents a good opportunity for installers who are able to demonstrate this added value to customers.
Lower running costs, fewer breakdowns, longer boiler lifespan, enhanced warranties and reduced carbon emissions are all tangible benefits that will resonate. The new standard means that installers can confidently offer a more complete service, while more regular maintenance and system checks provide an opportunity to strengthen the customer relationship.