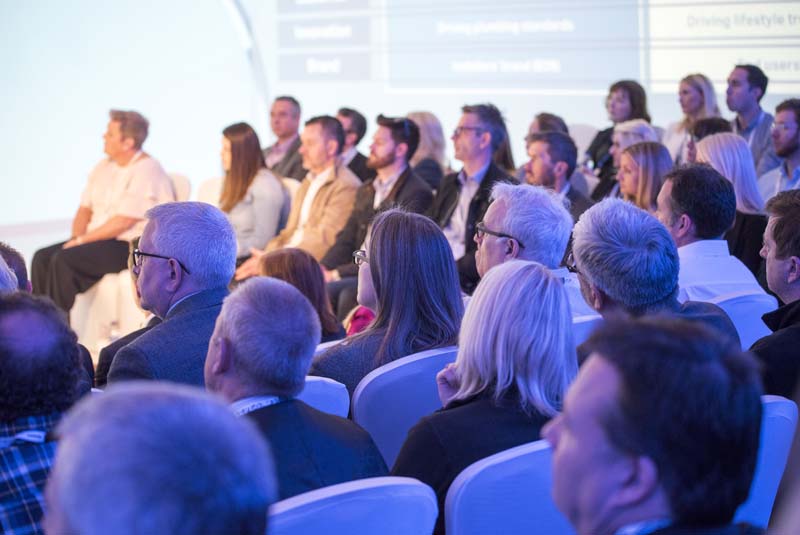 Geberit has recently launched a new premium bathroom brand, as well as opening a training centre based at its UK headquarters in Warwickshire. PHPI attended its launch event to discover more.
Most installers know the significant influence bathroom design options can have on customers. The bathrooms in a house – wetrooms, en-suites, downstairs facilities and family bathrooms – are increasingly spaces for much more than the obvious; they are now spaces to relax, and even indulge in. Consequently, when it comes to bathrooms, homeowners are increasingly seeking luxurious spaces in which to 'wash away' the stresses of modern life.
Although there are a number of familiar brands already in the mid/premium bathroom space, Geberit has recently also launched into this sector. The business already has the established Twyford brand (gained through the acquisition of the Sanitec Group in 2015) which is predominately a mid-market offer.
However, it has now introduced the 'Geberit Bathroom Collection' brand offering; a more design led approach reaching into the higher market segments. The range is hoped to provide installers and bathroom designers with a wide variety of choices to offer customers who are looking to invest in a new bathroom design.
Brand positioning
At the launch event for the new range in April, we spoke with Geberit UK Managing Director Mark Larden to discover more about the move. Mark noted: "The Geberit Bathroom Collection is a result of extensive market research and customer feedback and perfectly complements our sanitary systems technology while offering our customers the quality and innovation they've come to expect from Geberit. With Geberit ceramics and Twyford we are now ideally positioned to supply the market with a quality offering across all price segments."
"The Bathroom Collection includes the Geberit Acanto series which the company believes takes consideration of bathroom ergonomics to an 'all new level'."
Mark continued: "Geberit has a good name in that premium to upper retailer space because we have been selling [Duo-Fix] frames and Aquaclean for the last 15 years." With the launch of the new Geberit Bathroom Collection, the Swiss owned sanitary company will be looking to leverage its strong position as a manufacturer of 'behind the wall' bathroom solutions, while bringing its new bathroom collection 'in front of the wall'. Mark noted: "The Geberit brand is well recognised and trusted by professionals and end users alike and this expansion is the next step in offering our customers even greater choice."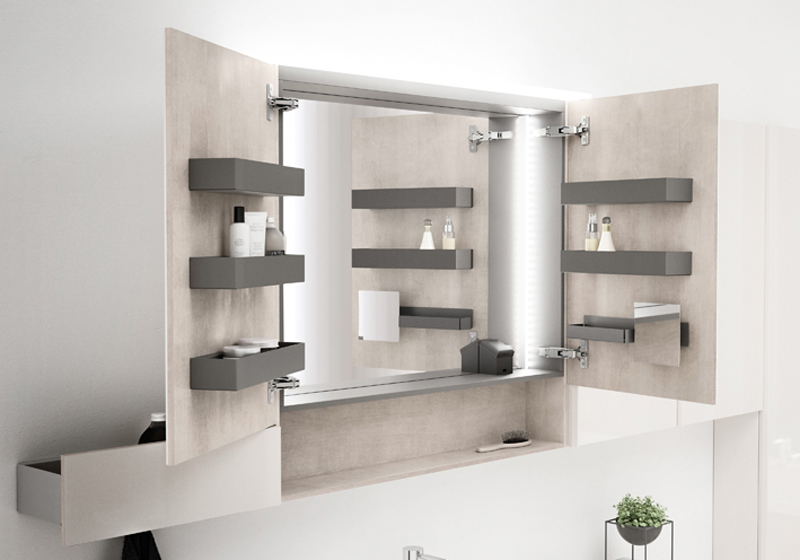 The ranges
Geberit has worked with a number of product designers to deliver the new five-series collection, with a focus on combing elegant design and functionality and usability. The collection includes a range of standard and short projection washbasins and toilets, bidets, mirrored cabinets and furniture with storage. The 'functionality' comes from innovations including Geberit Rimfree toilets, Geberit AquaClean shower toilets, the Geberit DuoFresh odour extraction unit and advanced KeraTect ceramic glazes.
The Bathroom Collection includes the Geberit Acanto series which the company believes takes consideration of bathroom ergonomics to an 'all new level'. Mark commented: "Bathroom ergonomics is given priority with the Geberit Acanto series, with a great deal of research undertaken into storage needs to ensure that user comfort is maximised. The result is cabinets at the perfect reach height for various family members and compartments of the right size and shape to store daily used products, such as toothpaste and toiletries, within an optimum reach zone. Less frequently used items such as clean towels are stored further away, yet still within arm's reach."
Recognising that this is a competitive area in the market with a number of established brands already existing, Geberit will be looking to promote its new offering throughout the trade and consumer spaces. It has confirmed that further products and solutions will follow in due course.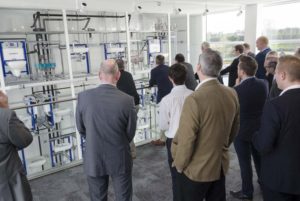 Learning Curve
Installers should also be aware of the training facilities on offer at Geberit's new headquarters. The purpose-built Training Academy offers customers free training modules covering the full breadth of the company's product ranges. The facility enables installers to benefit from hands-on training with the latest piping systems and sanitary solutions, whilst the showroom and training facilities offer space and technical information in abundance.
Worth a mention is the famous two-storey installation tower which certainly left its mark when we visited the facilities. With a balcony view, installers and customers can witness good and bad plumbing practices – all controlled via an app (what isn't these days?) of course.
For more information, visit: www.geberit.co.uk