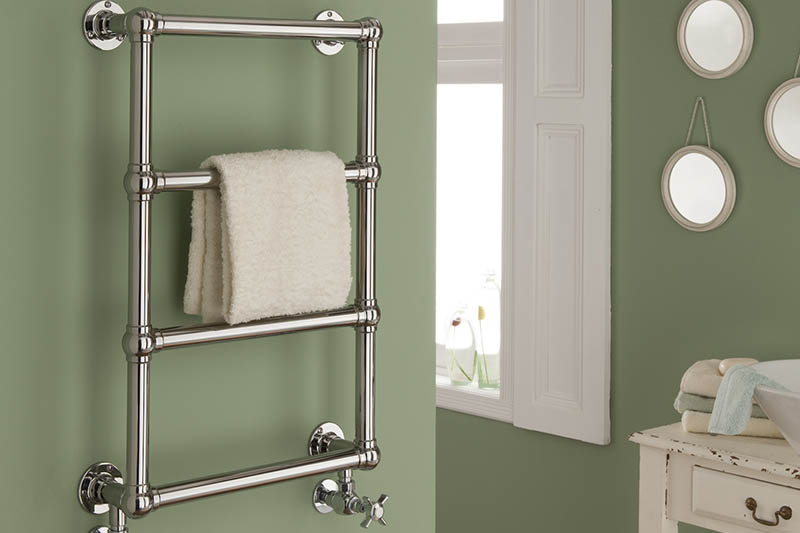 Heated towel rails are a staple feature in many domestic bathrooms and thanks to evolutions in design and technology, a wide range of flexible options is available. Alex Burgess, National Sales Manager at The Radiator Company, looks at some of the options and how designer towel rails can add value to bathroom projects.
According to the most recent report from Rated People, a new bathroom installation was the fourth most popular home improvement project in 2021 and professionals are expecting demand to continue this year. This is fantastic news for the industry, but with homeowners inspired by the latest trends on Instagram, TikTok and lifestyle television programmes, each project will no doubt be different.
To offer new and interesting installations and create some 'wow factor' for customers, being aware of the different heating and towel rail solutions available on the market and how they can help to achieve the homeowner's desired aesthetic can assist with meeting every project brief and application. Where a plumbed chrome or white standard ladder towel rail has traditionally been the go-to-solution, design-led options can complement or even enhance the overall look of the space.
Thanks to developments in engineering and materials, manufacturers have been able to design towel rails with more creativity and even customisation in mind. For example, side loading towel rails like The Radiator Company's Echo provide a new and modern take on a traditional ladder rail – with the added convenience of being able to simply slide a towel onto (and off) the rail.
In addition, models that can be finished in a wide range of colours can help to achieve a customer's interior ambitions and individuality – whether colour be used to seamlessly blend with the design of the entire bathroom (such as a sleek use of black to match other bathroom appliances in this popular colour), or if the customer wishes to make more of a statement.
For example, colour blocking is a popular design trend based on bringing two or more bold colours together to create a bright, vibrant and contemporary look. It can be easily achieved by selecting towel rails in contrasting colours to the walls and other features like cabinets, bath panels and accessories.
Energy efficiency
Although it can be useful to have towel rails installed as part of the central heating system, this method is not ideal for end users who wish to use them during the summer months when the central heating system is switched off. To offer customers more versatility, electric and dual-fuel models help to reduce demand on the boiler. They are also available in many design formats to meet customer requirements and preference.
Dual-fuel offers the best of both worlds as these models can operate either using the plumbed central heating supply, or an electric supply heating element for year-round use.
Alternatively, there are electric self-contained towel rails on offer. These can be installed quickly and easily as there is no need for any new pipework. What's more, the user can take total control – ensuring an efficient solution, operating only when the user flicks the switch.
Furthermore, choosing models manufactured with aluminium should be a consideration for those looking to make a more sustainable choice. This material heats quickly and uses less water, thus placing less demand on the central heating source. It also works well at lower water temperatures, making it suited for households that use renewable energy such as heat pumps.
Take control
For an even more streamlined end user experience, consider installing Bluetooth controlled elements that conveniently enable the towel rail to be controlled via an app. Specifying elements with this functionality can help users to closely control energy usage as well as create tailored operation phases that can be adjusted to user comfort.
Finishing touches
It is also important to consider how accessories like valves and pipe covers can be incorporated and how they improve the overall result. For example, applying pipe and shroud covers ensures a neat finish that removes the need to paint copper pipes or hide unsightly holes drilled into the floor or wall for the feed pipe.
Selecting the right, high quality valves will ensure that the radiator continues to perform at optimum efficiency. What's more, valves come in a wide range of shapes, sizes and finishes and it is important to select products that complement the radiator's design and the aesthetic of the room.
For any installation, check the manufacturer has CE/CAUK approval and EN 442 certification. It's also recommended to look to manufacturers that offer leading warranties and after sales service for added reassurance that the products selected are of a high quality and can deliver the output needed to heat the space.