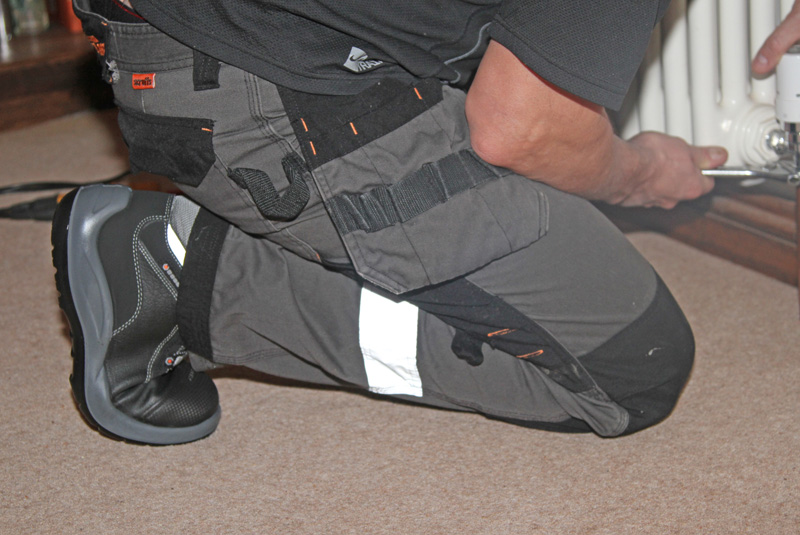 Protecting your feet while you work is important, but does a bog-standard pair of safety boots really meet the mark? John Dabb, Sales & Marketing Director for Hyde, looks at some of the options.
When you consider the amount of steps you take over the course of an average working day, it might not come as a surprise to know that it is possible to use far less energy, and therefore increase your efficiency, simply by choosing the right kind of work boots.
There can be no question that safety boots are an essential part of PPE which no installer should be without. What is subjective is the amount of time and cash you spend on them. After all, a safety boot is a safety boot at the end of the day, right?
Well actually, that isn't the case at all. Choosing footwear that you will spend upwards of 8 to 10 hours a day walking, standing, bending and stretching in should mean that you take time and invest the necessary cash in ensuring your feet will be comfortable all day long.
It isn't just about spending more money on the appropriate safety footwear either, researching the many different options and trying them on for size is also important. If we are honest, most of us do little more than check the boots have toe protection and are comfortable enough to work in before making a purchase, paying scant regard to the small print on the labelling other than to check it passes the basic safety requirements.
But with so much choice out there, which is best and what should engineers be looking out for?
Back to basics
All safety footwear must meet the minimum safety standards set out by the International Organization for Standardization (ISO), with EN ISO 20345:2011 being the current standard for safety footwear across Europe (EN). This stipulates that all safety footwear must have toe protection against a 200-joule impact, which basically means the amount of energy the toe region can absorb before breaking. SB safety boots meet this minimum legal requirement. This offers peace of mind that your toes are well-protected, but this legislature does little to ensure comfort or even all-round protection for your feet.
Invest a few pounds more and look out for S3 labelling, which will likely prove a far better investment over the longer term. For little additional cost, S3 boots have a puncture-resistant midsole, anti-static properties, resistance to fuel oil on the outsole and energy absorption in the heel region, plus water resistant upper and cleated outsole. In fact, all-round comfort is key with S3s; it's worth seeking out styles with a padded tongue and protection at the back for the Achilles too.
Flex test
Perhaps the biggest test of comfort and durability for safety boots can be found in the cleat. The majority of SB boots have thick cleated soles made from polyurethane, which is solid and inflexible and therefore don't give when bending. Common thinking may have it that the bigger the cleat, the more robust the boot, similar to a tread on a tyre, but when it comes to safety boots this is not the case.
While most people choose boots because they look robust with thick cleated soles, they are in fact incredibly uncomfortable to wear for long periods of time. Research has proven that they require significantly more force to bend the foot than a flexible soled boot that has the same safety built in. Therefore, a much more effective rule of thumb is to do a flex test: how well does the boot bend at the sole?
For just a few pounds more than a standard SB boot and a few minutes spent trying the footwear on before you buy, an S3 safety boot offers a wealth of protection and comfort that you can't really put a value on when it comes to looking after your feet.
For more information, visit brianhyde.co.uk.