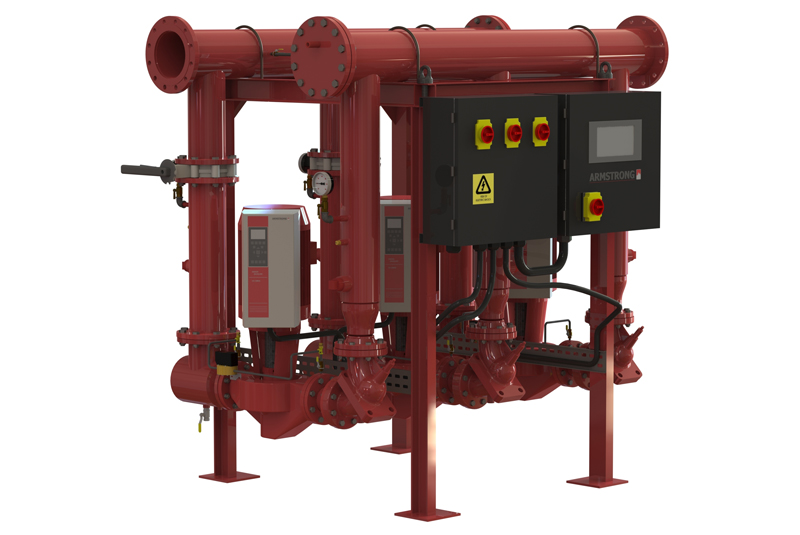 Don't let BS EN 1090 catch you out on light commercial installations, says Steve Rees, Sales Director at Armstrong Fluid Technology.
 If your work involves light commercial projects as well as domestic installations, then you need to make sure that you don't fall foul of BS EN 1090. This piece of legislation has the potential to derail even the best planned project, and the HVAC industry as a whole has underestimated its ramifications.
BS EN 1090 dictates requirements for CE marking for the 'Execution of steel structures and aluminium structures' focusing on fabricated structural steel that is designed to be load bearing and permanent. It requires that the supply chain must have compliance, and it is mandatory for manufacturers (as well as some steel stockholders and distributors) throughout the European Economic Area.
Heating installers and plumbers can easily overlook the legislation because, at first glance, it appears to relate to the fabric of the building rather than its services. The remit of the legislation is extremely broad however. So many building services projects (for both new build and refurb) fall within its remit, with many HVAC components requiring compliance.
BS EN 1090 became law in July 2014 but, if you've never heard of it before, you are certainly not alone. Despite the fact that it is has been enforceable for four years, only about 25% of the 10,000 or so businesses estimated to require compliance are actually certified. This represents a huge business risk for anyone specifying, buying, installing and working with products and systems involving steel structures.
So what problems might you run into if the products and systems you install are not compliant? Firstly, if you fail to appoint a certified sub-contract company to issue a Certificate of Conformity and Declaration for equipment that falls within the remit of BS EN 1090, the installation would fail to satisfy Building Regulations and NHBS requirements. It is a legal requirement that products sold in the UK carry CE labelling, and BS EN 1090 lays down the requirements necessary for achieving this. As a result of this, the site could be refused building insurance, and you could find yourself in breach of contract with your customer. This could be a big problem, especially for a small company, as you could be vulnerable to contractual disputes and at risk of non-payment if the project cannot be handed over to the customer successfully. Lastly, there are also risks to reputation from major non-conformance and the withdrawal of certification in relation to ISO 9001. The worst possible scenario would be the risk of prosecution and the bad publicity associated with it.
Given the problems associated with non-compliance, you may be wondering why so many businesses in our industry are still non-compliant. It could be that, as this is a European regulation, there is the mistaken assumption that BS EN 1090 will somehow disappear with Brexit. This is not the case. There are no plans to replace CE labelling as the chosen mechanism for quality and safety standards.
In fact, immediate action is now needed to ensure that businesses are not risking commercial or contractual problems in the future, and are protected from legal prosecutions in the event of purchasing from non-certified suppliers.
So how can you tell whether you are installing compliant products and systems? If you are purchasing Armstrong products you have complete peace of mind. BS EN 1090 does not apply to all of our portfolio, but there are certain products and systems that are covered by it. So to ensure that we can offer complete compliance to our customers, we have worked our way through the various requirements of the standard and are pleased to advise that we have been fully certificated to EN 1090 by BSI since 2017. This means that all Armstrong products requiring certification, including our packaged plant rooms and iFMS (integrated fluid management systems), are completely compliant.
Not all suppliers to the HVAC sector have compliance, however. Our advice is to ask the relevant questions before entering into contractual arrangements. If you are told that the products or systems you are purchasing are not covered by BS EN 1090, you can double-check by contacting BSI.
Another useful resource is the 1090 Register, which has been set up to provide a voluntary database of compliant suppliers. It is the only national register unaffiliated to any trade association or Notified Body available to manufacturers within the United Kingdom and only accepts registration on verification of certification by a UKAS accredited Notified Body. Contractors, installers, builders and designers can search the National Register free of charge to identify certified manufacturers, using various search options such as Company Information, Location, Type of Manufacture or Execution Class. You can find details at the National Register at www.1090Register.com.
For more information, visit armstrongfluidtechnology.com.